True face of ancient Peru warrior revealed thanks to digital reconstruction
AKIPRESS.COM -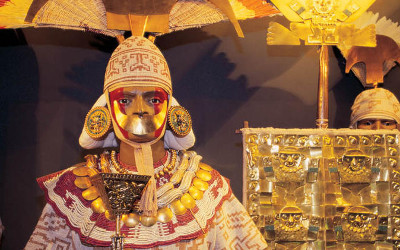 The face of Peru's iconic Lord of Sipan has finally been unmasked some 1,900 years after his death, all thanks to technology which has built a 3D reconstruction of the ancient warrior's face, said Reuters.
With the help of Brazilian experts, archaeologists have created a 3D model of the Lord of Sipan's face. The team of investigators who worked on the project included odontologists and forensic experts, replicating the ancient face of the warrior down to the smallest details.
The Lord of Sipan is from the ancient Moche civilization. His tomb was discovered untouched in 1987 and has provided with archaeologists with new insights into the Mohican society.
The discovery was hailed as one of the greatest in archaeologist in recent decades and its significance has been compared to Egypt's King Tut.
"Relatively speaking the Lord of Sipan and Tutankhamun are the two most important personalities of their cultures, given their location and their era. The Lord of the Sipan was the head of a sacred dynasty and the Pharaoh at the time was also part of a sacred dynasty," said archaeologist, Walter Alva.
The Moche civilization flourished on Peru's northern coast between about the years 1 and 800 CE, a rural area of the South American country made up largely of farmers and fishermen.
According to Alva, the 3D reconstruction of the Lord of Sipan's face shows that many of the region's residents still possess many of the same physical characteristics as the ancient warrior.
"This brings us closer too, connected us especially to the current indigenous population. We see that the face of the Lord (of Sipan) is very similar to the Mohicans of Lambayeque who still survive to this day. The faces of the fishermen, the farmers of the region are direct descendants of this creative race," he added.
"The condition of the skull has been well preserved. It has been preserved with its deformation which has been caused over time. The process of disassembling the different pieces so that they remain anatomically compatible took us a great amount of time. After that was the technical application of forensics processes," he told media.
The Lord of Sipan has been carbon dated back to 290 CE. His Moche Culture is believed to be the predecessor to Peru's might Inca civilization.