India's transgender community gets official recognition in country's electoral roll
AKIPRESS.COM -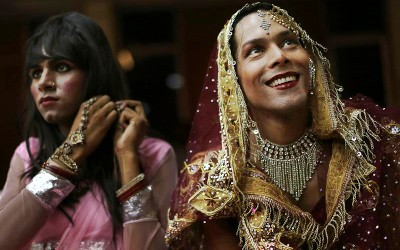 India's transgender community is to be officially recognized for the first time in the country's electoral process, Radio Australia reported.
The Election Commission, which has the mammoth task of organizing the upcoming poll, has introduced an "others" gender option for voter identity cards.
There are an estimated 3 million transgender people (hijras) in India. They are a broad community encompassing transgender men and women, eunuchs, transvestites and can range from natural intersex to male cross dressers.
While hijrahs will be voting for the first time in the general election, poll officials say only a handful of the community members have been enrolled in the category.
Some estimate the number to be no more than 28,000.
Social acceptance has been slow in coming for India's transgender community.
Ostracized by family and friends and harassed constantly by the police, hijras earn their living singing and dancing at celebrations of births and weddings, and sometimes through begging and prostitution.
After the Supreme Court ruling that restored Section 377 of the Indian Penal Code, making homosexuality a criminal offense again late last year, many transgender people have found the going tough.