Kazakhstan, Uzbekistan abstain from UN resolution on territorial integrity of Ukraine, Kyrgyzstan and Tajikistan did not vote
AKIPRESS.COM -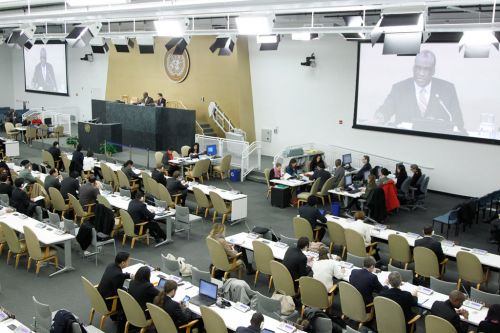 The United Nations General Assembly adopted a measure underscoring that the mid-March referendum in Crimea that led to the peninsula's annexation by Russia "has no validity" and that the parties should "pursue immediately a peaceful resolution of the situation," the UN Press Centre reported Thursday.
100 voted for, 11 against, 58 abstentions. Against the resolution were Armenia, Belarus, Bolivia, Venezuela , Cuba, North Korea, Zimbabwe, Nicaragua, Russia, Syria, and Sudan; abstentions were Afghanistan, Algeria, Angola, Antigua and Barbuda, Argentina , Bangladesh, Botswana, Brazil, Brunei, Burkina Faso, Burundi, Cambodia, China, Comoros, Djibouti, Dominica, Ecuador, Egypt, El Salvador, Eritrea, Ethiopia , Fiji, Gabon, Gambia, Guyana, India, Iraq, Jamaica, Kazakhstan , Kenya , Lesotho , Mali , Mauritania , Mongolia, Mozambique, Myanmar, Namibia, Nauru, Nepal, Pakistan, Paraguay, Rwanda, Saint Kitts and Nevis, Saint Lucia, Saint Vincent and the Grenadines, Sao Tome and Principe, Senegal, South Africa , South Sudan, Sri Lanka, Suriname, Swaziland, Uganda, Tanzania, Uruguay, Uzbekistan, Vietnam.
Kyrgyzstan, Tajikistan and Turkmenistan did not vote.
"The Assembly resolution makes explicit reference to the primacy of the UN Charter's call for the preservation of the unity and territorial integrity of all UN Member States, and also recalls the 1994 Memorandum on Security Assurances in Connection with Ukraine's Accession to the Treaty on the Non-Proliferation of Nuclear Weapons, the 1997 Treaty on Friendship, Cooperation and Partnership between Ukraine and Russian, and other bilateral agreements between Ukraine and Russia," the UN Press Centre said.
The members of the General Assembly reaffirmed their commitment to the sovereignty, political independence, unity and territorial integrity of Ukraine within its internationally recognized borders.
The UN Assembly called for immediate peaceful settlement of the situation in Ukraine via peace talks and direct political dialogue.
It should be noted that in contrast to the decisions taken by the Security Council, the UN General Assembly resolutions are non-regulatory.