UCA, Aga Khan Foundation sign MOU with Badakhshan University in Afghanistan
AKIPRESS.COM -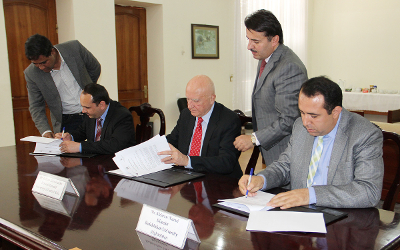 The University of Central Asia (UCA) and Aga Khan Foundation, Afghanistan, which are both part of the Aga Khan Development Network (AKDN), on April 19 signed a Memorandum of Understanding (MOU) with Badakhshan University (BU) in Afghanistan to establish a continuing education unit at BU.
Under the agreement, UCA's School of Continuing and Professional Education (SPCE) will develop the professional competencies of instructors who will teach in the BU Continuing Education Unit, leading to their international certification. UCA will also develop learning resources, establish English and information technology international testing centres within the Unit, and establish an Advisory Committee to review progress.
The Continuing Education Unit at BU will provide Afghan learners with the opportunity to improve their skills and knowledge in vocational fields at an international standard of education.
The BU Continuing Education Unit is one of the six learning centres established or supported by SPCE in Badakhshan province, Afghanistan under the MIAD GDA project to improve and access to quality skills training. In the coming five years, these centres will train over 11,000 Afghan learners or approximately 12% of the adult population of the province. Implemented by AKDN agencies, the MIAD GDA project makes investments across a range of sectors (e.g. education, health, rural livelihoods, sub-national governance) to support long-term stability and growth in Afghan Badakhshan, and is grounded in the premise that progress is most effectively achieved by working across economic, social and cultural sectors in a given geographic area over a sustained period.