3 Turkmen soldiers killed by armed group on border with Afghanistan
AKIPRESS.COM -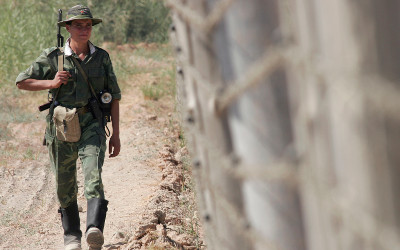 For the second time in three months Turkmen troops along the Afghan border have suffered losses, according to Radio Liberty.
Thus, three Turkmen soldiers were killed on May 24 by a small armed group that crossed the border from Ghormach district of Afghanistan's Faryab province.
The motive for this attack is unclear.
Still, the acting head of Afghanistan's Ghormach district, Asyl Khan, said information he received from security officials in the area where the shooting took place indicated that the intruders took weapons – two Kalashnikovs and a heavy-caliber machine gun – from the slain soldiers and brought them back to Afghanistan.
Khan added that Turkmenistan's forces did not react to the attack on their territory.
It was unclear who the attackers were.
Asyl Khan continued the group that crossed into Turkmenistan on May 24 was led by someone named Ghulam Destghir Topan.
Three other Turkmen border guards were killed just across the border from Afghanistan's Baghdis province at the end of February. The attack, it was learned later, was revenge for Turkmen guards killing one militant and capturing two others after they crossed into Turkmenistan around February 10.
Meanwhile, militant groups, particularly the Islamic Movement of Uzbekistan, have been gathering in northern Afghanistan for months, raising fears on the northern side of the Afghan-Central Asian border about what will happen after ISAF withdrawal in 2014.