Dias Kadyrbayev may not have understood legal rights, experts say
AKIPRESS.COM -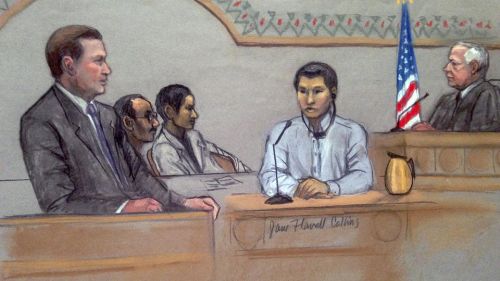 A friend of the accused Boston Marathon bomber charged with interfering with the investigation into the blasts said on Monday he had no idea he could have walked away from hours of questioning four days after the attack.
Lawyers for the friend, Kazakh exchange student Dias Kadyrbayev, are trying to persuade a federal judge to throw out statements he made under interrogation in a police station, after being ordered out of his apartment by heavily armed agents, saying his comments were not voluntary, the Guardian said.
Kadyrbayev, 20, is one of three college friends of accused bomber Dzhokhar Tsarnaev charged with hampering the investigation by going to the suspect's dormitory room at the University of Massachusetts at Dartmouth three days after the attack and removing a laptop and backpack containing empty fireworks shells.
Kadyrbayev and fellow Kazakh exchange student Azamat Tazhayakov were both questioned for hours the night of April 19, 2013, although neither was arrested until the following day. During hearings last month, officials said the pair would have been free to leave the police station where they had been brought in handcuffs had they asked.
"The way they were interrogating me, it wasn't like, 'Sure, you can go anytime,'" Kadyrbayev told a US District Court hearing in Boston. "It was like pressing me, putting pressure."
He said that the agent who took the lead in questioning him had tried at times to feed him lines: "He went on and on putting words in my mouth."
Kadyrbayev's lawyers argue his statements during that time should not be admitted at his upcoming trial because he had no attorney present and did not understand the consequences of speaking with agents. One agent testified that Kadyrbayev told him he suspected Tsarnaev had been involved in the attack.
Tazhayakov's attorneys dropped a similar request, saying they did not want their client to testify before a trial scheduled to start in September.
Three people were killed and 264 injured at the Boston Marathon on April 15, 2013.
Kadyrbayev's understanding of English was too rudimentary for him to have understood paperwork presented by federal agents informing him he had a right to remain silent, said Temple University linguist Aneta Pavlenko.
"It was highly unlikely that at the time of interrogation, Mr Kadyrbayev had the linguistic proficiency to understand the Miranda warning," Pavlenko testified at the hearing.
Kadyrbayev and Tazhayakov, both charged with obstruction of justice, could face up to 25 years in prison if convicted. A third friend, Robel Phillipos of Cambridge, Massachusetts, faces up to 16 years if convicted of the less serious charge of lying to investigators.
Tsarnaev, who also is accused of killing a university police officer in a shootout three days after the bombings, is awaiting trial in a prison west of Boston. He faces the possibility of execution if convicted. His brother, Tamerlan, also was suspected in the marathon bombing and was killed in a shootout with police.