Belarus, Turkmenistan agree to expand deliveries of Belarusian machines
AKIPRESS.COM -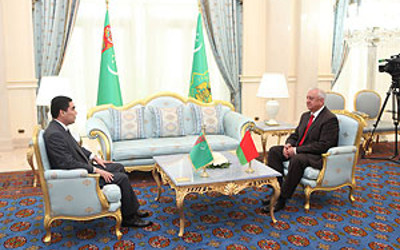 Belarus and Turkmenistan have agreed to greatly expand the choice of Belarusian machines that are traded, BelTA learned from Prime Minister of Belarus Mikhail Myasnikovich after his talks with President of Turkmenistan Gurbanguly Berdymukhamedov in Ashgabat on 12 June.
The Prime Minister recalled that in the near future Turkmenistan will receive several grain harvesters and forage harvesters as well as three kinds of buses for testing purposes. He remarked that Belarus offers only state-of-the-art products to Turkmenistan, which are competitive on global markets.
In addition, Belarus is ready to supply more machines to Turkmenistan. Applications for 2,250 vehicles have been submitted and the vehicles are to be delivered this year.
Forecasting what Belarusian machines and equipment or investment projects Turkmenistan may need in the future was another matter that was discussed. According to Mikhail Myasnikovich, the matter can be finally resolved during the forthcoming visit of Berdymukhamedov in October 2014.
On the whole, multiple aspects of bilateral cooperation were discussed, including mutual trade and implementation of a number of investment projects. Construction of the Garlyk mining and processing factory was discussed in detail.
The sides emphasized prospects for cooperation, including innovation sphere.