Turkmen part of North-South International Railway completed
AKIPRESS.COM -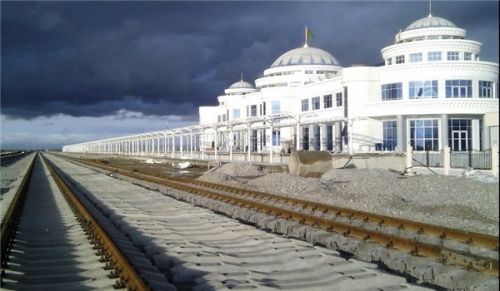 The 700-kilometer Turkmen part of the project is complete and the last operations for its launch are underway now, Turkmen Vice-President for Transportation Affairs Saltykow said, while visiting the construction work at the Kazakhstan-Turkmenistan-Iran railway on Sunday, reports Fars News.
Also, Turkmen President Gurbanguly Berdimuhamedow after being informed of the progress in the Turkmen part of the international corridor by Saltykow, underlined that his country actively participates in infrastructural plans to develop the international transportation systems.
Earlier this month, Berdimuhamedow and his Kazakh counterpart Nursultan Nazarbayev in a meeting in Turkey stressed the trans-regional importance of the under-construction railway which is due to link the two Central Asian nations to Iran.
The Turkmen and Kazakh presidents made the remarks during their meeting on the sidelines of the Fourth Summit of the Turkish-speaking countries in the Turkish resort city of Bodrum.
Also in March, Kazakhstan, Turkmenistan and Iran, in a meeting in Tehran, discussed ways to implement the trilateral railway project.
Representatives of the three Economic Cooperation Organization (ECO) member-states reviewed the latest developments regarding the implementation of the railway project.
The Kazakhstan-Turkmenistan-Iran railway is a part of the North-South international transport corridor.
It is assumed that the railroad would create additional routes linking Kazakhstan, the central regions of Russia and Turkmenistan, Iran, Persian Gulf countries, South and Southeast Asia and will increase transit freight and passenger traffic, reduce transport costs, save time for travel and cause economic growth in the regions through which the railway will run.
A trilateral intergovernmental agreement was signed in 2007 between Kazakhstan, Turkmenistan and Iran on the Zhanaozen-Gyzylgaya-Bereket-Etrek-Gorgan railway line with subsequent access to the Russian railway network, which will shorten the route by 600 kilometers. The construction operation started in 2009.