Blast damages Egypt's pipeline to Jordan
AKIPRESS.COM -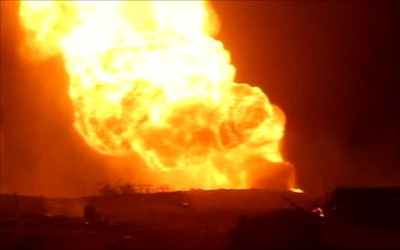 Unknown assailants blew up an Egyptian pipeline in the Sinai Peninsula that carries gas to Jordan on Thursday, in the eighth attack of its kind this year, Zawya reported.
Security sources said a remote-controlled bomb planted under the pipeline went off in Qurayaa area near the North Sinai town of Sheikh Zuweid.
There were no immediate reports of injuries, but witnesses said the explosion sent flames rising far into the sky from the spot where the pipeline was struck.
Targeting the pipeline has repeatedly forced a halt to gas exports to Jordan and Israel, the latter of which Egypt used to supply until April 2013.
Egypt has seen an upsurge in militant insurrection, mainly based in the Sinai Peninsula, since the military ouster of President Mohamed Morsi amid massive protests last summer.