Xi Jinping, Islam Karimov agree to boost cooperation signing 7 agreements
AKIPRESS.COM -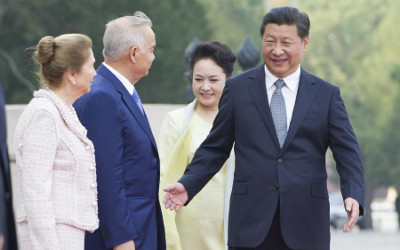 Top leaders from China and Uzbekistan mapped out the future of the countries' relationship on Tuesday by signing a joint declaration, ratifying a five-year plan and witnessing the inking of seven agreements, People's Daily Online said.
The agreements covered various areas including economic and technical cooperation, energy and financing.
The newly inked documents will "lay a foundation" for the sides to deepen cooperation, President Xi Jinping told Uzbek President Islam Karimov during the meeting in Beijing.
Xi called for both sides to boost trade and investment, saying that China encourages its enterprises to increase investment and participate in industrial park construction in Uzbekistan.
The countries should work together for the construction of the Silk Road Economic Belt, and strengthen cooperation in energy, financing, agriculture and transportation, Xi added.
Calling China "the most reliable partner," Karimov said Uzbekistan would learn from China's successful experience in development. The Uzbek side welcomes Chinese investment and would like to participate in Beijing's proposals for the Silk Road Economic Belt and the Asian Infrastructure Investment Bank, he said.
Cheng Guoping, Vice Minister of the Foreign Ministry, called the latest visit "a successful one" on Tuesday, saying a sound relationship between China and Uzbekistan is helpful to peace and stability in Central Asia.
Karimov is scheduled to meet Premier Li Keqiang and visit Xi'an, Shaanxi province, on Wednesday.