Famous publicist Mambetaliyev about restorer of Kyrgyz manufacture Sharshenbek Abdykerimov
AKIPRESS.COM -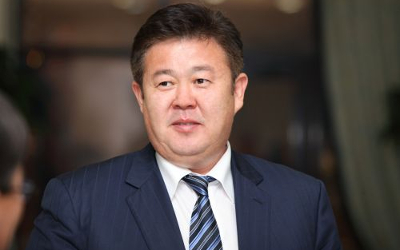 Such inexhaustible toilers as Sharshenbek Abdykerimov are able to recover the national economy of the country, believes famous social commentator, expert Kuban Mambetaliyev. This is what he has said about MP Sharshenbek Abdykerimov:
The tycoon's name is Sharshenbek Abdykerimov. He is 44 years old. Native of At-Bashi village, he owns several factories and enterprises, insurance company, construction firm, farm, storage facilities, vacation hotel. This list is growing annually. He started his work experience as train attendance during summer break at university. He studied at the Economics Faculty of the National University. When he was fifth-year student, he became a shuttle trader, traveling by plane to Moscow and back by train with first necessity goods. After graduation from the University, he left for Kazakhstan, where he joined the famous company Vimpex and then became Chief of Trade Division. He could become a big businessman in Kazakhstan, but he returned to the home country, where he began to build his business empire. He achieved results very soon: vodka factory, Artezian spring bottled factory in Sokuluk, which products met high quality standards.
Having started with vodka production, he reached the world market. Today his vodka is sold in the United States, Turkey, Vietnam and other countries. He could stop then and become vodka tycoon, but he tried new spheres, creating more and more work places in production, processing industry. His factories process cotton, produce flour, PVC windows and others. Some 7,000 are involved into those processes, these are the middle class, the engine of the state. Representatives of this class contribute to growth of production, development of the national economy. Creation of new workplaces brought the country out of crisis, this is what happened everywhere and always.
Sharshenbek Abdykerimov is a gifted businessman realizing the main point of activity, which meant development of economy, not authoritarian policy. Genuinely interested in their business entrepreneurs remain with any those in power and strive to create workplaces, this is the law of history. During Roosevelt's tenure tycoon Rockefeller and his cronies began building roads, skyscrapers saying it was necessary to create workplaces, since they realized that profit depends upon number of middle class. They were not mistaken…
When Akayev and Bakiyev were in power, while successful businessmen had to survive, when 1,000 lost their jobs, that, of course, undermines strength of the state. So compromises with the power were inevitable. This will not change until the leadership of the country makes all possible efforts for conducive development of business of such entrepreneurs and they will avoid the fate of being 'dragons' or 'milky cows'. Many of those businessmen survived pressure and kickbacks. But one thing remains unchanged – they replenish the budget paying taxes.
Let's take Ayu firm for example. Only in 2003 it paid 25 million som in taxes, 193,00 som in social contributions. In 2009, the tax payments made 186 million, social contributions reached 1 million. The company is among top 20 tax payers. Besides, taxes are paid by other business structures owned by Abdykerimov – this list includes more than 25 companies.
Noteworthy, a competent and historically justified approach in business – creation of workplaces through increase of profitable production – allows to expand the scale of production. What is more important is that the emphasis was made not on the number of bottles, but on quality of their content. Otherwise, the product would not have reached the world market. The basic product would pull down other products – flours, pasta, bread, which have excellent quality. The process was evolving to reach production of construction materials and construction of apartment buildings.
Each year brings new projects, new ideas, new areas of activities and scale. The time will come when production of machines and equipment, high technologies will be reached, since there are prospects, abilities, God's gift.
Such outstanding people won't lose their head of success. They have clear milestones. As for charity (assistance for pensioners, orphans, support of sportsmen in form of allowances and dwelling), it is needless to say that such actions are held regularly, every year. Inexhaustible toilers like Sharshenbek Abdykerimov are able to recover the national economy of the country. However, it is time that will judge eventually. It is never mistaken.
Kuban Mambetaliyev