Vietnam could become first state to sign free trade zone deal with Eurasian Customs Union - Putin
AKIPRESS.COM -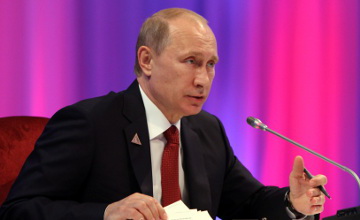 Members of the Eurasian Customs Union and Vietnam are close to sign an agreement on a free trade zone, Russian President Vladimir Putin said.
"The talks [on the free trade zone] are at the final stages," Putin said following a meeting with General Secretary of the Communist Party of Vietnam's Central Committee Nguyen Phu Trong on Tuesday, official media report.
"Vietnam could become the first country to conclude such an agreement," RIA Novosti cited Putin as saying.
In his turn, the senior Vietnamese official said that a free-trade deal with the Russia-led Customs Union should be ready by the beginning of 2015.
"But the priority is to conclude negotiations and prepare the free-trade agreement for the signing … at the beginning of the next year," Nguyen Phu Trong said.
The Eurasian Customs Union comprises Russia, Kazakhstan and Belarus. It was formally established on January 1, 2010, with a goal to form a broader economic alliance of former Soviet states, known as the Eurasian Economic Union (EEU).
The meeting came after Russian lawmaker Sergei Naryshkin, who chairs the lower house of parliament, said on Monday that 40 more countries were seeking to establish a free trade zone with the Eurasian Economic Union.