Turkey and Azerbaijan want Turkmenistan to join Trans Anatolian Natural Gas Pipeline - Turkish FM
AKIPRESS.COM -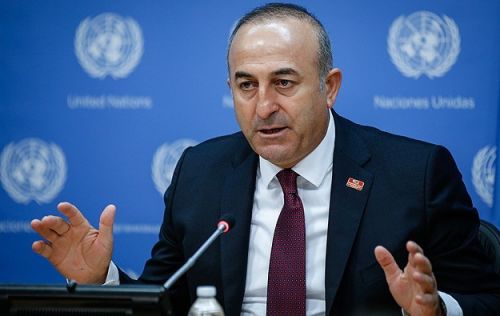 Both Turkey and Azerbaijan want Turkmenistan to be included in the Trans Anatolian Natural Gas Pipeline, an indispensable project for Turkey that will be completed within three years, Turkish foreign minister said Thursday.
Addressing a press conference after the trilateral meeting of foreign ministers of Turkey, Azerbaijan and Turkmenistan in Ashgabat, Turkish FM Mevlut Cavusoglu said, "TANAP is an indispensable project for us. We plan to finish this project in three years," reports Anadolu News Agency.
The project will originate at the Georgia-Turkey border, pass through Anatolia, and extend around 1,242.7 miles (2,000 kilometers) to reach Greece.
It will cost $11 billion and carry 16 billion cubic meters of natural gas per year when it is completed in 2018. The capacity will increase to 23 billion cubic meters by 2023 and it is anticipated to be 31 billion cubic meters by 2026.
The project will be a critical part of the Southern Gas Corridor that will carry natural gas from Azerbaijan on the east near the Caspian Sea, passing through Turkish territory to go to Greece on the west, and further to Albania and then Italy to reach Europe.
Cavusoglu said the secure transmission of the Azeri and Turkmen natural gas through Turkey to Europe was also discussed.
Turkmenistan and Kazakhstan consider delivering their natural gas to the west by the Trans Caspian Gas Pipeline, a proposed project which would run under the Caspian Sea to reach Azerbaijan, then Georgia, and finally connect with TANAP.
Through TANAP, the Turkmen and Kazakh gas would reach European markets by circumventing Russia and Iran.
Thursday's meeting of the three foreign ministers also saw an agreement to enhance cooperation on energy and transportation projects.
"The foreign ministers negotiated and touched upon the significance of the transportation of Turkmen natural gas to Europe through the Caspian Sea and Turkey," the statement said. "Accordingly, the importance of developing cooperation between energy and oil-gas companies was discussed."
"The parties agreed that it is necessary to hold a meeting between the transportation ministers and relevant agencies of the countries," the statement added.
The first of the trilateral meetings was held in Baku in 2014.
Turkey, Azerbaijan and Turkmenistan share cultural and linguistic characteristics.