Turquoise Hill expects to close financing for $6.8-bln underground expansion of Oyu Tolgoi
AKIPRESS.COM -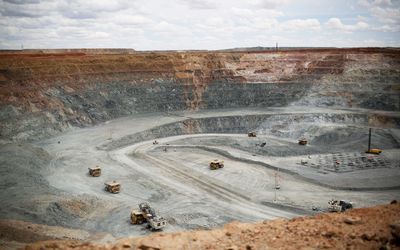 Rio Tinto-owned Turquoise Hill Resources has reassured investors that it expected to close financing for the $6.8-billion underground expansion of its massive Oyu Tolgoi copper and gold mine, in Mongolia, by the end of the year, reports Mining Weekly.
The expansion had been delayed for years over a tax dispute with the Mongolian government, as well as to some extent of political turbulence.
The Mongolian government had in September signed a request of the Multilateral Investment Guarantee Agency (MIGA) for host country approval (HCA) regarding guarantees to be issued by MIGA, in connection with the Oyu Tolgoi project financing.
Turquoise Hill billed the signing of the HCA as a significant milestone in the project financing timeline. In October, the project financing information circular was provided to the banking syndicate, allowing for each institution's respective internal consideration and approval.
Rio Tinto had pledged to invest at least $250 million to $300 million in the construction of the underground section of the Oyu Tolgoi copper/gold/silver mine this year. Construction at the mine was expected to start this year, marking progress for the long-stalled mine that was expected to boost Mongolia's economy by a third when it reached full capacity in 2021.
Before the project was suspended in August 2013, underground lateral development at the Hugo North deposit had advanced about 16 km off Shaft #1. Sinking of Shaft #2, the main operations access and initial production hoisting shaft, had reached a depth of 1,168 m below surface, 91% of its final depth of 1,284 m. The 96-meter-high Shaft #2 concrete head frame had been built and sinking of Shaft #5, a dedicated exhaust ventilation shaft, had reached a depth of 208 m, 17% of its final depth of 1,174 m. Surface facilities, including offices, mine dry, and workshop, were in place to support initial pre-production development and construction.
The Oyu Tolgoi mine had initially been developed as an openpit operation. A copper concentrator plant, with related facilities and necessary infrastructure to support a nominal throughput of 100,000 t/d of ore, had been constructed to process ore mined from the Southern Oyu openpit.
Long-term development plans for Oyu Tolgoi were based on a 95,000 t/d underground block-cave mine. On May 18, Turquoise Hill, the Mongolian government and Rio Tinto announced the signing of the Oyu Tolgoi underground mine development and financing plan, which addressed key outstanding shareholder matters and set out an agreed basis for the funding of the project.
After filing the revised schedules for the 2015 Oyu Tolgoi feasibility study with the Mongolian Minerals Council in August, pre-start activities were underway, in parallel with an update to the capital estimate, which was expected to be completed in the first quarter of 2016.