Aga Khan Foundation, USAID launch interactive mobile apps for children
AKIPRESS.COM -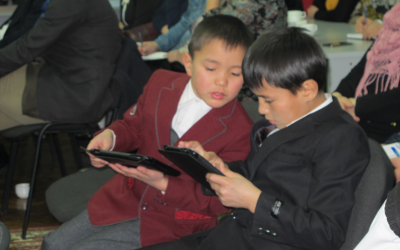 Students, parents, government representatives, and development partners active in the education sector gathered at the National Children's Library in Bishkek this week for the launch of a new television program and mobile application promoting early reading.
The Aga Khan Foundation, in partnership with USAID, Balastan (a TV channel dedicated to children) and Avisa Technologies showcased a new television production, Read Together, and a complementary suite of interactive mobile phone applications, Fun Kitep 1 & 2.
In her official remarks at the opening, Deputy Minister of Education and Science Toktobubu Ashymbayeva highlighted the importance of literacy for child development, and emphasized that literacy is not merely reading but comprehension.
"These initiatives greatly help children to increase reading habits, skills, and foster a love for reading. Almost every child has a mobile device. Given that we live in a technological age, education must use Information Technologies," noted Ashymbayeva.
The television program and mobile applications are part of a set of learning tools developed by the Aga Khan Foundation and USAID, which promote family reading, literacy, and nurture interest in books amongst young children. The Fun Kitep mobile applications provide interactive games, activities and quizzes related to 25 children's books. These books have been digitalized and are available in Russian, Kyrgyz, and English.
Erkin Konurbayev, a representative from USAID, emphasized their commitment to promote literacy in Kyrgyzstan through the Reading Together Project. He added that children in the audience had already begun downloading and testing these applications.
Jalaluddin Shah, CEO, Aga Khan Foundation, Kyrgyzstan, underlined that this initiative was part of a broader effort by the Aga Khan Development Network, including the University of Central Asia, to strengthen learning achievement throughout the country.