Journalists, activists detained, websites blocked in Kazakhstan
AKIPRESS.COM -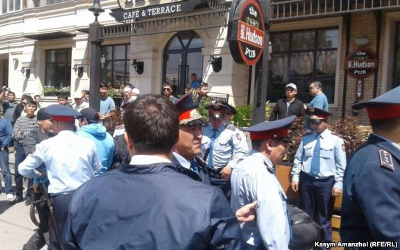 Security forces have detained hundreds of journalists, activists, and demonstrators in various Kazakh cities amid a call by the opposition for nationwide demonstrations against changes to Kazakhstan's Land Code, RFE/RL reports.
Dozens of reporters were detained in the capital, Astana, as well as in Almaty, Karaganda, Uralsk, Shymkent, and the western city of Atyrau in the government crackdown.
More than 1,000 activists and people in squares or on streets close to city squares were also apprehended by police.
Some journalists -- including several from Interfax and RFE/RL -- reported being released after being held by police for a few hours.
The websites of RFE/RL's Kazakh Service were being blocked and access to the service's Facebook and YouTube sites has been intermittent since May 20.
The detentions came as opposition activists called for rallies to be held across the country to protest proposed changes to laws that would allow farmland to be sold and would allow foreign investors to lease parcels of land for agricultural use for up to 25 years.
Demonstrations broke out earlier this month when the government announced the proposed changes to the Land Code, but later said the reforms would not be dealt with until 2017.
In recent days, dozens of activists have been detained and had their homes searched before being handed 10-15 day sentences after being convicted of planning unsanctioned public rallies in the days before May 21.
State-controlled media has presented the protests as organized by "third forces from abroad."
The demonstrations have been relatively small, but the upswell of political discontent is turning into some of the most serious seen in the tightly controlled country in years.
Amnesty International has called on Kazakh authorities to release about three dozen activists who have been jailed in connection with the demonstrations.