National Horse Games Fest to be held in Chon-Alai
AKIPRESS.COM -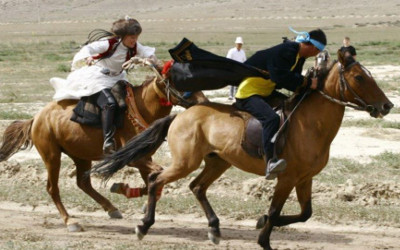 On July 30, 2016 an annual Horse Games Festival will be held at the shore of Tulpar-Kol Lake, which is at the foot of Lenin Peak in the Pamir-Alai mountains.
The main purpose of the event is to develop and promote tourism in the region and in the country as a whole. The festival is organized by the CBT "Sary-Mogol" (Community Based Tourism) and supported financially by the government of Switzerland.
National Horse Games Festival is a colorful show, glorifying the bright aspects of Kyrgyz culture. Participants of the festival will have the opportunity to plunge into the traditional Kyrgyz lifestyle and watch the equestrian games, evaluate the performances of the best musicians in the region, and also try the delicious Kyrgyz national dishes.
The festival will showcase the following traditional horse games: ulak-tartysh, kyz kuumai, oodarysh, tyiyn-enmei and others. Also during the event, women entrepreneurs of Alai region will organize an exhibition of handmade goods.
This event is organized within the framework of the BAI ALAI Program, which is funded by the government of Switzerland and implemented by HELVETAS Swiss Intercooperation in consortium with Aga Khan Foundation.