Woman driving from UK to India to be voice for millions of voiceless girls
AKIPRESS.COM -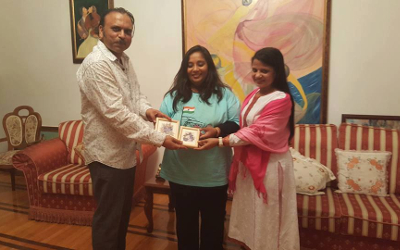 World Record Holder Ms. Barulata Kamble, is crossing Kyrgyzstan after creating one world record and heading towards competition of two more.
"Ms. Barulata Kamble, an Overseas Citizen of India, based in London is driving over 35,000 km, across the Arctic Circle, the mountains, deserts and Prairieland of Europe and Asia. There is no backup and no support crew, just a savvy and confident woman alone behind the wheel! She is the first woman in the world to drive solo through the Arctic Circle and a trans-continental journey combined. She is driving through 2 continents, 32 countries, and a mammoth distance of over 35,000 km, from the UK to India. The journey involved over 2200 kilometers in the Arctic Circle, 5500 km through the mountains, reaching the altitude of 4,000 m and driving 2,500 km through deserts will take little over two months to complete," the Embassy of India in Bishkek said.
"The drive is an enormous undertaking and contagious thirst for discovery of the grandness of all that is possible in the world, so that other humans are inspired to discover and fulfill their utmost potentials. Showing the power of an individual, and what we are all proficient in doing, if we follow our heart through our action. The journey would be compiled in a book "My Transcontinental Odyssey"documenting the epic journey, creating an intriguing narrative to authentically connect followers and reader after this escapade," says Ms. Kamble.
She is undertaking this tough challenge spreading the message of "Save girls, educate girls" and promoting woman empowerment, which greatly affects many parts of society. She hopes her driving challenge would contribute significantly in the movement of "Save Girls, Educated Girls". Bharulata is supporting two UK based cancer charities and two India based charities through her driving challenge.
She is married to Dr. Kamble and blessed with two children.
"Ms. Kamble took some time to see the Ambassador of India in the Kyrgyz Republic and shared her wonderful experience so far. We Congratulate her on making world record of Solo Drive by a Woman across the Arctic Circle; wish her safe remaining journey; and wish her best for making two more world records," the Embassy of India said.