Wyoming angler lands Mongolia's prized fish
AKIPRESS.COM -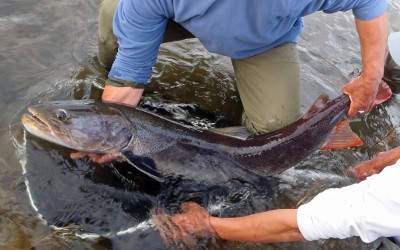 "Imagine being in Ulaanbaatar, Mongolia, and stepping into a very foreign country and yet a very familiar country. Imagine realizing a childhood dream and a dream of a lifetime. Those are some of the impressions my good friend Joey Puettman had when he ventured to the other side of the world to experience a fly fisher's bucket list item, fishing for taimen (Hucho taimen)," Bob Krumm starts his story for Billings Gazette.
The taimen is a salmonid that lives in eastern Asia. The tributaries of the Amur River are some of its core habitat. Taimen are piscivores, they feed on other fish, though they won't pass up a rodent or a bird that might come by. Taimen are long-lived and can attain an age of 55 years. They can reach 59 to 71 inches. The International Game Fish Association world record is 92.8 pounds.
Puettman realized a long time ago that he needed to save for this trip of a lifetime. He started saving about five years ago and soon after contacted Scott Heywood, of Angling Destinations, to book a trip. Heywood has worldwide angling opportunities, and he had the right trip for Puettman. Heywood booked Puettman with Mongolia River Outfitters, and the trip was cast.
Puettman said that the last year and a half was spent in planning and preparation. A lot of the trip was just getting there: it took him three days of travel to reach the Onon River in Mongolia. He flew from Billings to Seattle to Seoul, South Korea, to Ulaanbaatar, Mongolia. From there he took a small plane to the Onon River and then rode in a Russian SUV for a couple hours before meeting his guides and other anglers.
"The guides were international in origin: one was from New Zealand; one from Australia; one from Chile; and one from Morocco," Puettman said. "They all loved to fish and guide, and they traveled the world to guide in various areas.
"We floated the river in American-made drift boats that were brought in containers.
"The Onon River was like no place I had ever been, and yet it seemed like places I had been – only as they must have been 1,000 years ago," Puettman said. "It reminded me of sections of the Madison River, Bighorn River, or Wind River Canyon in many ways. The amazing thing about the area was that there were no fences and no 'No Trespassing' signs.
"We were the only boats on the river. Can you imagine fishing a river in the U.S. where you don't see another fisherman or boat?
"We'd see nomadic herders in the distance. They seemed to be as curious to view us floating by in drift boats as we were to view them."
Puettman fished an 8 weight Sage SP rod with a floating line. He used tube flies that were mainly white with a lot of Krystal Flash. He used a heavy, rather short leader.
"Fishing for taimen was somewhat different than fishing for trout," Puettman recounted. "They didn't seem to like the deep troughs, but rather on the edges of slack water, where side channels or tributaries entered, off shelves and ledges and from around fallen trees. They are the ultimate ambush predator.
"Taimen are smart. They are hard to catch and just because you hook one doesn't mean you are going to land it. You don't let down until the fish is in the net.
"Taimen have hard mouths so a draw strike is needed to drive the hook home. You can't fight them too hard or too soft; it's a careful balancing act. If you let them get into the heavy current, you will lose them and yet if you horse them, they'll break off. When a taimen fights, it will often go into a spiral that requires a lot of rod maneuvering."
Puettman said that fishing for taimen and the atmosphere of the trip was a lot like hunting for elk and elk camp. The anglers and guides had a camaraderie that had everyone cheering for one another. Everybody knew that taimen weren't easy to catch, and the previous group had only landed one during the entire trip.
"The accommodations were quite ritzy," Puettman said. "When we arrived at camp in the evening we would be greeted with wine and cheese as we stepped out of the boat. We slept in snug, very comfortable yurts and enjoyed wonderful meals."
Puettman and the others did catch taimen and other fish. One of the other species was a lenok, a salmonid of northeast Asia; another was an Amur trout; and finally a black-spotted pike (Amur pike). The pike looked like a northern pike but with black spots instead of white ones.
Puettman said that the Onon River flows within a few miles of the Russian border, and that they were close enough at times to see border outposts.
The highlight of the trip was the last day's float of 15 miles. Puettman's group was the first foreign fly fishers to ever fish those miles.
"It was an awesome experience to realize that I was part of an original expedition; I was first to cast a fly into that water."
The last day didn't disappoint Puettman – he landed a 36-inch taimen.
"That fish gave me all the fight I could handle. He ran, spiraled, and tried every move possible – he didn't quit for the entire 15 minutes I fought him. I couldn't relax until the guide netted him and brought him aboard."
To compound the group's success, another angler landed a 51-inch taimen on the last hour of the trip. Wow, what a way to close things out.
Though another angler had caught a bigger fish, Puettman's elation was unbounded; he had landed a fish of a lifetime and fulfilled a quest that will sustain him into old age and the grave. He'll relish that trip and realize that he made his dream come true.