Mongolian herder finds giant fossil skull
AKIPRESS.COM -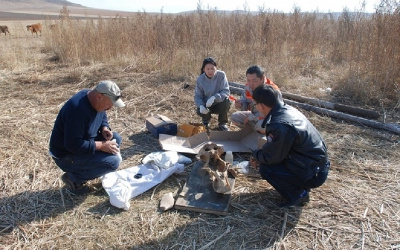 A fossil skull of Rhinocerotoidea was discovered in Khongor district of Darkhan-Uul province in northern Mongolia, according to News.mn.
The discovery had been made by a local herder, who then reported of the skull to the provincial museum.
Paleontologists of Ulaanbaatar and staff of the local museum are now studying the fossil. It is 80-cm long and 35-cm wide.
Rhinocerotoidea is a superfamily that comprises rhinoceroses and their relatives, both living and extinct. There are three families: Amynodontidae (extinct), Hyracodontidae (extinct) and Rhinocerotidae (living; rhinos themselves).