Iran ready to deepen ties with Turkmenistan
AKIPRESS.COM - Iran sees no barriers in developing ties with Turkmenistan, Iranian Foreign Minister Mohammad Javad Zarif told his Turkmen counterpart Rashid Meredov on Saturday in Tehran.
Meredov said his country is also ready to develop ties with Iran in various fields.
The two FMs exchanged views on many areas like gas projects, swap, industry, agriculture, tourism, education, culture, drafting the Caspian Sea legal regime, tapping the Caspian Sea resources, investment by the companies of the two countries, water shortage crisis, Nowruz holidays, easing border traffic, customs tariff, and road and rail cooperation.
Mr. Meredov led a senior politico-economic delegation to Iran for a two-day visit.
Prior to meeting with Mr. Zarif, Meredov was received by Iranian President Hassan Rouhani. Rouhani said his country is determined to develop relations with all neighboring states, including Turkmenistan. "There is no obstacle in the way of expanding relations between the two countries and it is necessary for these ties to be improved in all areas," Rouhani said in a meeting with Turkmenistan's Foreign Minister Rashid Meredov in Tehran on Saturday.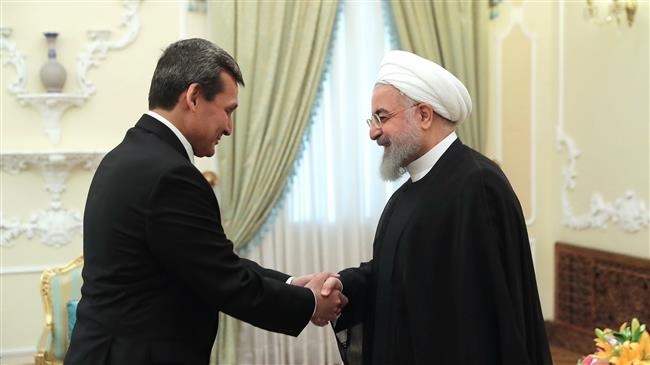 The Iranian president stressed the importance of immediate implementation of the agreements signed between the two countries during his visit to Ashgabat in March to serve both nations' interests.
During Rouhani's visit to Turkmenistan in late March, high-level delegates from the two sides signed 13 memoranda of understanding in the presence of the two countries' presidents.