Live updates: Almazbek Atambayev detained
AKIPRESS.COM - Clashes between the SWAT soldiers and supporters of ex-President Almazbek Atambayev occurred in his home in Koi-Tash village on August 7 evening.
The National Security Committee special forces soldiers tried and failed to arrest Atambayev by storming his house. More than 50 people were injured, one SWAT soldier died.
Parliament of Kyrgyzstan stripped Atambayev of his immunity from prosecution on June 27. Atambayev is accused of illegal freeing of crime boss Aziz Batukayev from prison, concealment of income, corruption, power abuse. Atambayev slammed the parliament and denied all accusations. He said earlier that he will resist his arrest attempts and dismissed several police summons.
August 8 live updates:
10 pm: 20 people injured in Koi-Tash village turned to hospitals, the press service of the Health Ministry said. 16 of those injured were sent to outpatient treatment after receiving medical assistance.
10 pm: Bishkek Police Department said the situation in the city is calm and under the full control of the police.
9:43 pm: Atambayev was first brought to the Interior Ministry, but then taken to the National Security Committee, Slesarev said.
9:25 pm: People's headquarters and Almazbek Atambayev's supporters will hold rallies, SDPK party member Adil Turdukulov said on April TV. Atambayev's detention may lead to even greater public outrage, he said.
9:16 pm: Farid Niyazov, one of Atambayev's guards and Kunduz Joldubaeva were also taken to the Interior Ministry.
9:05 pm: Atambayev is brought to the Interior Ministry.
9:05 pm: There are some clashes in Koi-Tash and Tash-Moinok villages as police disperse citizens.
8:00 pm: Moment of breaking into Atambayev' s house by security forces: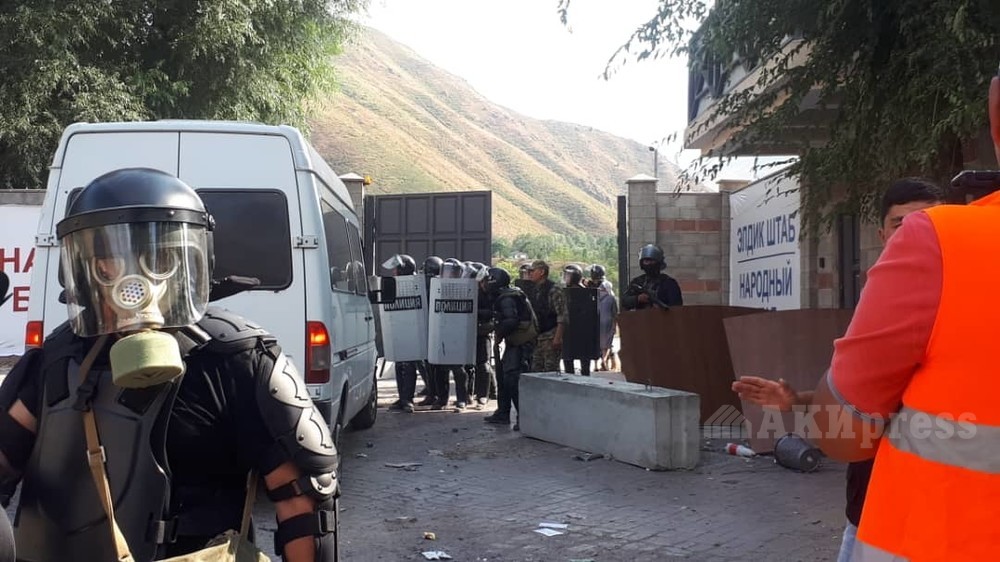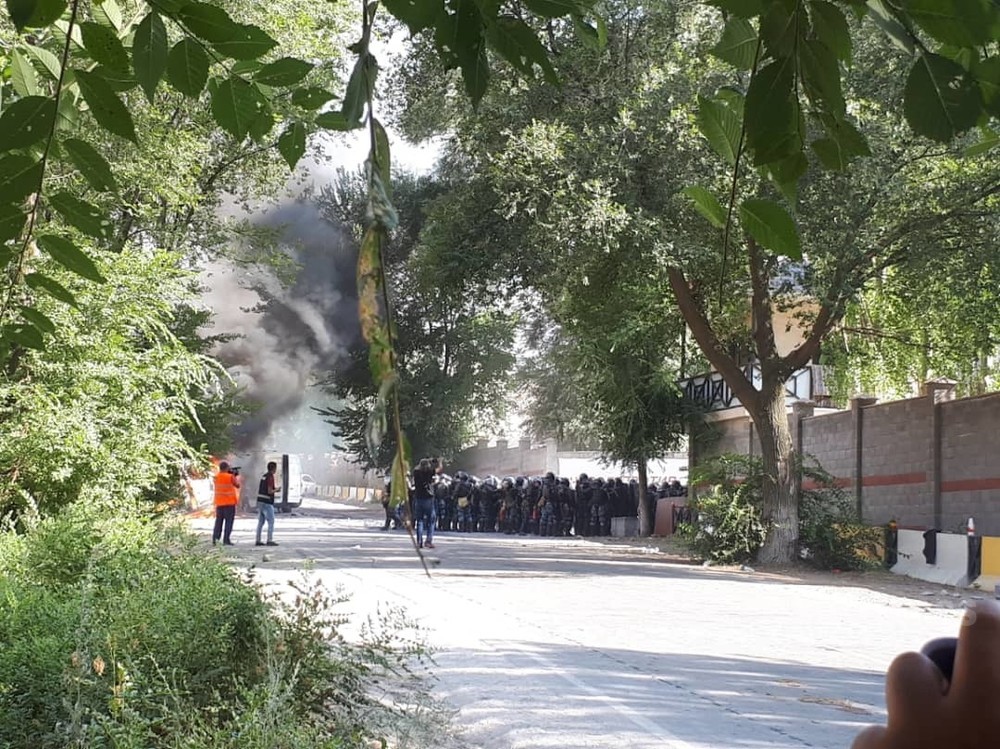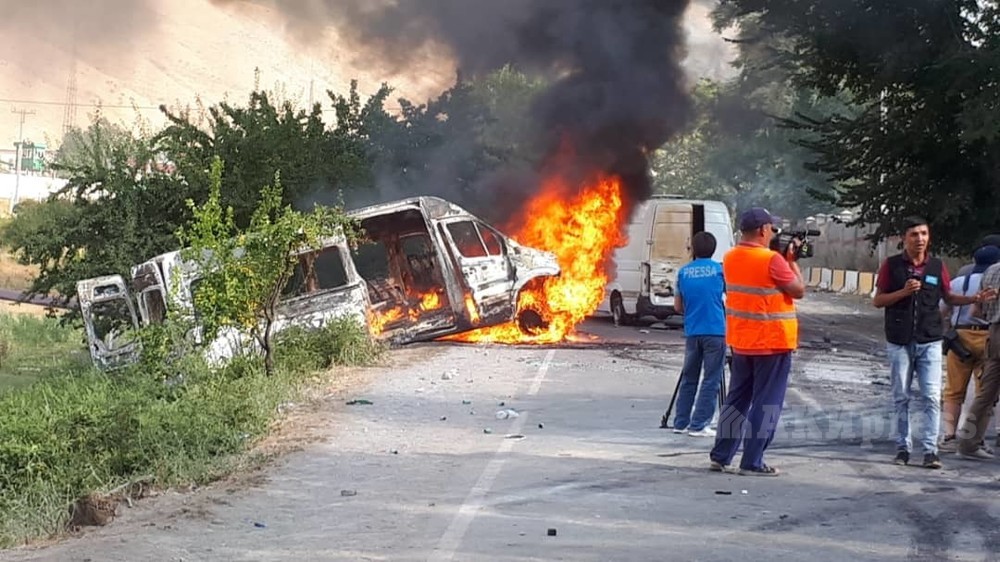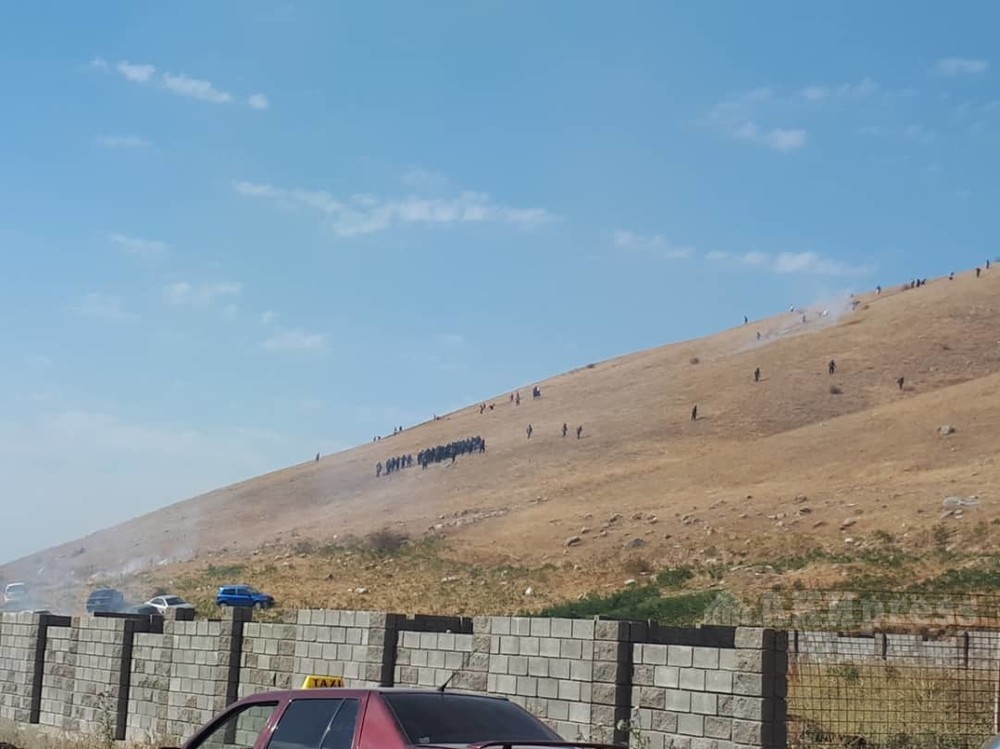 8 pm: Interior Ministry is tightening security: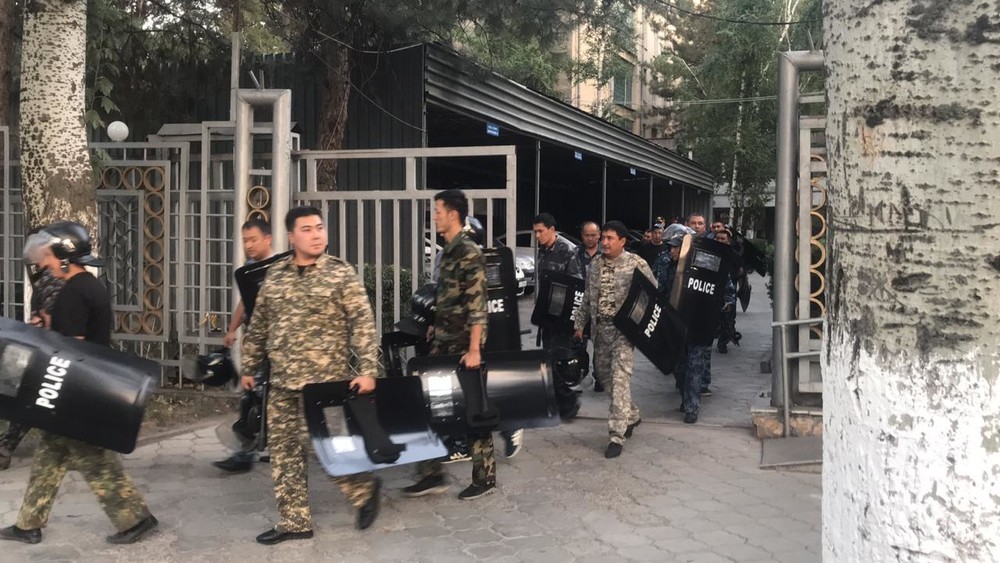 7:21 pm: AKIpress correspondents report that law enforcement bodies have taken Almazbek Atambayev out. Kunduz Joldubayeva and Farid Niyazov are with him. They are all being taken to Bishkek in several vehicles bypassing the road from Koi-Tash to Bishkek, which is blocked by Atambayev's supporters.
7:10 pm: The Ministry of Health reported about 5 injured: four law enforcement officers received gunshot wounds and one civilian suffered from a noise bomb. All of them are in stable condition.
6:59 pm: The situation at Atambayev's house is still unknown. According to some journalists, an hour or two ago the law enforcement authorities broke through the cordon and entered the yard. There is no official confirmation. There is also no mobile communication.
6:55 pm: Hundreds of citizens and law enforcement officials clashed in the village of Koi-Tash. Police set up a cordon in the middle of the village. Atambayev's supporters are trying to break through the cordon.
Rocks are thrown on policemen.
Стычка в Көк-Жаре.
Видео от очевидцев pic.twitter.com/HPlCL09VcR

— АКИpress (@akipress) August 8, 2019
5.47 pm: 11 ambulance cars are on their way to Koi-Tash, the Ministry of Health said.
5.40 pm: Journalists report about active actions of police forces in Atambayev's residence. Some law enforcers reportedly entered the territory of the residence.
The information is yet to be confirmed.

5:30 am: Mobile communication with the villagers above Besh-Kungei is still lost. Koi-Tash is out of reach.
5:05 pm: A group of citizens arrived in Kok-Jar village from the Media Forum, where they were set to have a meeting in support of Atambayev. However, the road is blocked by police. People are trying to break through them to Koi-Tash village.
4:23 pm: Police start storming Atambayev's house again. They are throwing noise grenades.
4:20 pm: About 500 people who were inside Atambayev's house headed to Besh-Kungei village. They are not armed. They have stones and sticks.
4:13 pm: SWAT soldiers held hostage in Koi-Tash were freed, Farid Niyazov said.
4:09 pm: A brigade of doctors of 12-13 workers arrived on the scene.
4:07 pm: Police cordon arrives in Koi-Tash. Policemen are clearing the roads from stones and trees collected for blocking roads.
3:51 pm: 6 SWAT soldiers were taken outside Atambayev's house and handed to their colleagues.
3:50 pm: People, mainly men, are gathering in Koi-Tash. The roads are being blocked by fallen trees. Atambayev and supporters are expected to head to the Media Forum.
3:33 pm: 15 buses and 8 microbuses with policemen are in Besh-Kungei village near Koi-Tash village. Deputy Interior Minister Almazbek Orozaliyev is in Besh-Kungei village, too.
3:25 pm: 4 police buses, 4 municipal buses with policemen and special equipment for dispersing protesters headed to Koi-Tash. Police blocked the road in Koi-Tash leading to Bishkek city.
3:20 pm: Some malls in Bishkek alerted that they are closing earlier today.
2:30 pm: 11 people are still hospitalized. Doctors continue to work in an enhanced mode.

1:43 pm: Doctors said they checked the soldiers. The exact number of hostages is still unknown. Doctors said they bandaged one of them.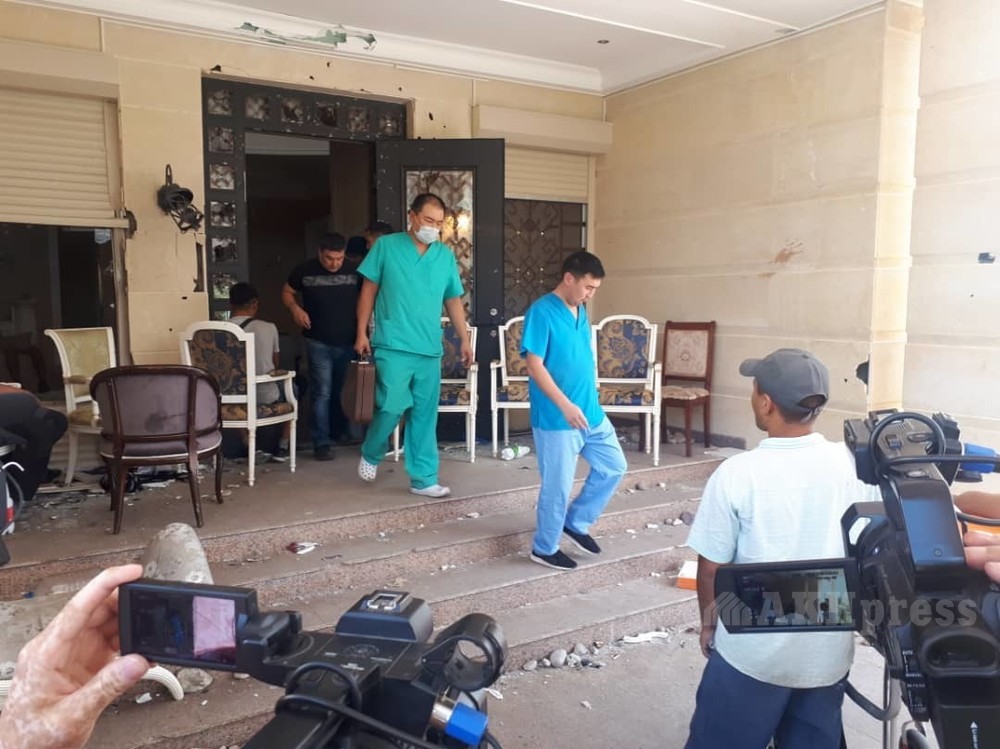 1:35 pm: Kylychev said doctors checked the conditions of soldiers taken hostage.
1:33 pm: Doctors arrived in Atambayev's house, where SWAT soldiers are kept. Alga Kylychev met with doctors, 2 of them entered the house.

1 pm: Teams of doctors from the Center of General Medical Practice of Arashan distrcit are on duty in Koi-Tash village, the Ministry of Health said. 21 local residents asked for medical assistance with various wounds and refused to be hospitalized.
The doctors also provided assistance to 6 law enforcement officers held in Koi-Tash. Their condition is assessed as moderate. Soldiers have various injuries: two of them have bullet wounds to the calf muscle and hip. The other four have bruises, lacerations of different parts of the body.
11:45 am: President Sooronbai Jeenbekov said that Atambayev grossly violated the Constitution and laws of Kyrgyzstan by armed resistance to lawful investigation.
11:26 am: Atambayev said he will come to the Media Forum building in Bishkek together with his supporters at 4:30 pm. "Half of the people wants to go to the Media Forum, the another half wants to go to the White House. But first, we will go to the Media Forum, and if needed, to the White House," Atambayev said.
11:15 am: SWAT soldiers taken hostage in Koi-Tash village after the storming on August 7 will be freed, Atambayev said.

10:55 am: Farid Niyanov said the people will decide what to do with SWAT soldiers taken hostage in Koi-Tash village at 11 am.
10:25 am: Atambayev's supporter Abyl Begaliyev was found injured in the morning, he fell into the ravine on August 7. Ambulance was called in to Koi-Tash.
9:47 am: Farid Niyazov said Atambayev is home.
9:35 am: Atambayev's supporters are gathering at his home.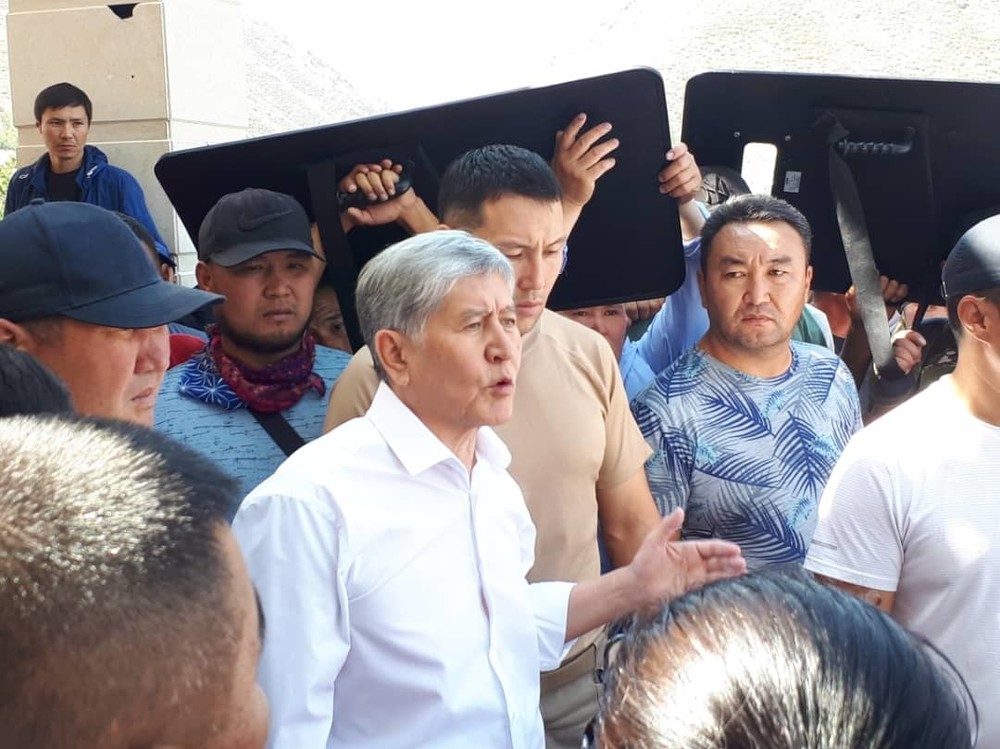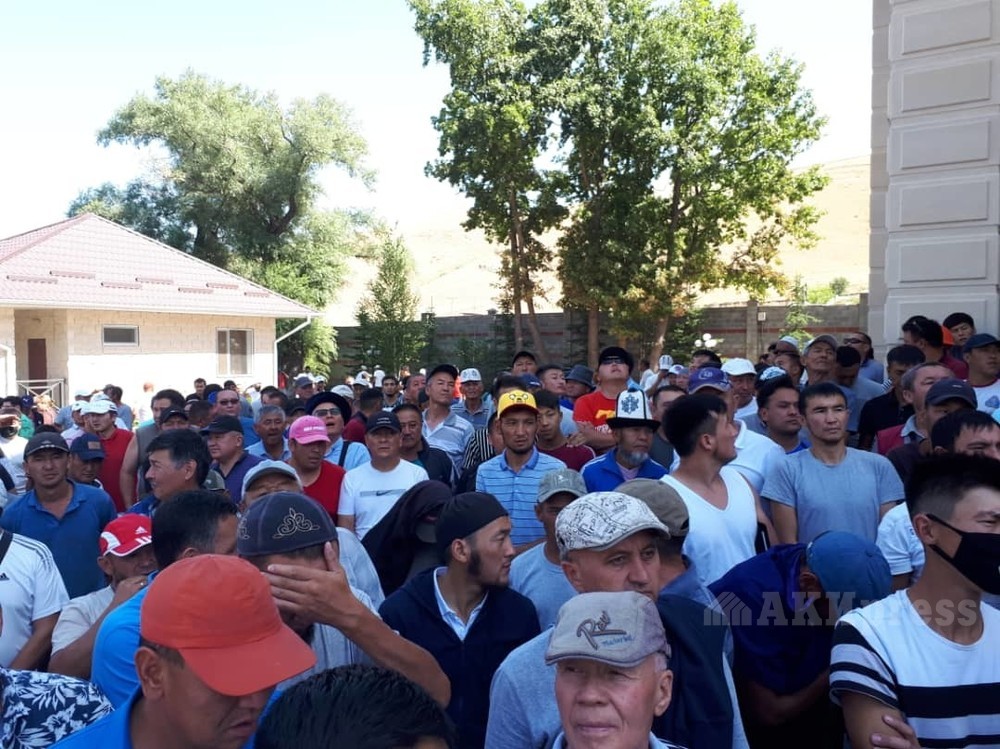 9:30 am: The Interior Ministry said there's no information about the hostages yet.
9:18 am: 6 SWAT soldiers captured in Koi-Tash are under medical supervision, member of the SDPK political council Ermek Okenov said.
9:01 am: Interior Ministry said Atambayev's supporters organized mass riots in Koi-Tash village on August 7 showing armed resistance to the employees of the National Security Committee and police.
8:27 am: Prosecutor General's Office launched pre-trial investigation into mass disorder, murder, hostage-taking following the attempt of police special forces to storm Atambayev's home on August 7.