Kyrgyzstan commemorates tragic events of 7 April 2010
AKIPRESS.COM - Kyrgyzstan pays tribute to the tragic events of April 2010 leading to change of power and escape of almost all leadership of the country.
AKIpress correspondents tried to restrore chronology of the events they witnessed on April 6-7.
---
Clashes between opposition and police forces in Talas on April 6 preceded the bloodshed on Ala-Too square in Bishkek.
On April 5, Interior Minister Moldomusa Kongantiev said he would not allow unsanctioned opposition rallies. They will be toughly suppressed, he said.
The riot police squad of police officers from southern regions of Kyrgyzstan and Bishkek tried to disperse opposition rallying in Talas. Human rights activists reported about use of provocations. For instance, one of opposition leaders Bolot Sherniyazov was arrested by police at the square outside Talas region administration.
Arrest sparked outrage of Talas residents and they began throwing stones into police forces. The square was cleared from demonstrators several times, but civilians started beating police officers massively since evening - over 200 special task force police officers were beaten, the buildings of the region administration and region police department where police officers barricaded inside were set on fire. A part of police officers escaped and hided at homes of locals. More than 700 weapons were missing. Around 70 detained persons escaped from temporary detention facility.
Interior Minister Moldomusa Kongantiev and then Deputy Prime Minister Akylbek Japarov with police officers arrived in Talas at night. They were attacked and police squad was dispersed. The Interior Minister was taken hostage and severely beaten. Deputy Prime Minister Akylbek Japarov, who led the special operation in Talas, went missing. He showed up safe and sound several days later.
In the night of April 6-7, the special forces arrested opposition leaders in Bishkek, including Almazbek Atambayev, Temir Sariev, Keneshbek Dushebaev, Omurbek Tekebaev. Roza Otunbaeva was the only opposition leader who was not detained.
Prime Minister Daniyar Usenov gave a press conference in the morning of April 7 in Bishkek. He called demonstrators gangsters and told journalists the situation in Talas normalizes. He voiced several facts that made it clear that the riot police in Talas was crashed. After several persistent questions he said 15 police officers went missing, weapons were seized, etc.
Journalists noticed that workers of the press service of the President's Secretariat who wore business suits normally were wearing sport clothes...
PM Daniyar Usenov provided false information about the situation in the country, while opposition gathered on near Forum building in Bishkek.
Disorders outside Forum Building in Bishkek / Photo: AKIpress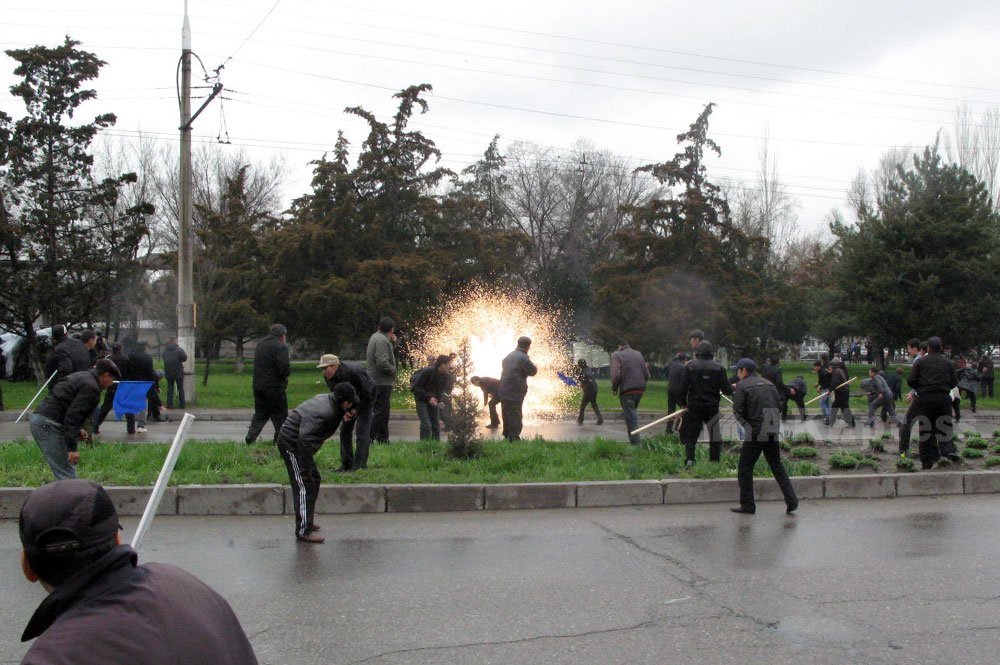 Police started dispersing gathered people. They were blocked in one building. The windows were broken, the doors were damaged. At around 11.00 a.m. demonstrators defeated police and special task force of the national security committee despite used special means.
Police and SWAT officers were beaten by crowds. Some demonstrators tried to stop this and to take away severely beaten servicemen.
Around 6 police cars were burnt and two military trucks full of weapons and grenade launchers were seized.
Disorders outside Forum Building in Bishkek/ Photo: Vyacheslav Oseledko/AFP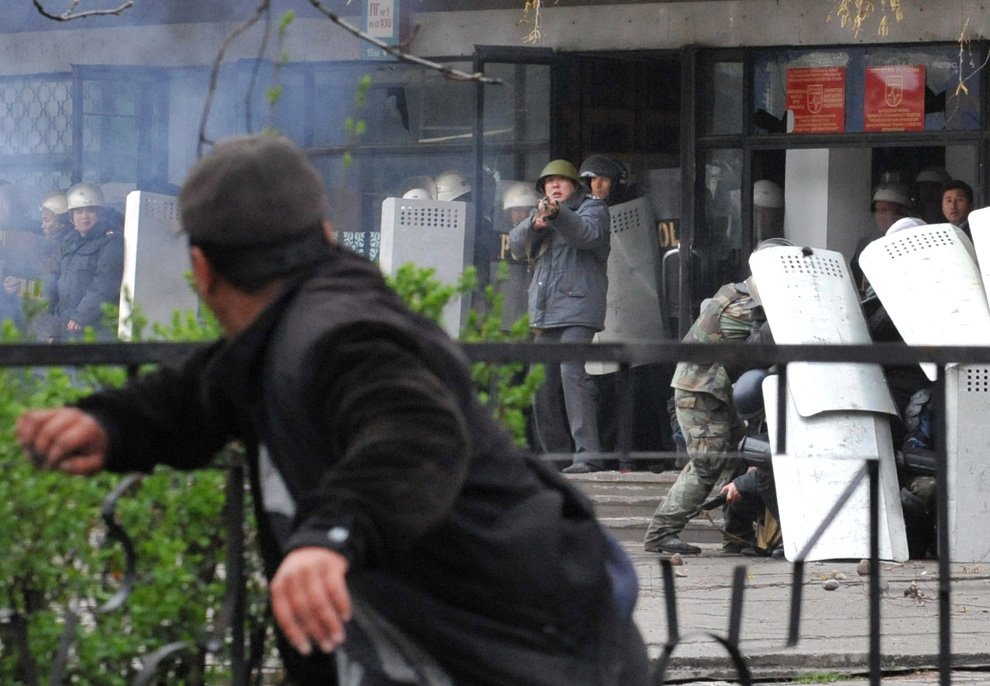 Photo: Vladimir Pirogov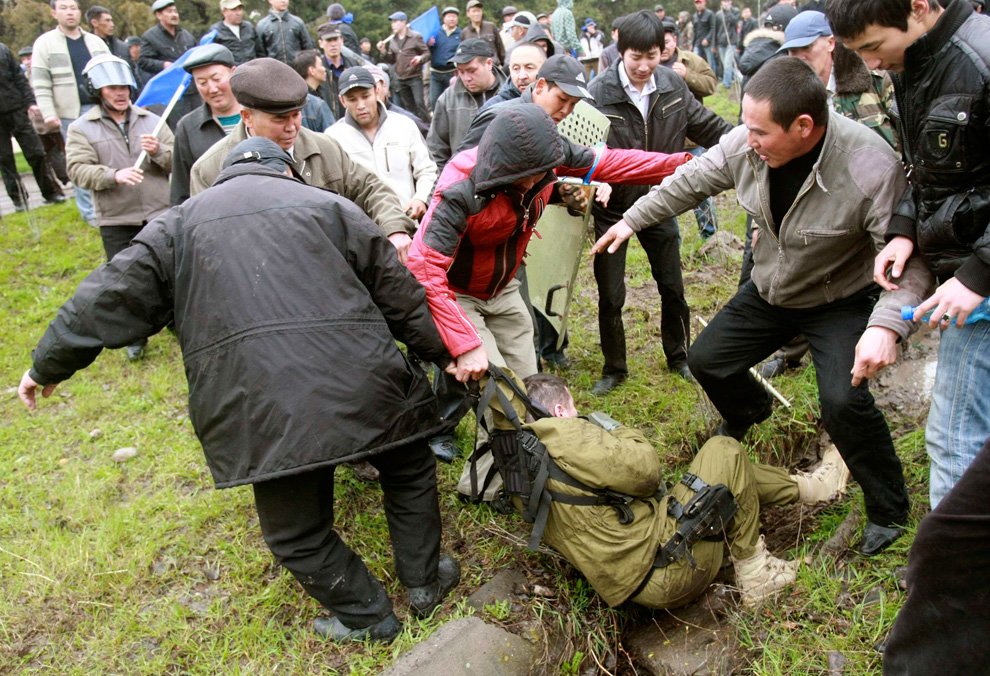 Photo: Vladimir Pirogov

Demonstators seized military trucks/ Photo: AKIpress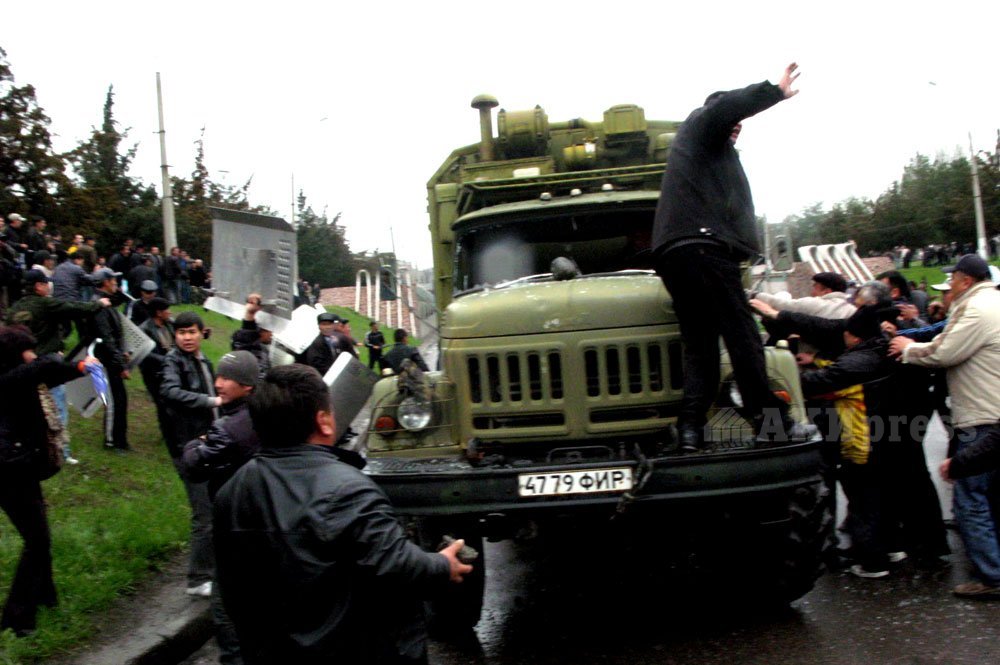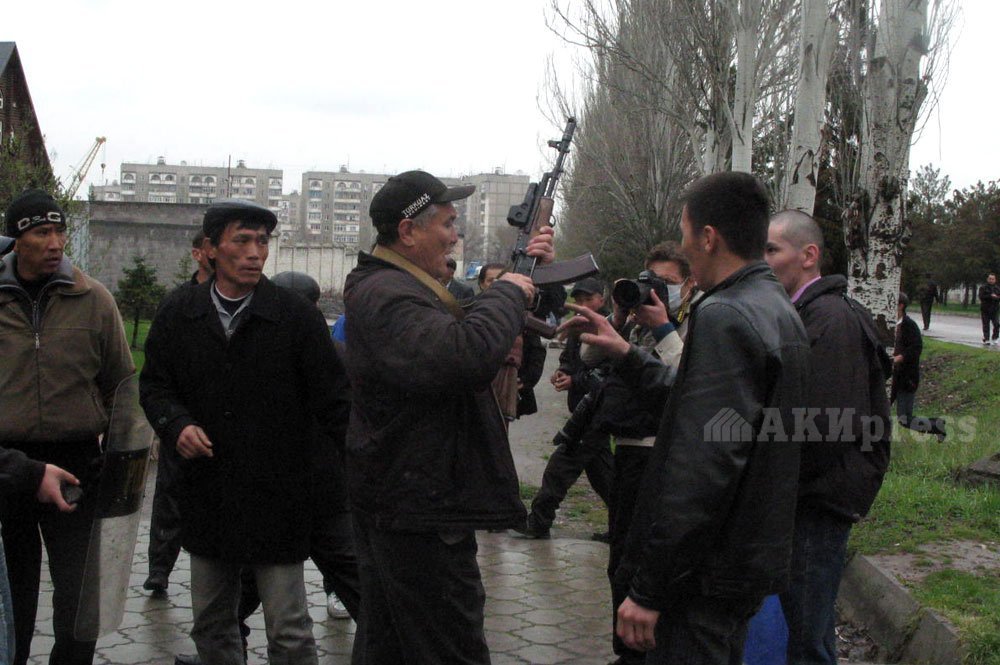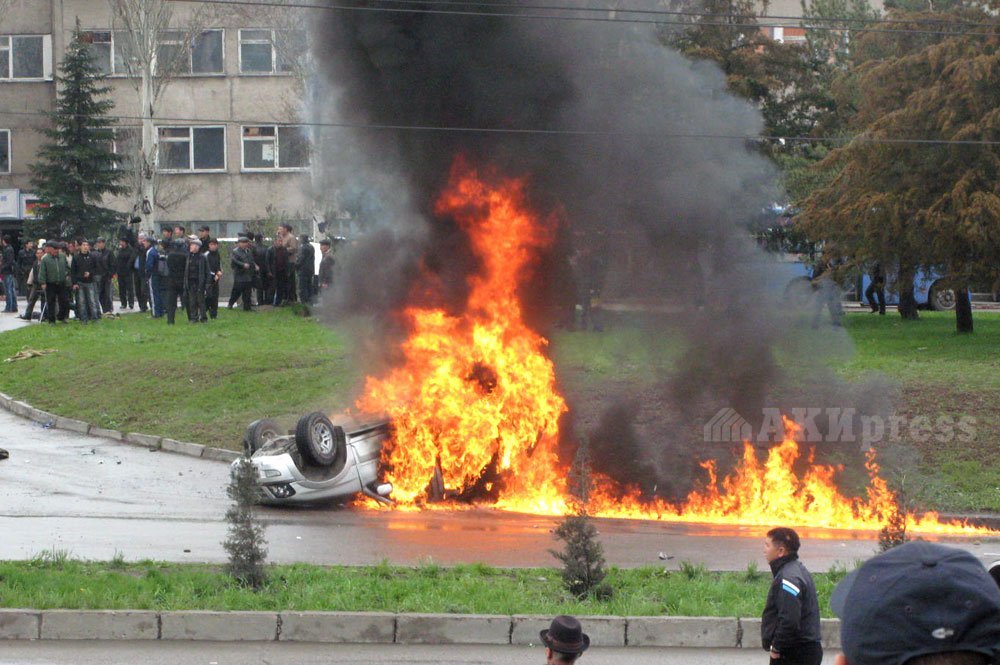 Photo: Vyacheslav Oseledko/AFP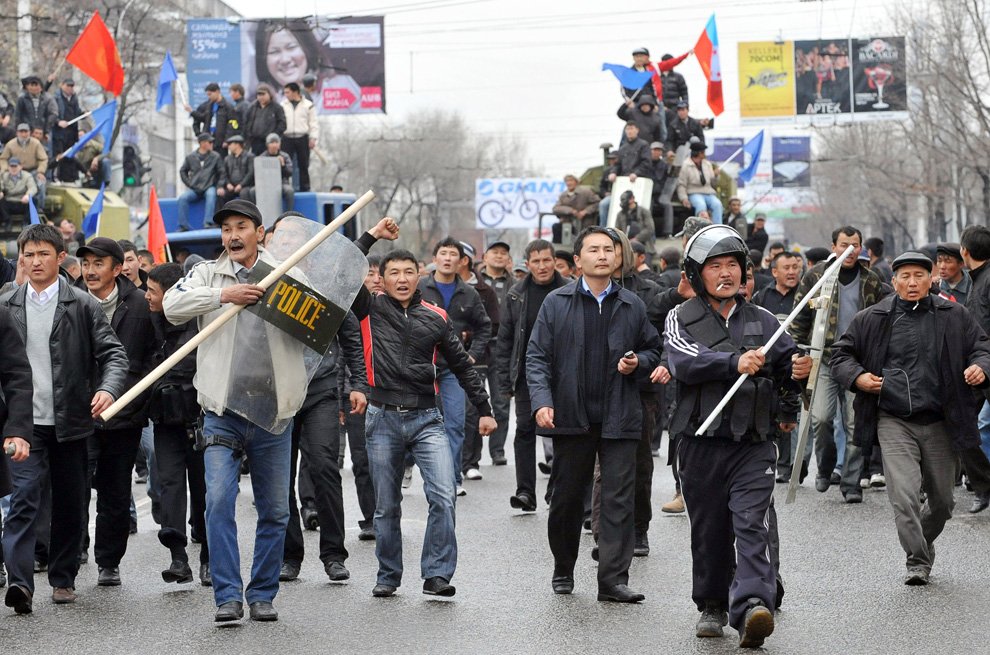 After that a huge crowd marched along Chui Prospekt to the White House (building shared by the President's and Prime Minister's Offices) supported by two seized military trucks. At around 1.00 p.m. they arrived at Ala-Too Square.
One of the truck was used to ram the gates of the White House, but police opened fire. Probably rubber bullets were used that time, since nobody was injured. Drivers escaped.
The truck that tried to ram into the western gate of the White House was set on fire / Photo: AKIpress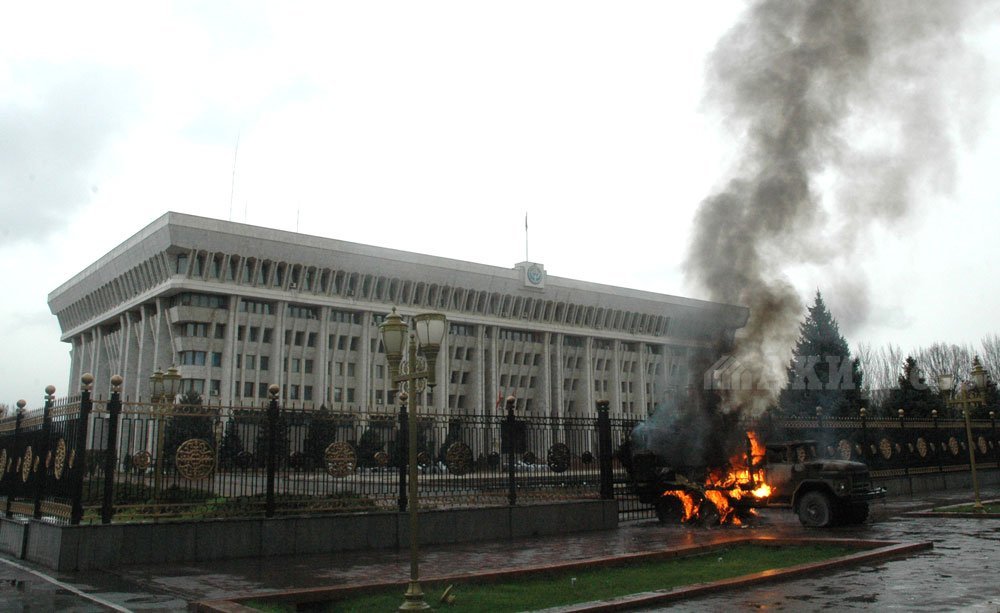 Photo: Vyacheslav Oseledko/AFP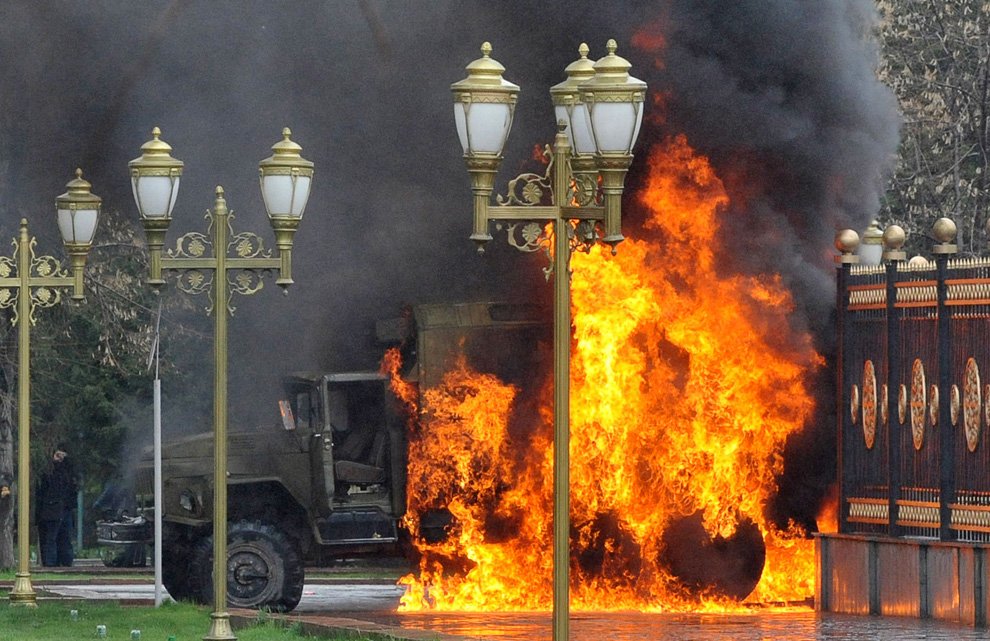 All who got into the territory of the White House were immediately arrested by police / Photo: AKIpress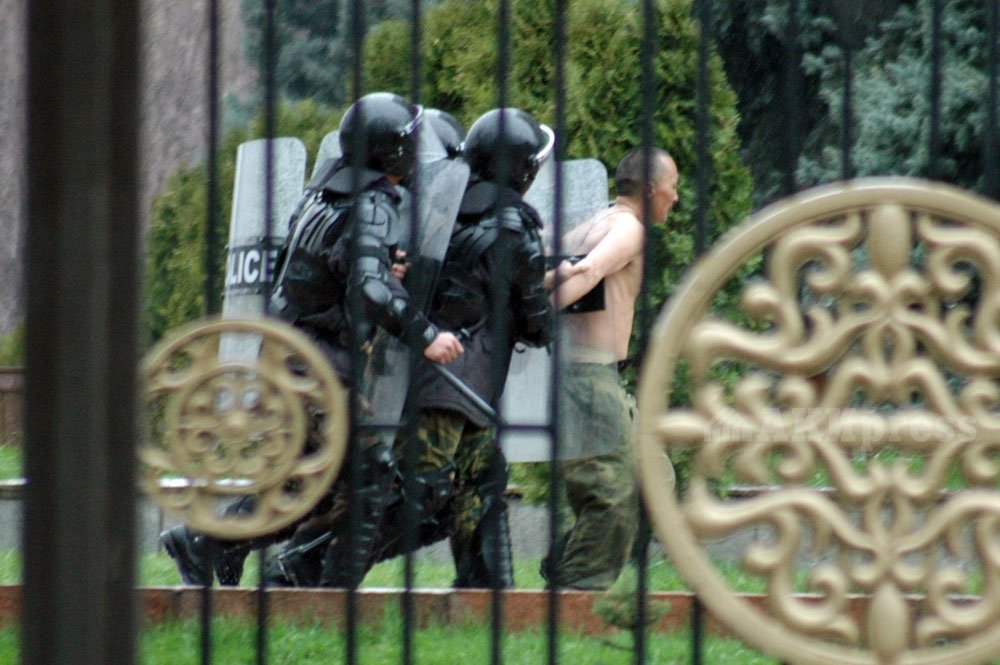 Schoolchildren were seen among bystanders / Photo: AKIpress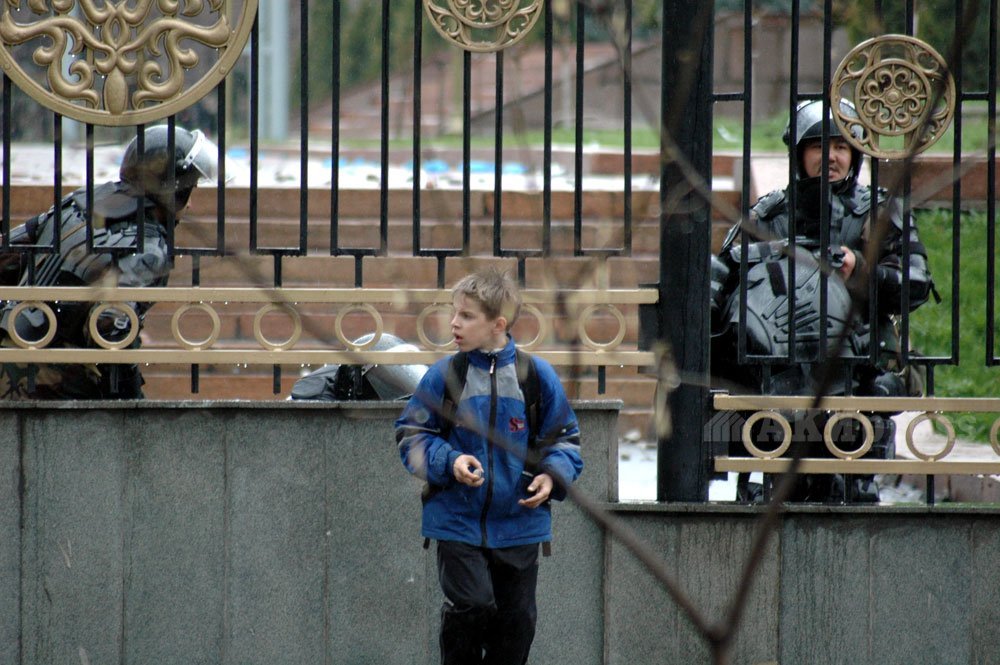 Police squad started dispersing demonstrators / Photo: Vyacheslav Oseledko/AFP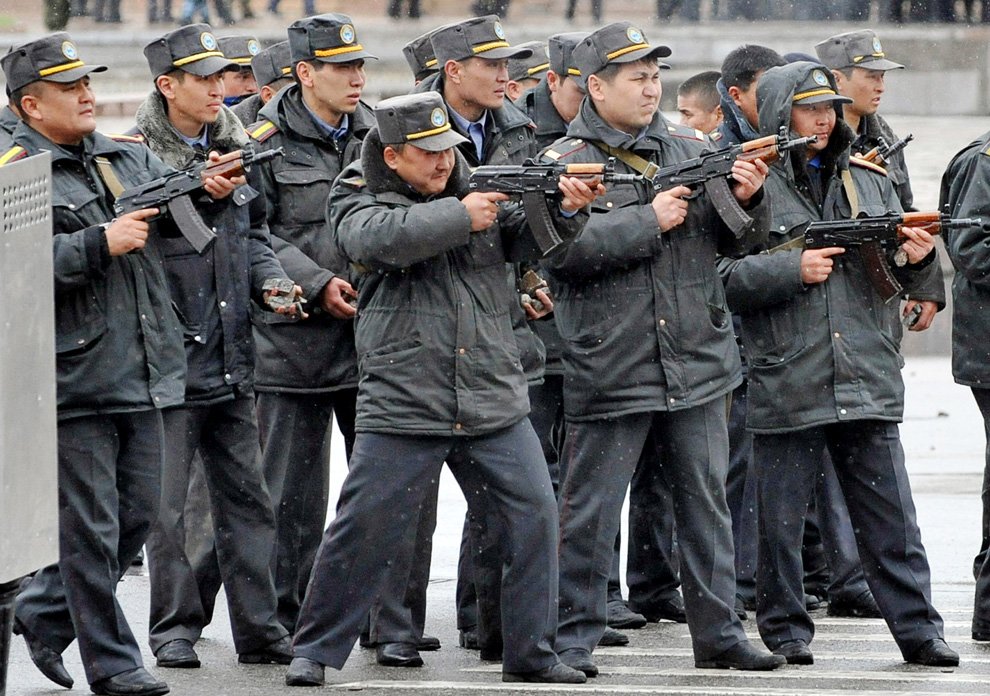 Photo: Vladimir Pirogov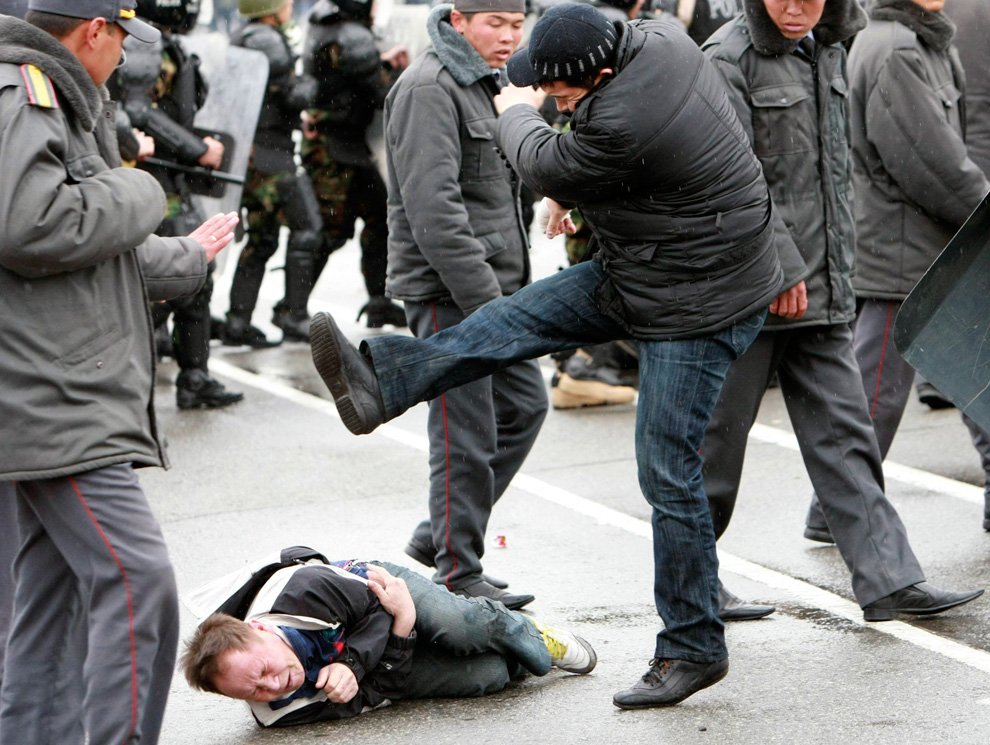 Police cleared the territory of the White House from demonstrators.
Around 200 cadets of Police Academy, patrol police officers regrouped at the square with shields and helmets trying to disperse several thousands people from the square.
The mounted police squad of around 15 riders near the State Historical Museum was not used.
Demonstrators started slow attack hurling stones into police.
A grenade exploded near patrol police officer suddenly. He was taken away by his colleagues in the direction of the White House. The rest police officers ran after them. It became known later that wounded police officer Almaz Akchakeyev lost both his legs.
Grenade exploded at legs of police officers Almaz Akchakeyev / Photo: AKIpress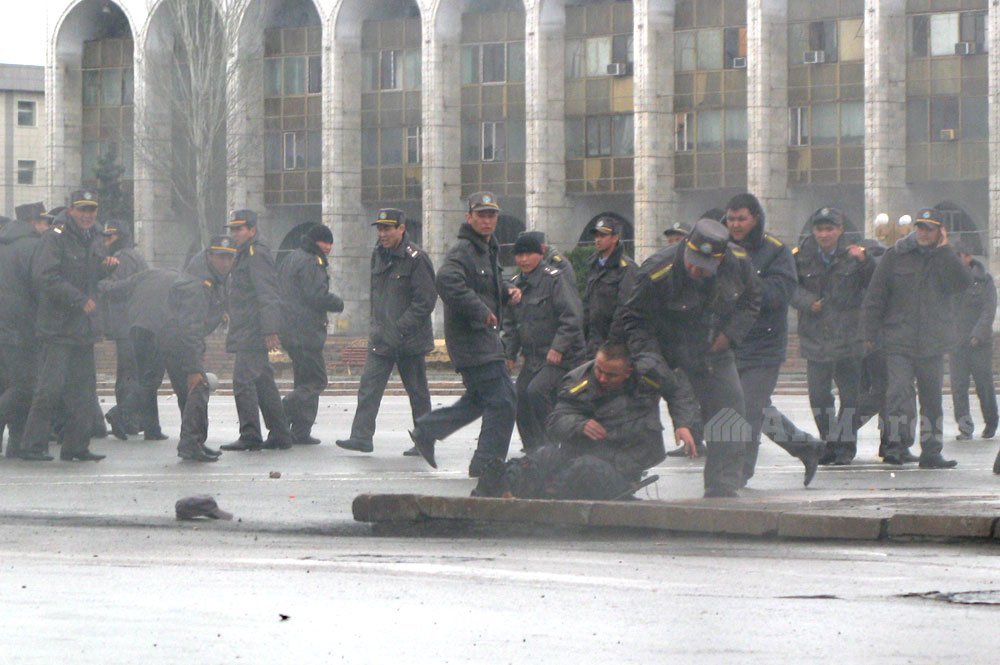 The squad of cadets stood for several minutes more - they fell under stone storm.
Another grenade exploded at their legs. The police squad dispersed. Demonstrators starting beating police cadets. Two police cadets Edil Takyrbashev and Nikita Kushch died.
Photo: Vladimir Pirogov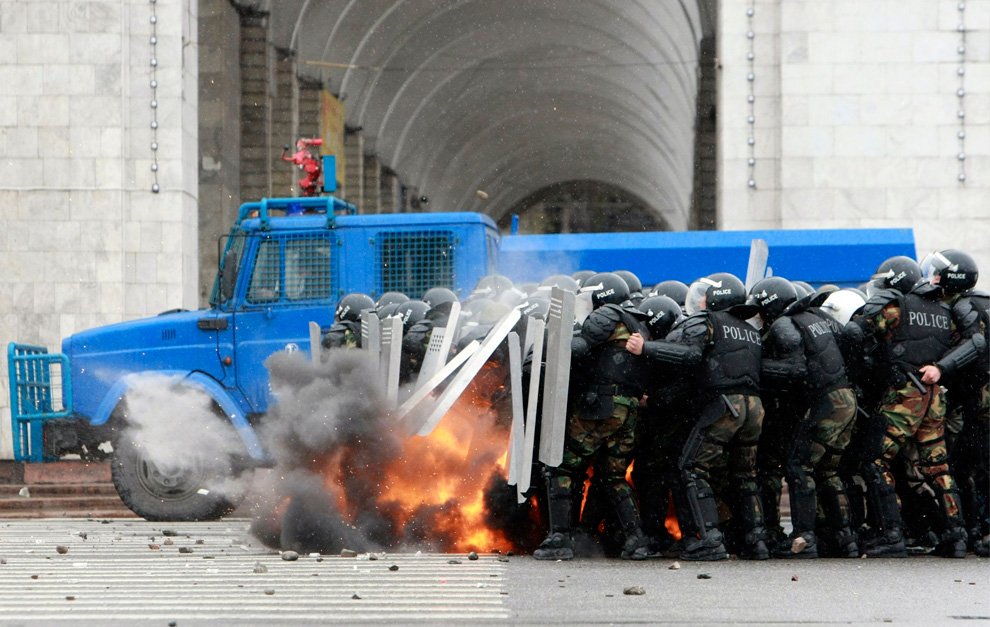 Photo: AKIpress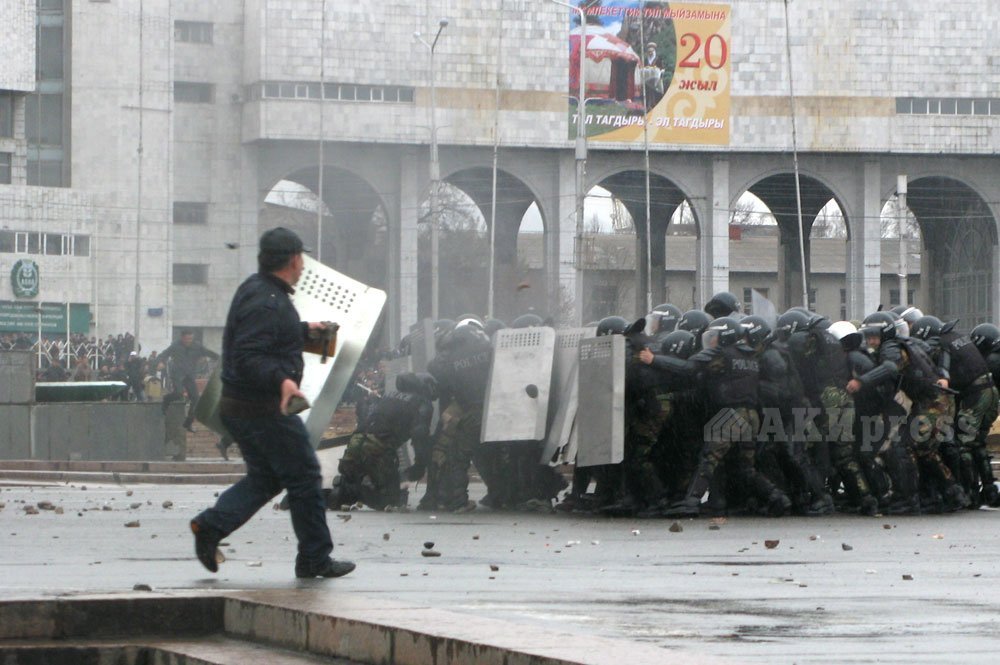 Photo: Vyachslav Oseledko/AFP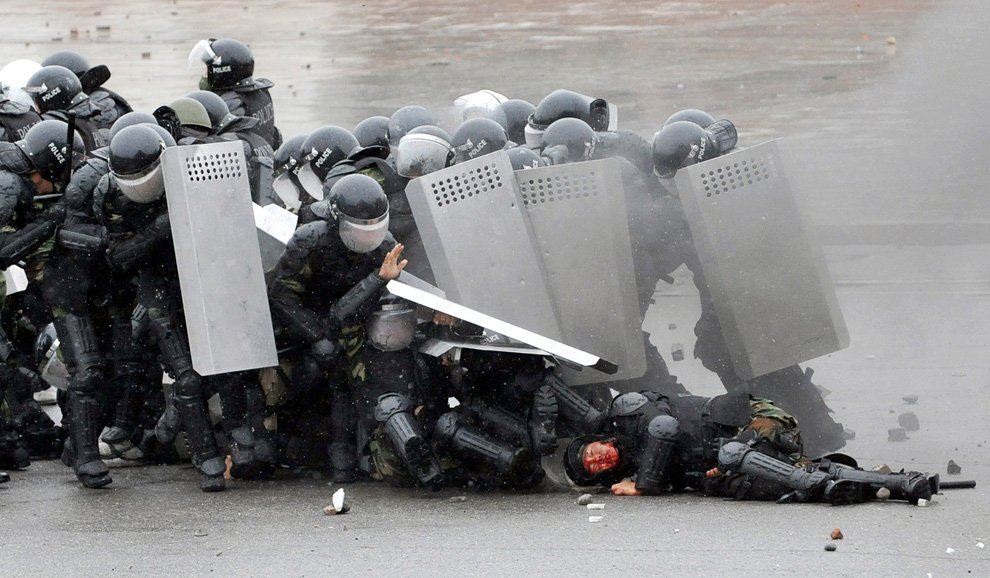 Photo: AKIpress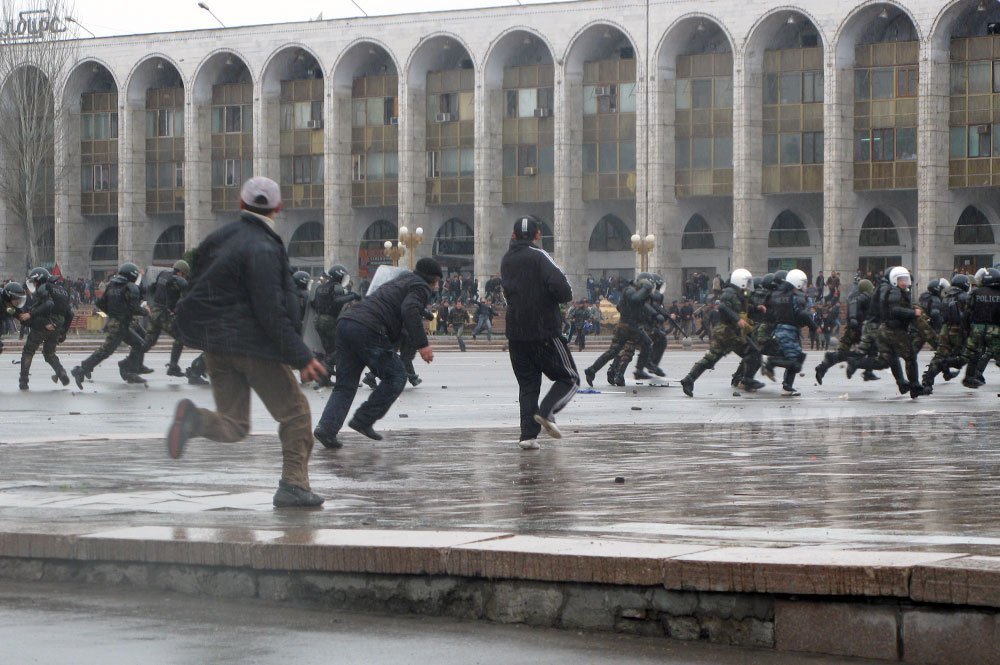 Having dispersed police forces, demonstrators reached the White House gate and made a hole in the gate through which around 10-15 people with flags got inside. They were shot to death by snipers for several seconds. They became the first fatalities in the bloodshed.
Snipers then began shooting all who got into the territory in front of the White House. After the snipers saw that people did not leave, they began shooting into the bystanders behind the fence.
Photo: Vladimir Pirogov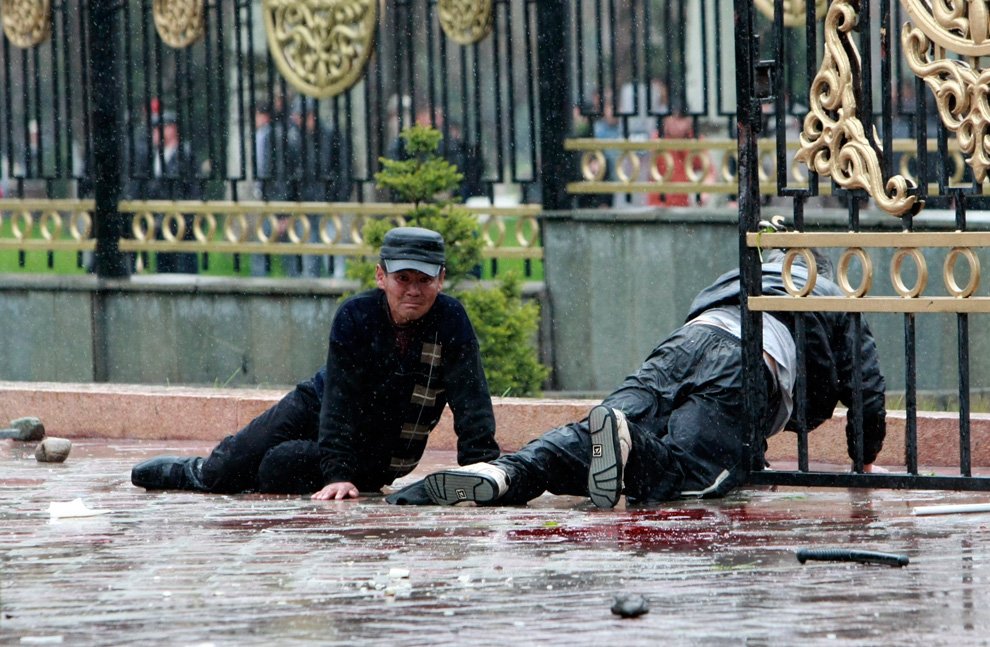 Photo: AKIpress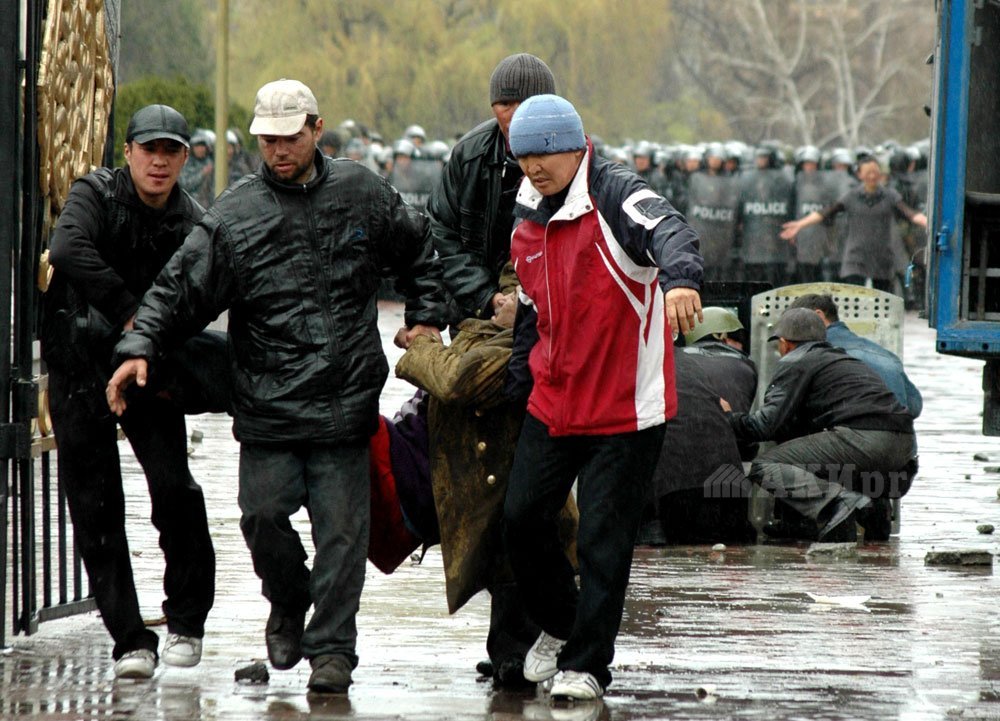 Photo: AKIpress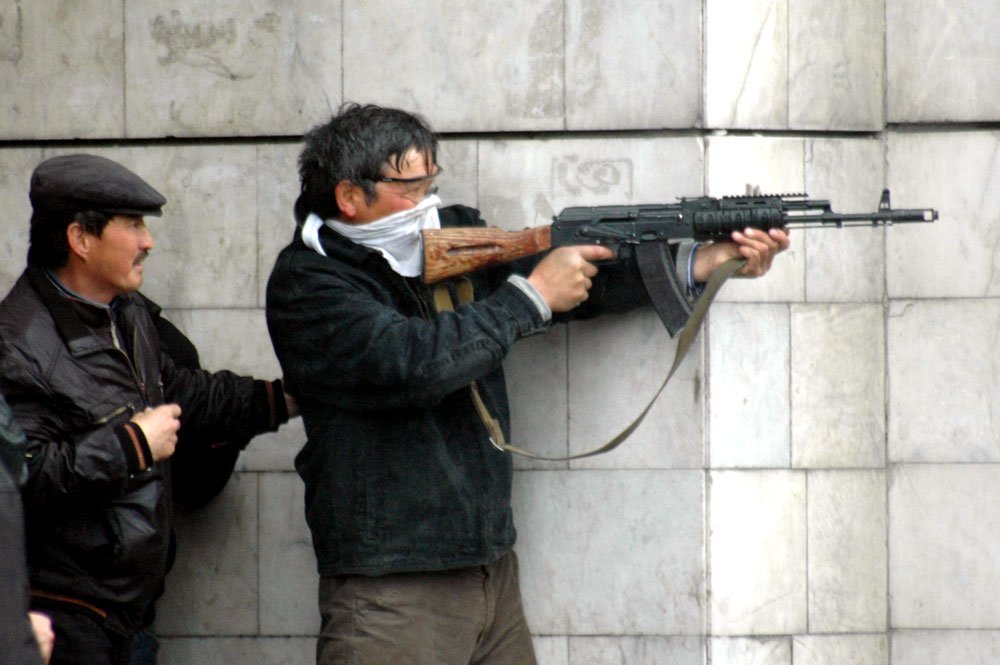 Photo: AKIpress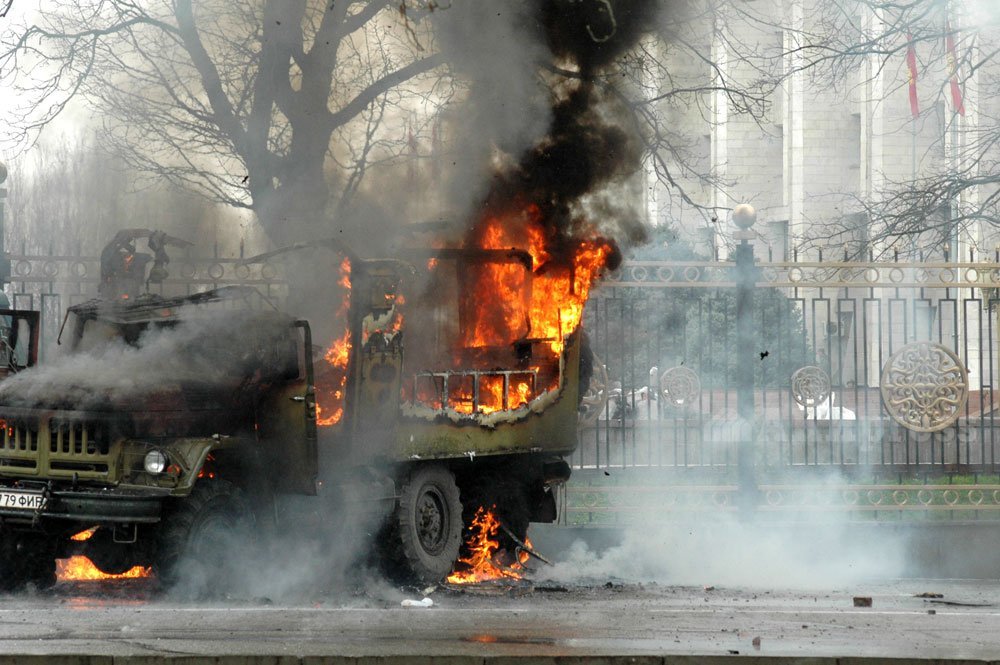 Photo: AKIpress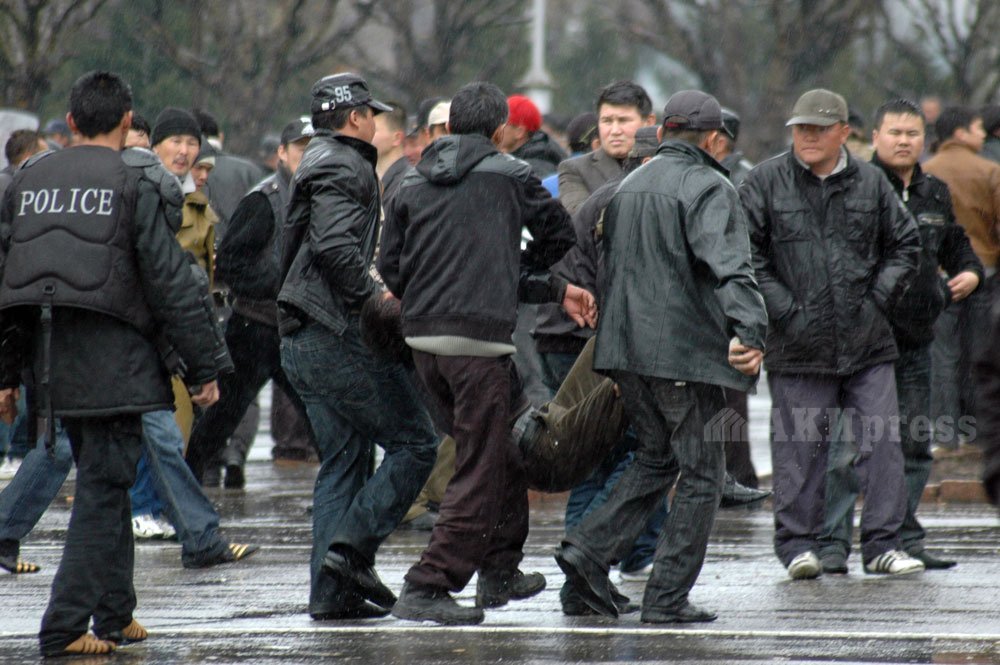 Minister-to be Aliyasbek Alymkulov received a gunshot wound into his head / Photo: Vladimir Pirogov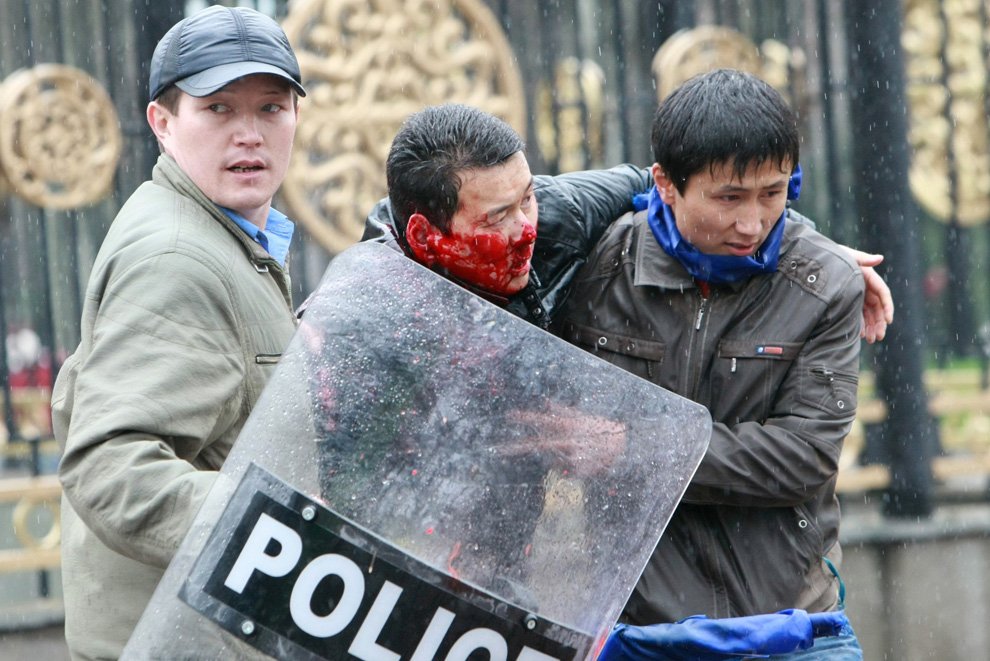 More and more people were coming and joining the demonstrators. They tried to storm the White House with intervals, but had to retreat with losses.
The outpatient department of the President's Administration close to the square was the place where the injured were brought from the sqquare. It was full of dead bodies and still alive wounded demonstrators.
Photo: AKIpress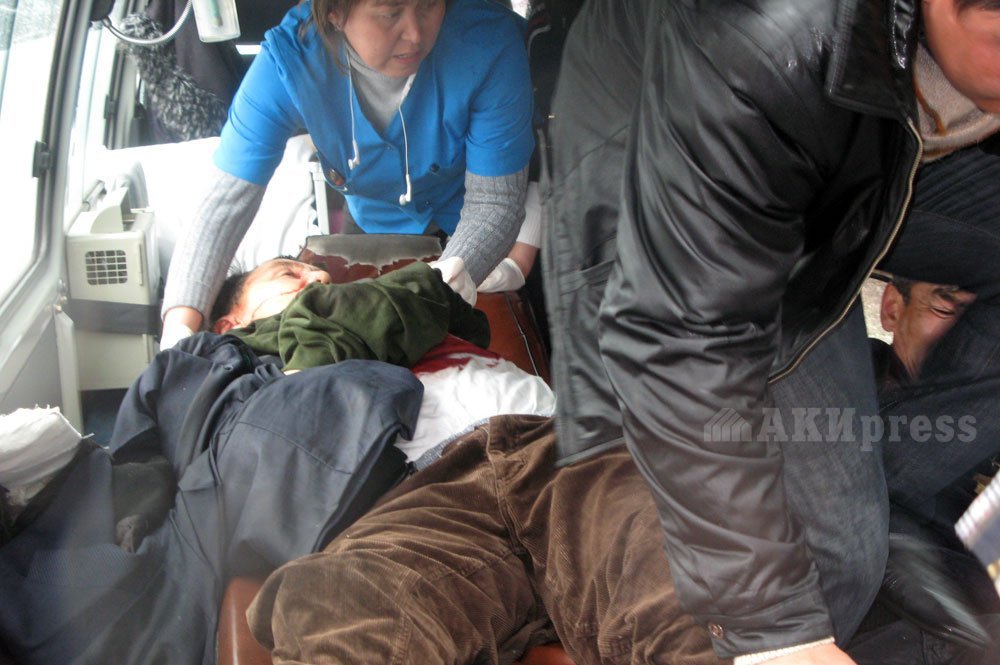 Another big group of demonstrators stormed the National Security Service building, trying to release the arrested opposition leaders. The storm lasted more than 2 hours. All detained opposition members were released finally...
In the period between 4.00 and 6.00 p.m. the building of the General Prosecutor's Office was looted and set on fire. The Parliament building was stormed then.
Photo: AKIpress

At around 8.00 p.m. President Kurmanbek Bakiev left the White House.
This has become a crucial starting point - the rest employees started escaping the building of the White House.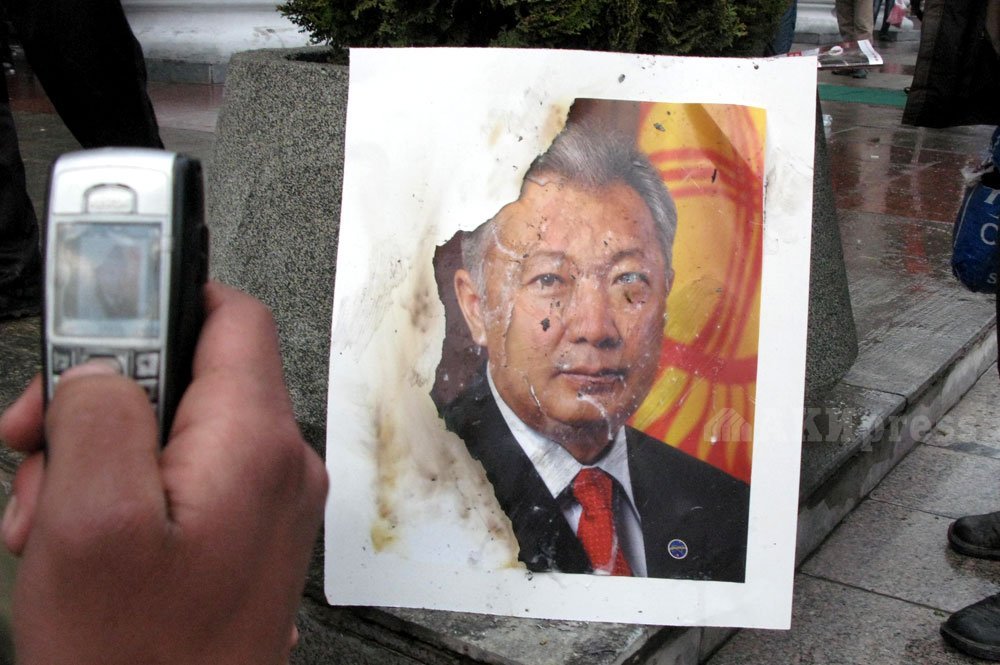 Looting started in Bishkek by that time with retail chains, shopping centers, stores looted in the central parts of the city.
Only military and Prime Minister Daniyar Usenov remained in the White House by the night. At around midnight Usenov left the White House with escort of internal troops soldiers. This was the end of official power in the country.
The whole city was massively looted in the night of April 7 and 8.
---
This is how this bloody day ended. 87 people died in total, more than 300 were wounded.
Former President Kurmanbek Bakiev, former head of State Guard Service Janysh Bakiev, ex-PM Daniyar Usenov were handed life sentences at the trial on 7 April 2010 events on 25 July 2014.
Photos: Azamat Imanaliev/AKIpress, Ryspek Toktonaliev/AKIpress, Vyacheslav Oseledko/AFP, Vladimir Pirogov

Photos are published with permission of their authors.