Foreign Ministries of Russia, Turkmenistan sign cooperation program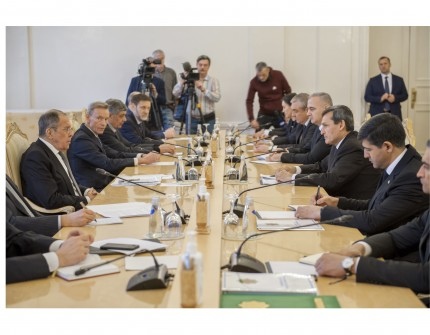 AKIPRESS.COM - The government delegation of Turkmenistan led by Deputy Chairman of the Cabinet of Ministers, Minister of Foreign Affairs Rashid Meredov met with Russian Foreign Minister Sergei Lavrov during two-day visit to Moscow.
"Turkmenistan is our close friend, strategic partner. Russia pays great attention to cooperation with Turkmenistan in regional and international affairs. The tone of our relations is set by the Presidents of the two countries, who have held 5 meetings this year alone," Foreign Minister Sergey Lavrov emphasized.
He also highlighted the importance of bilateral inter-parliamentary cooperation, the interaction of Russian regions with Turkmenistan, which makes a significant positive contribution to the course of interstate relations.
Turkmen FM Rashid Meredov expressed confidence that the bilateral talks would be an important step in bilateral relations and emphasized the main factor in their successful development - high-level meetings.
FM Meredov expressed gratitude to Russia for the continued support of Turkmenistan's international initiatives, including in such areas as energy security, sustainable transport, ecology, and a number of other areas.
The officials discussed in detail the state of and prospects for interaction in the foreign policy arena, in particular, in matters of maintaining and strengthening regional and global stability, cooperation on the Caspian and Aral Sea issues, and jointly countering new challenges and threats. The effectiveness of interaction between Turkmenistan and Russia in international organizations, including the United Nations and the Commonwealth of Independent States, was noted.
The issues of trade and economic cooperation between the two countries were reviewed.
During the talks, the importance of expanding cultural and humanitarian ties was noted. FM Lavrov highly appreciated the careful attitude in Turkmenistan to the Russian language and culture. In this regard, the decision taken at the state level to construct a new building of the Russian Drama Theater named after Mikhail Pushkin, and to create the Russian-Turkmen University, was acknowledged.
The parties reaffirmed their firm mutual commitment to the further development of strategic partnership that meet the fundamental interests of the two countries and contribute to ensuring peace, stability and development on a regional and global scale.
The Cooperation Program between the Ministries of Foreign Affairs of Turkmenistan and the Russian Federation for 2023-2024 was signed.