Rock inscriptions in Greek discovered on mountain in Central Asia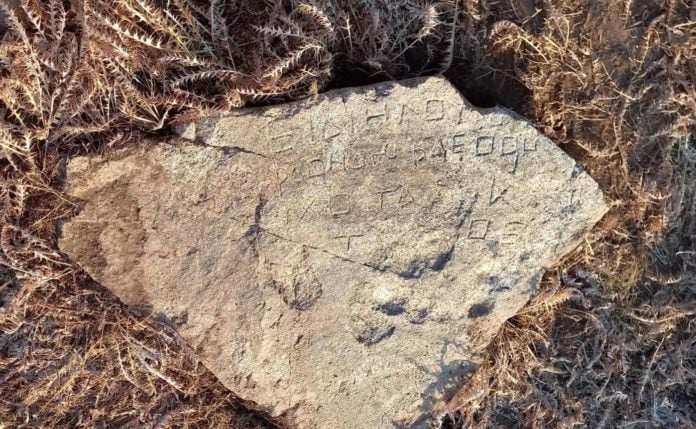 AKIPRESS.COM - Ancient Greek alphabet inscriptions on a rock were recently discovered on a mountain in Tajikistan, a country in Central Asia, Greek Reporter reported.
The engravings in Greek writing in the Bactrian region of that area reads, "ΕΙΔΙΗΛΟ Υ…ϸΑΟΝΑΝϸΑΕ ΟΟΗ-ΜΟ ΤΑΚ-ΤΟΕ," which translates to "This is the…of the king of kings, Vima Tactu," according to Nicholas Sims-Williams, a leading specialist in the study of the Bactrian language.
Archaeologists do not typically have the opportunity to discover new monuments in Tajikistan due to its natural landscapes.
The monuments in hard-to-reach mountainous areas are particularly difficult to identify. Local residents get the job done, however, and report their findings to archaeologists.
For example, in 1932, a local shepherd named Jura Ali discovered a basket filled with documents on Mount Mug. The finding turned out to be unique, as it was the first text in the Sogdian language found in the territory of historical Sogd. That study eventually led to the discovery of the settlement of ancient Penjikent.
Similarly, a resident of the village of Shol in the Hisor Sanginov district came across inscriptions in an unfamiliar letter in the mountains.
Bobomullo Bobomulloev, a researcher at the Institute of History, Archaeology and Ethnography of the National Academy of Sciences of Tajikistan, took over the examination of the discovery.
After closer analysis, the rock inscriptions indeed turned out to be in ancient writing. They were located on the northernmost part of the gorge near the right tributary of the Almosi River in a very picturesque place known among the local population as Khoja Mafraj.
The local shepherd Sanginov Khaitali, who made the find, said that the first time he had visited the area, he had found even more.
Due to avalanches, fragments with inscriptions fell to the foot of the cliff. The part that survived is carved on a flat rock surface in three lines, where there are twenty-three letters.