India dispatches first consignment of earthquake relief material to Turkiye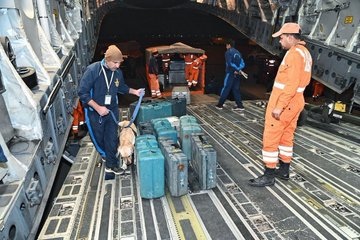 AKIPRESS.COM - India dispatched the first batch of earthquake relief material to Turkiye onboard an Indian Air Force aircraft on February 7. The first C17 flight with more than 50 National Disaster Response Force (NDRF) personnel, reached Adana, Turkiye on Tuesday, Business Standard reported.
The shipment included an elite NDRF search and rescue team consisting of both male and female workers, skilled dog squads, a variety of medical supplies, advanced drilling equipment, and other essential help items.
"India's Humanitarian Assistance and Disaster Relief (HADR) capabilities in action. The 1st batch of earthquake relief material leaves for Turkiye, along with NDRF Search and Rescue Teams, specially trained dog squads, medical supplies, drilling machines and other necessary equipment," spokesperson of the Ministry of External Affairs of India tweeted.
Earlier on February 6, India's Prime Minister Narendra Modi expressed grief over the deaths and property destruction caused by the earthquake in Turkiye. He also instructed officials to offer all possible assistance in coping with the aftermath of the earthquake.
"Anguished by the loss of lives and damage of property due to the Earthquake in Turkey. Condolences to the bereaved families. May the injured recover soon. India stands in solidarity with the people of Turkey and is ready to offer all possible assistance to cope with this tragedy", PM Narendra Modi wrote in a Twitter post.
A series of deadly earthquakes jolted Turkiye and Syria on February 6, claiming over 4000 lives so far. Rescue workers are scrambling for survivors among the rubble of massive buildings that toppled down like cards within seconds.
The total number of injured in Syria and Turkiye have reached 16,000 following the earthquakes. Nearly 3000 people were killed and 15,000 others injured in Turkiye after earthquakes jolted the southern part of the country on February 6.
Turkish Ambassador to India Firat Sunel expressed his gratitude towards the Indian government's offer of assistance and said that "a friend in need is indeed a friend". He also mentioned a Turkish proverb, "Dost kara gunde belli olur", which means "a friend in need is a friend indeed".