Meeting on Afghanistan in Moscow: India says it will never abandon Afghanistan people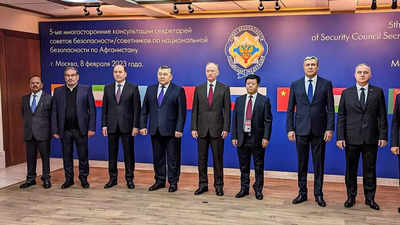 AKIPRESS.COM - Russia hosted the fifth multilateral meeting of secretaries of the security council on Afghanistan in Moscow on Wednesday, that also focused on the evolving regional security matrix, The Khaama Press reported.
Apart from the host Russia, Secretaries of Security Councils from China, India, Iran, Kazakhstan, Kyrgyzstan, Tajikistan, Turkmenistan and Uzbekistan attended the meeting on Afghanistan.
They said various issues related to Afghanistan were discussed, including the security situation and humanitarian challenges facing Afghanistan. The third round of this dialogue was held in New Delhi under the chair of India in November 2021 and the fourth round was held on May 27, 2022, in Dushanbe, Tajikistan.
Participating at the dialogue, India's National Security Adviser (NSA) Ajit Doval said at the dialogue that Afghanistan is passing through a difficult phase and that India has a historical and special relationship with Afghanistan. He said well-being and humanitarian needs of the people of Afghanistan is India's foremost priority and that New Delhi will never abandon the Afghan people in their time of need.
Doval said that an inclusive and representative dispensation is in the larger interest of the Afghan society. Terrorism has become a major threat in the region, he said, adding that dealing with the Daesh and terror outfits such as the LeT and the JeM requires intensified intelligence and security cooperation between respective states and its agencies.
The NSA said India reaffirmed the importance of the UN Security Council resolution 2593 that calls for terror outfits, including those designated by the top UN body, to be denied sanctuary in the region. He also said no country should be allowed to use Afghan territory to export terrorism and radicalisation.
The Indian representative further said natural resources of Afghanistan should be utilised first for the welfare of the Afghan people. The NSA said that India "is and will" remain an important stakeholder in Afghanistan. "We always stood by people of Afghanistan and will always support collective efforts to help Afghan people build a prosperous and vibrant nation once again," he stressed.
India has not yet recognised the Taliban regime in Afghanistan and has been pitching for the formation of a truly inclusive government in Kabul besides insisting that Afghan soil must not be used for any terrorist activities against any country.
India has been pitching for providing unimpeded humanitarian aid to Afghanistan to address the unfolding humanitarian crisis in the country. In June last year, India re-established its diplomatic presence in Kabul by deploying a "technical team" in its embassy in the Afghan capital.
India had withdrawn its officials from the embassy after the Taliban seized power in August 2021 following concerns over their security. India's "technical team" in Kabul is overseeing the humanitarian assistance program.
India has so far delivered 40,000 MT of wheat, 60 tons of medicines, 500,000 Covid-19 vaccine doses, winter clothing and 28 tons of disaster relief. India has also granted fresh scholarships to 2,260 Afghan students including 300 Afghan girls in the past two years.
Russian Foreign Minister Sergey Lavrov is expected to travel to India to attend the G20 foreign minister's meeting on March 1 and 2.