Air India makes big international push with record Boeing and Airbus order - U.S, France and U.K hail the deal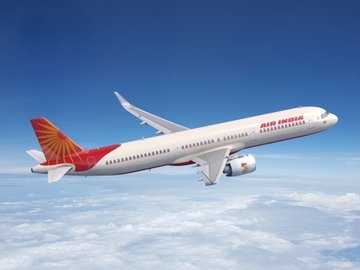 Air India has ordered 470 new aircraft as the carrier pushes to become a bigger global player.
AKIPRESS.COM - Air India's, an airline company in India, eye-popping aircraft order underscores its vaulting global ambitions, but wresting market share from rival carriers in the Middle East and Southeast Asia remains a challenge, Asia Nikkei reports.
The Tata Group-owned airline "Air India" said of the 470 aircraft it ordered, 290 from Boeing and 250 from Airbus, 70 were wide-body variants powered by Rolls Royce and GE Aerospace engines while the rest were single-aisle aircraft fitted with engines from CFM International.
Analysts see the sizable share of wide-body aircraft as reflecting Air India's intent to strengthen its global footprint. People familiar with the deal pegged the list price of the order -- a record for an airline -- around $80 billion, adding that discounts could run up to 50%.
Tata Group, a salt to satellite conglomerate in India, currently operates 210 aircraft among group carriers Air India, Air India Express, Air Asia India and Vistara.
Tata Group Chairman N. Chandrasekaran said Air India will fly "ultra-long routes across the globe," hearkening to its early days before it was taken over by the Indian government in 1953 as part of its nationalization drive.
"Air India is not after rupee earnings. The Tatas have always focused on dollar earnings," said Mark Martin, chief executive at Martin Consulting, an aviation consultancy. "Back in the days, it was predominantly an international airline from India that flew to the world."
With borders reopening after pandemic lockdowns, international air traffic in India is growing at a fast clip. India's civil aviation regulator estimated that 32.6 million passengers flew to and from India in the nine months to September in 2022, up about 90% from 2021. India's domestic air passenger traffic increased 47% on the year in 2022 to 123.2 million.
Boeing expects India to become the world's third-largest market for air travel in the next decade. Much of the hope rests on India's growing middle class, which is expected to switch from public transport like trains and buses to flights on rising income.
According to a World Economic Forum report in 2019, "By 2030, India will move from being an economy led by the bottom of the pyramid, to one led by the middle class. Nearly 80% of households in 2030 will be middle-income, up from about 50% today."
Air India has announced several new international routes after it was bought by the Tata Group for $2.2 billion in January 2022. The airline said that it serves seven cities in Europe with 79 weekly nonstop flights and operated 47 nonstop flights to the U.S.
US President Joe Biden, French President Emmanuel Macron, UK Prime Minister Rishi Sunak and UK Trade Secretary Kemi Badenoch, hailed Air India's multi-billion dollar deal to purchase 470 planes from Airbus and Boeing.
India's Prime Minister Narendra Modi "had a warm and productive" phone call with US President Joe Biden in which the two leaders welcomed the landmark agreement between Air India and Boeing as a "shining example of mutually beneficial cooperation".
Joe Biden underlined how the Air India-Boeing deal will support over one million American jobs across 44 states, and help Air India meet growing demands for air transportation in India.
"The US can and will lead the world in manufacturing. I announce the purchase of over 200 American-made aircraft through a historic agreement between Air India and Boeing," Biden said in a statement.
French President Emmanuel Macron welcomed the Air India-Airbus deal at a virtual event and said it was a new success in the aerospace sector.
UK Prime Minister Rishi Sunak hailed the "landmark" deal between Air India, Airbus and Rolls-Royce and said it demonstrates that the sky's the limit for the UK's thriving aerospace sector.
UK Business and Trade Secretary Kemi Badenoch said the deal is a shot in the arm for UK exports as we aim to sell £1 trillion of goods and services a year to the world by the end of the decade.