Russia regrets West's destabilisation of G20 activity - Foreign Ministry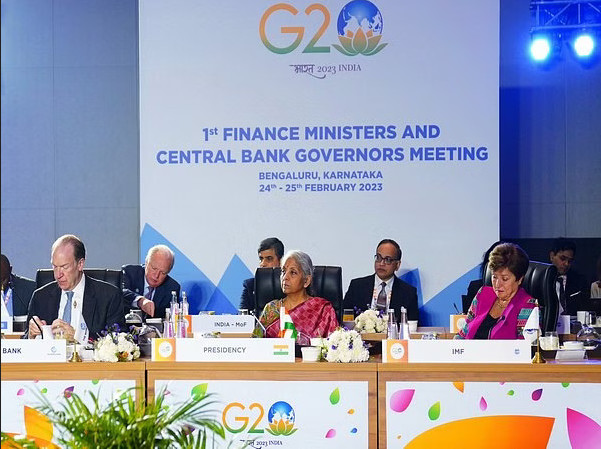 AKIPRESS.COM - Russia regrets that Western countries continue to destabilise the Group of Twenty (G20), as well as use it in an anti-Russian way, according to a statement by the Russian Foreign Ministry published on Saturday, Tass reported.
"We regret that the activity of the "Group of Twenty" is continued to be destabilised by the collective West and used in an anti-Russian, exclusively confrontational way," the statement on the first meeting of G20 finance ministers and the governors of central banks in 2023 said.
On February 24-25, India hosted the First Finance Ministers and Central Bank Governors (FMCBG) meeting under the Indian G20 Presidency in Bengaluru.The Russian delegation, representing the relevant specialised structures participated in this event.
Russian Foreign Ministry also urged the West to build equitable relations with new power centers.
"We are urging the collective West to reject its destructive course as soon as possible, to understand the objective realities of a multipolar world and to begin building normal ties with the new centers of power on the international stage, such as Russia, based on the principles of the sovereign equality of nations," the statement said.
According to the statement, West undermines final document of G20 financial meeting. "Using open blackmail and diktat, introducing absurd interpretations of the situation in Ukraine, the West has yet again undermined the approval of collective decisions," the MFA noted.
As a result, the fully approved text of the document, except for the wording on Ukraine, which gives out for assessments of the discussion at the ministerial meeting something that was not actually discussed and is unrelated to the topic of its jurisdiction, had become a hostage to this aggressive line.
We presume that the G20 should remain an economic forum and not intrude into the security sphere, as was unanimously confirmed at its last year's summit on November 15-16 in Bali, Indonesia. We will continue to promote fulfilment by the G20 of the functions entrusted to it on a mutually beneficial and depoliticised basis, the statement said.
"We note the constructive role of the Indian Presidency, which strove for a fair consideration of the interests and positions of all countries. The balanced approaches formulated in this context create a good foundation for responding to modern challenges in the area of global finance and related sectors, including support for economic growth and implementation of the Sustainable Development Goals, Russian MFA noted"