India hosts SCO meeting on "Shared Buddhist Heritage" in New Delhi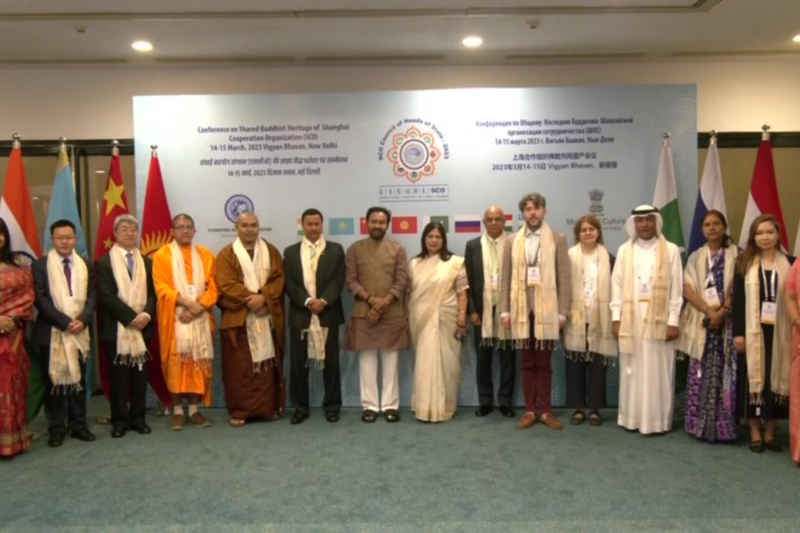 AKIPRESS.COM - India's civilisational connect with countries of the Shanghai Cooperation Organization (SCO) was in focus at a first of its kind international conference on "Shared Buddhist Heritage" that was held in New Delhi on March 14-15 and saw participation from SCO member and observer states, The Statesman reported.
Being held under India's Chair of the SCO, the two-day long event brought together Central Asian, East Asian, South Asian and Arab countries on a common platform to discuss "Shared Buddhist Heritage" and aims to re-establish trans-cultural links, seek out commonalities between Buddhist art of Central Asia, art styles, archaeological sites and antiquity in various museums' collections of the SCO countries.
The SCO, founded in Shanghai on June 15, 2001 currently comprises of eight-member states - China, India, Kazakhstan, Kyrgyzstan, Russia, Pakistan, Tajikistan and Uzbekistan, four observer states - Afghanistan, Belarus, Iran, and Mongolia and six "Dialogue Partners" - Armenia, Azerbaijan, Cambodia, Nepal, Sri Lanka and Turkey. The eight-member countries of SCO represent around 42 per cent of the world population and 25 per cent of the global GDP.
More than 15 scholars and delegates from China's Dunhuang Research Academy; Kyrgyzstan's Institute of History, Archaeology and Ethnology; Russia's State Museum of the History of Religion; Tajikistan's National Museum of Antiquities; Belarusian State University and Myanmar's International Theravada Buddhist Missionary University, etc presented research papers on topic during the 2-day event.
The conference was earlier inaugurated by India's Minister of Culture G Kishan Reddy. Speaking at the event, Minister Reddy said this was the first such meeting in India and the Indian government will propose conducting such events more often.
Meenakshi Lekhi, India's minister of state for external affairs, highlighted the importance of the Buddhist heritage sites in India and their significance in the Eurasian trade routes. She emphasized that India was the centre of this philosophy, ideology, art, and culture and that it was India's responsibility to work on it.
Shengliang Zhao, a researcher from China's Dunhuang Research Academy and a participant at the conference stated that Buddhism cultivated its roots starting from India to Central Asia, middle-east & China. In China where I am researching, I can see many relics related to Indian Culture...& they are looking forward to spreading over the world.
He added, "India-China celebrates a huge historic history which brings India & China close. This conference is a message that they are coming together in all aspects, so they will be moving ahead with this peaceful & cultural heritage further."
Speaking on the occasion, Advisor to Pakistan Tourism Coordination Board, Imran Shaukat said that Pak has increased awareness of heritage other than Muslim heritage.
"This session is just one very clear example of the wonderful role that India is actually playing in bringing all the countries of SCO, or let's say all the countries with the Buddhist heritage together," Shauket said.
Shauket said: "I am very impressed on how hospitable India has been, how they're bringing all the countries together. And India will always have a big role because, you know, Buddha was born in India, Buddhism originated from here." He said he looks forward to India, Pakistan and other countries working collectively to preserve, promote the common Buddhist heritage of countries.
"This Buddhist civilization, if we want to look at it, is actually the first binding glue that brings all these countries and the cultures together. It would be very nice to be able to go back in history and forget the differences and go back to how we were all connected then and how we can find the commonalities rather than the differences between all of our different cultures. And remember, at one time we were the same culture and we were the same people," Shauket said.
The Advisor to Pakistan Tourism Coordination Board said that Pakistan is starting to do more on the Buddhist side also. He said that Pakistan is trying to preserve and promote the culture, all the heritages, Hindu, Sikh and Buddhist.
A number of Indian scholars of Buddhism also participated in the event. The aim of the Conference is to re-establish trans-cultural links and seek out commonalities, between Buddhist art of Central Asia, art styles, archaeological sites and antiquity in various museums' collections of the SCO countries.
India is holding the Chair of SCO for a period of one year, from September 17, 2022 till September 2023.