India to push for rupee trade in G-20 meetings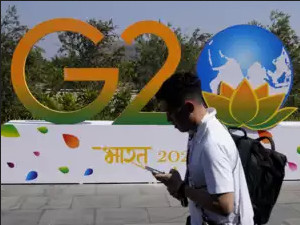 AKIPRESS.COM - India is trying to push the rupee trade agenda with foreign countries during the G20 meetings, which are being held under the country's chairmanship of the forum. India holds the presidency of the G20 from 1 December 2022 to 30 November 2023, The Economic Times reported.
India's Commerce Secretary Sunil Barthwal said rupee trade will be of help, especially with those countries whose currencies are under pressure.
"We are interested in improving the trade with respect to the currencies of the countries which are trading with India. Definitely, we would like to see that rupee trade also happens, particularly (with) those countries which are facing currency issues," Barthwal said on the eve of the first trade and investment working group meeting in Mumbai.
The bureaucrat was responding to a question whether India would look at the upcoming G20 meeting of trade and investment grouping as a platform to boost rupee trade. The official also said the issue of taking forward the rupee's trade agenda was not just part of the G20 summit.
Over 100 delegates from G20 member countries, invitee countries, regional groupings and international organizations are expected to participate in the first trade and investment working group meeting of G20.
On the first day, 28 March, an international conference on trade finance will be held. The role of banks, financial institutions, development finance institutions and export credit agencies in closing the trade finance gap, and how digitalisation and fintech solutions can improve access to trade finance will be discussed through two panel discussions.
India's ministry of commerce has already prepared five priority areas to be discussed at the meeting, Barthwal said, adding that the deliberations will be the stepping stones for the final G-20 leaders meeting in September.
The priority areas include how to make trade and growth more inclusive, making global supply chains more resilient, integrating small businesses in trade and ways to improve logistics, including by getting uniformity in regulations, Barthwal said.
India's National Bank, RBI (Reserve Bank of India) has approved domestic and foreign authorized dealer banks in 60 cases for opening of special rupee vostro accounts (SRVAs) of correspondent banks from 18 countries. These include Botswana, Fiji, Germany, Guyana, Israel, Kenya, Malaysia, Mauritius, Myanmar, New Zealand, Oman, Russia, Seychelles, Singapore, Sri Lanka, Tanzania, Uganda, and United Kingdom.
Under the mechanism, Indian importers will make payments in rupees that will be credited to the vostro account of the correspondent bank of the partner country. Similarly, Indian exporters will be paid the proceeds in rupees from the balances in the vostro account.