What Indian space agency's Reusable Launch Vehicle Mission means for India's space shuttle plans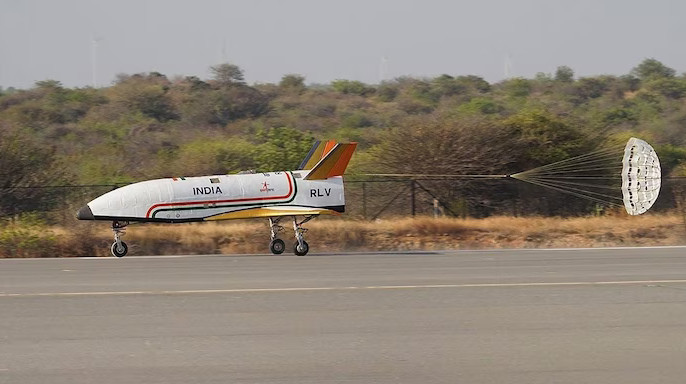 AKIPRESS.COM - Indian Space Research Organisation (ISRO) says the April 2 experiment brings the dream of an Indian Reusable Launch Vehicle 'one step closer to reality', India Today reported.
India, on April 2, again sent out a message to the world about how its space programme was growing by leaps and bounds. Projected as a step towards developing its own 'space shuttle', the ISRO successfully conducted the Reusable Launch Vehicle Autonomous Landing Mission (RLV LEX) at the Aeronautical Test Range in Chitradurga, Karnataka.
With this, ISRO will enter into direct competition with American spacecraft company SpaceX, the only entity operating reusable space vehicles. The Elon Musk-owned SpaceX's Falcon 9 is the world's first orbital class reusable rocket. It can carry crew and payloads into the Earth's orbit and beyond.
ISRO's RLV took off at 7:10 am on April 2 by a Chinook helicopter of the Indian Air Force (IAF) as an under-slung load and flew to a height of 4.5 km. The IAF team that participated in the RLV LEX mission was headed by a woman officer—a flight test engineer.
In a first in the world, a winged body has been carried to an altitude of 4.5 km by a helicopter and released for an autonomous landing on a runway. According to ISRO, the RLV is essentially a space plane with a low lift-to-drag ratio, requiring an approach at high glide angles that necessitated landing at high velocities of 350 kmph.
However, aerospace engineers say the project is at an early stage. Even NASA took close to two decades to launch the world's first space shuttle Columbia in April 1981. While describing ISRO's effort as an overall good attempt, an aerospace scientist said the landing on the ground was a bit harsh and its speed was very high. He said the RLV needed to be fine-tuned a bit to meet expectations.
The autonomous landing was carried out under the exact conditions of a space re-entry vehicle's landing—high speed, unmanned, precise landing from the same return path.
Landing parameters, such as ground relative velocity, sink rate of landing gears, and precise body rates as might be experienced by an orbital re-entry space vehicle in its return path, were achieved, said ISRO. "With LEX, the dream of an Indian Reusable Launch Vehicle comes one step closer to reality," ISRO said in a statement.
The LEX mission achieved the final approach phase that coincided with the re-entry return flight path, exhibiting an autonomous, high-speed (350 kmph) landing. The LEX began with an integrated navigation test in 2019 and followed multiple engineering model trials and captive phase tests over the years.