India, Armenia, Iran hold 1st trilateral political consultations in Yerevan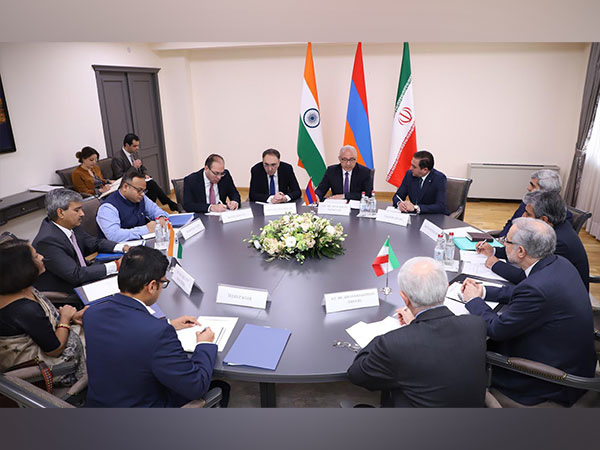 AKIPRESS.COM - The Ministries of Foreign Affairs of Armenia, India and Iran held the first trilateral political consultations on Thursday in Yerevan. The April 20 meeting focused primarily on "economic issues and regional communication channels," according to a readout by the Armenian foreign ministry. "The sides agreed to continue consultations in a trilateral format", Business Standard reported.

Informing of the consultations, the official Twitter account of the Ministry of Foreign Affairs of Armenia wrote, "First trilateral political consultations between MFAs of #Armenia, #Iran & #India were held in Yerevan. Sides discussed, particularly economic issues & regional communications outlined prospects of deepening cultural & people to people contacts & trilateral coop in various fields."
While the focus of the Yerevan meeting was trade, there was a strategic backdrop: India and Iran have been at the forefront of Armenia's search for new sources of security.
India, meanwhile, has been sought as a potential arms supplier in the wake of apparent interruptions in deliveries from Armenia's traditional sources. Indian media reports have suggested a wide variety of arms supplies from India to Armenia including artillery, drones, and missiles.
None of those have been confirmed (other than an order of artillery-locating radar) though Prime Minister Nikol Pashinyan has coyly declined to deny the reports. In February this year, an Armenian deputy defence minister visited India reportedly to "discuss greater military cooperation."
In trilateral terms, the Armenia-India-Iran would-be axis is focused on trade, in particular a Persian Gulf-Black Sea trade route that would allow Indian goods to be shipped West.
"The Persian Gulf-Black Sea corridor fits well into India's plans as it looks for additional routes to reach Europe," the Indian newspaper Economic Times wrote on the occasion of a March 2023 trip by Armenian Foreign Minister Ararat Mirzoyan to New Delhi to seek support for the idea.
In a recent speech, Armenia's Ambassador in India, Yuri Babakhanyan, described the ties between the two countries as "civilizational." "Some day we will turn this into a strategic partnership and I think that day is close," he said.
Armenia and India established diplomatic relations in 1992 and they celebrated 30 years of bilateral diplomatic relations in 2022. Effective cooperation exists between the two nations within international bodies and they maintain effective political ties.
India-Iran relations span millennia marked by meaningful interactions. Since the diplomatic relationship has been established in 1950 with the friendship treaty, the visits on the ministerial level have increased.
India and Iran have in place several bilateral consultative mechanisms at various levels which meet regularly. These include the Joint Committee Meeting (JCM) chaired at the Ministerial level, the Foreign Office Consultations chaired at the Foreign Secretary level, and the Joint Consular Committee Meeting.
India-Iran commercial ties were traditionally dominated by the Indian import of Iranian crude oil. Recently in February, Iranian Ambassador to India Iraj Elahi said described India as "most important to Iran".
"India is "most important to Iran" and the recent cordial meeting between Tehran's President Ebrahim Raisi and Prime Minister Narendra Modi is proof of this, Iraj Elahi said while addressing the event on the occasion of the 44th Anniversary of the victory of the Islamic revolution of Iran. He said the Chabahar port, with which India is highly involved, is considered the "Golden Gateway" for India.