100 million cubic meters of water leak into sand in Turkmenistan due to breakthrough of Karakum Canal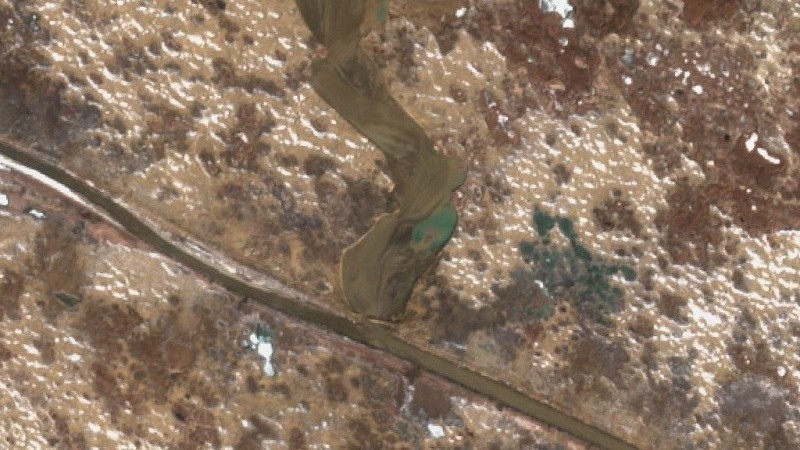 AKIPRESS.COM - At least 100 million cubic meters of water leaked into the sand due to the breakthrough of the Karakum Canal in Turkmenistan in January-February 2023. This conclusion was made by the journalists of Meteojurnal, who studied satellite images.
The breakthrough occurred due to ice jams, which were caused by abnormal frosts for Central Asia. Journalists found two traffic jams on the pictures from January 17. The breakthrough happened between January 17 and 20. The breakthrough began to be eliminated on January 22 by building a bulk dam. The construction was carried out from two sides in the opposite direction.
The channels deepened into the Karakum desert for 20 kilometers as of January 27. The channels had narrowed due to the construction of a dam by January 30, but this probably increased the flow and complicated the work. The construction of the dam was almost completed by January 6, and was completely completed by February 11. The channels had deepened into the Karakum desert for more than 35 kilometers.
Journalists calculated that for more than 20 days, most of the flow of the Karakum Canal went into the sands. Based on this, they proposed the figure of 100 million cubic meters, which is the minimum score. The damage was mitigated only by the fact that the breakthrough did not occur in the agricultural season and not in the summer heat, according to the journalists. If this happened in the summer, the situation would be much more serious.
Officially, the authorities did not report the incident, as well as any other accidents and incidents. President Serdar Berdimuhamedov instructed the heads of the Mary and Lebap regions to ensure normal water flow in the rivers at a government meeting on January 23, but did not explain what caused this order. The president visited Mary region several times in a short period of time.
The effectiveness of the Karakum Canal is generally assessed as low. It is cited as a negative example when discussing the planned construction of the Kosh Tepa canal in Afghanistan. It is noted that, as in the case of the Karakum Canal, most of the water will be lost due to sandy soil. If the Kosh Tepa canal is built, Turkmenistan and Uzbekistan may lose up to 15% of irrigation water from the Amur Darya.