Turkmenistan starts supplying liquefied natural gas to Pakistan through Afghanistan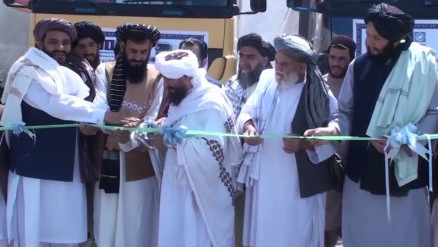 AKIPRESS.COM - Turkmenistan started supplying liquefied natural gas to Pakistan through the territory of Afghanistan. The official opening ceremony of the transit route took place on April 29 in southern Afghan province Kandahar, which borders Pakistan, TOLOnews reported.
The transit route will run from the Afghan city of Torgundi on the border with Turkmenistan to the Spin-Boldak border crossing (Kandahar).
The task of transporting gas from Turkmenistan to Pakistan through Afghan territory was undertaken by a private company.
The first transit convoy that crossed Afghanistan en route from Turkmenistan to Pakistan consisted of 50 LNG carriers.
Ashgabat has not been able to implement the ambitious project to build the TAPI gas pipeline (Turkmenistan-Afghanistan-Pakistan-India) in Afghanistan so far, although it agreed on the construction of the Afghan section both with the previous government in Kabul and with the Taliban government that seized power in August 2021.
TAPI is a strategically important project for the Turkmen authorities. Ashgabat hosted a summit of the heads of states participating in the project in 2010, following which a framework agreement on the gas pipeline and an intergovernmental agreement on the implementation of TAPI were signed.
The gas pipeline should run from the Turkmen Galkynysh field in Mary region, which is 150 km from the border of Afghanistan, through the Afghan provinces of Herat, Farah, Helmand and Kandahar and further to Pakistan and India. Annual volumes of deliveries through the TAPI pipeline are planned at the level of up to 33 billion cubic meters of gas.
The construction of the Afghan section was solemnly launched in 2018, but due to the inability of the Afghan government forces to ensure the safety of the construction, it was frozen. The Taliban have repeatedly promised to begin construction of the Afghan section of TAPI over the past year, but, according to the latest information, construction has not yet begun.