Terrorism should be "condemned and controlled": SCO Defence Ministers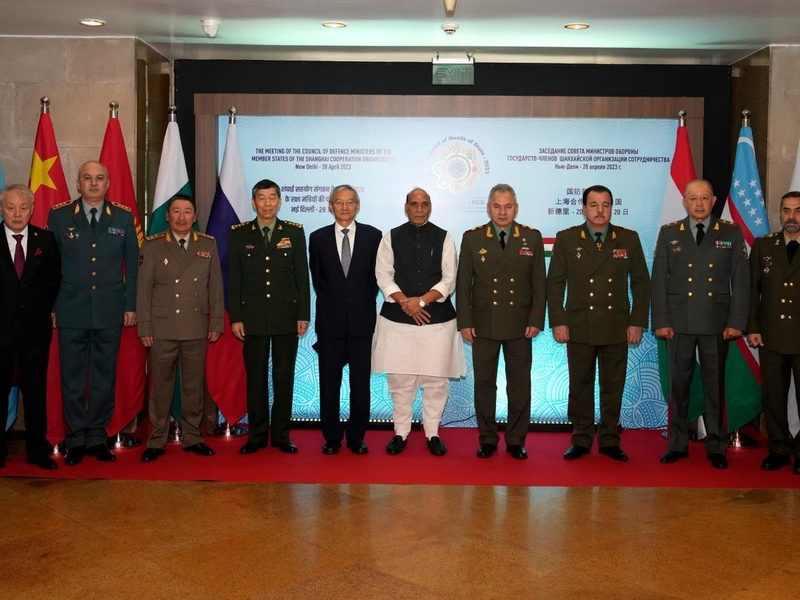 AKIPRESS.COM - India, as the Chair of SCO for 2023, hosted SCO Defence Ministers meeting in New Delhi on April 27-28. The meeting was chaired by India's defence minister Rajnath Singh. The theme of India's Chairmanship of SCO in 2023 is 'Secure-SCO'. New Delhi attaches special importance to SCO in promoting multilateral, political, security, economic and people-to-people interactions in the region, NDTV reported.
Defence Ministers of China (General Li Shangfu); India (Rajnath Singh); Kazakhstan (Col Gen Ruslan Zhaxylykov); Kyrgyzstan (Lt Gen Bekbolotov Baktybek Asankalievich); Russia (General Sergei Shoigu); Tajikistan (Col Gen Sherali Mirzo); Uzbekistan (Lt Gen Bakhodir Kurbanov); Belarus (Lt Gen Khrenin VG); and Iran (Brig Gen Mohammad Reza Gharaei Ashtiani) attended the meeting. The ministers discussed issues of common concern, including those pertaining to regional and international security under the charter of SCO during the meeting.
While addressing the meeting on Friday, Indian defence minister Rajnath Singh underlined that any form of terrorist act or support towards it was a heinous crime against humanity.
"If a nation shelters terrorists, it not only poses a threat to others, but for itself too. Radicalisation of youth is a cause of concern not only from the point of view of security, but it is also a major obstacle in the path of socio-economic progress of society. If we want to make the SCO a stronger & more credible international organisation, our top-most priority should be to effectively deal with terrorism," said Singh.
Singh further said India believes in maintaining peace and security based on UN Charter provisions and exhorted all member nations to mount "concerted efforts to ensure win-win cooperation for great gain".
He also voiced India's commitment towards defence capacity building of SCO member states through training and co-manufacturing and co-development of items. He stated that as security challenges are not limited to any one country, India is moving forward with a collaborative approach in the field of defence partnership, keeping in mind the shared interests.
Singh also called upon the SCO member-states to collectively work towards eliminating terrorism in all its forms and fix accountability on those who aid or fund such activities.
The Chinese state councillor and defence minister Li Shangfu said Beijing was willing to work with other SCO members to implement the "Global Security Initiative", which was a concept floated by President Xi Jinping in April 2022. A paper was also issued by the Chinese foreign ministry on GSI this February.
Besides, Li also said that China wanted to "deepen strategic mutual trust, enhance anti-terrorism cooperation, expand fields for cooperation and improve cooperation mechanisms, so as to contribute to global and regional peace and stability".
The Russian defence minister Sergei Shoigu in his address said that the West's countermeasures for developing multilateralism could be evidently observed in the Asia-Pacific region. There the USA paved the way to disintegration of existing regional security system… The NATO is willing to establish dominance in Asia-Pacific region, that is why QUAD and AUKUS is integrating into the NATO, he said
The Russian minister emphasised the need to strengthen SCO's role as a key pillar of the emerging multipolar international system, one that promotes inter-state relations based on principles of equality, mutual respect, and compliance with international law.
Addressing the reporters at the conclusion of the SCO Defence Ministers' Meeting on Friday, India's Defence Secretary Giridhar Aramane said, "All the member countries were unanimous in their statement that the terrorism, in whatever form, shall be condemned and controlled."
He added that India, as the chair of the SCO this year, will "lead from this trend in ensuring a safe and secure future for this region and the entire world in the larger context".
"It is indeed a tribute to the cooperative attitude of all the member countries of this organization that we could arrive at a consensus with regard to several areas of cooperation in the defence sector," the Defence Secretary added.
He said the main sectors of cooperation will be humanitarian assistance and disaster relief to the vulnerable populations, cooperation in increasing the security of the vulnerable populations living in various countries in the region and also cooperation among the member countries in anti-terrorist activities.
Shanghai Cooperation Organisation (SCO) is an intergovernmental organisation established in 2001. Apart from the member states, two observer countries -- Belarus and Iran -- also participated in the SCO Defence Ministers' Meeting.