Turkmenistan, UN International Center for Transport Diplomacy discuss bilateral cooperation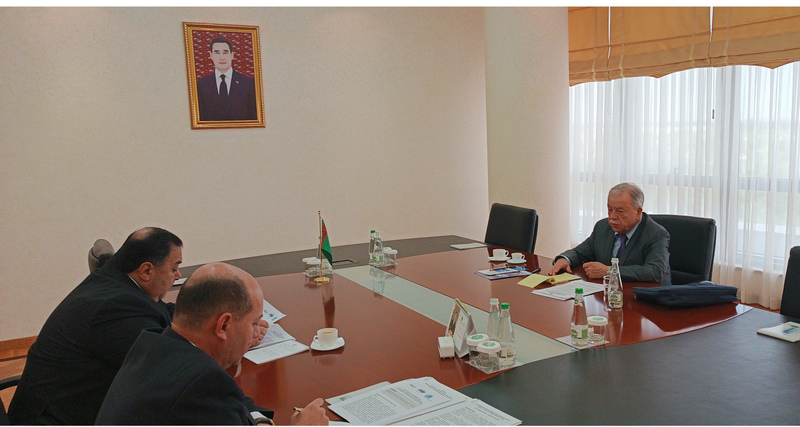 AKIPRESS.COM - Deputy Minister of Foreign Affairs of Turkmenistan Berdyniyaz Myatiev met with Executive Secretary of the UN International Center for Transport Diplomacy (ICTD) Igor Runov, who arrived in Ashgabat to participate in the International Conference and exhibition "International transport and transit corridors: interconnectedness and development – 2023", which will be held on May 3-4.
During the talks, a constructive exchange of views took place on the interaction of the parties regarding a wide range of topical issues of cooperation in the field of transport. The parties stated that Turkmenistan actively participates in the processes of development and strengthening of international cooperation on sustainable and safe transport, takes the initiative of a board multilateral consideration of issues of ensuring stable and reliable international transport, as well as the adoption of important documents within the framework of international organizations, primarily in UN.
In this context, the importance of the UN General Assembly resolutions on international cooperation in the field of transport, initiated by Turkmenistan with the support of the ICTD and their adoption in 2014, 2015 and 2017, as well as holding the first UN conference on sustainable transport in Ashgabat in 2016, was noted.
The Deputy Minister of Foreign Affairs of Turkmenistan noted that the International Center pays special attention to the promotion of transport policy and transport diplomacy in the context of the UN 2030 Agenda for Sustainable Development. In 2021, Turkmenistan and the International Center for Transport Diplomacy took an active part in the development and presentation of the draft Resolution of the UN General Assembly on sustainable transport in the post-COVID era. In 2022, the "Group of Friends on sustainable transport" was created at the UN Headquarters in New York, where the Center acts as a technical secretariat.
Among the priority aspects of the partnership, the parties noted the further improvement of the legal and logistical base of the international and regional transport infrastructure. In this aspect, the activity of Turkmenistan on the development of important transport and logistics routes in the direction "North-South" and "East-West", in particular, "Lapis-Lazuli", "Kazakhstan-Iran-Turkmenistan", "Uzbekistan-Turkmenistan-Iran-Oman", "Caspian Sea-Black Sea" and other interregional transport arteries were emphasized. A significant role is played by the development of the international transport corridor "Europe-Caucasus-Asia"-TRACECA, which has significantly increased the possibilities of maritime cargo transportation and the attractiveness of maritime transport in Turkmenistan.
Also during the meeting, it was emphasized that in accordance with the Program for the development of transport diplomacy of Turkmenistan for 2022-2025, strategic directions are provided for the comprehensive modernization of the material and technical base of all types of transport infrastructure of the country.