India talks tough on terrorism as it hosts SCO foreign ministers meeting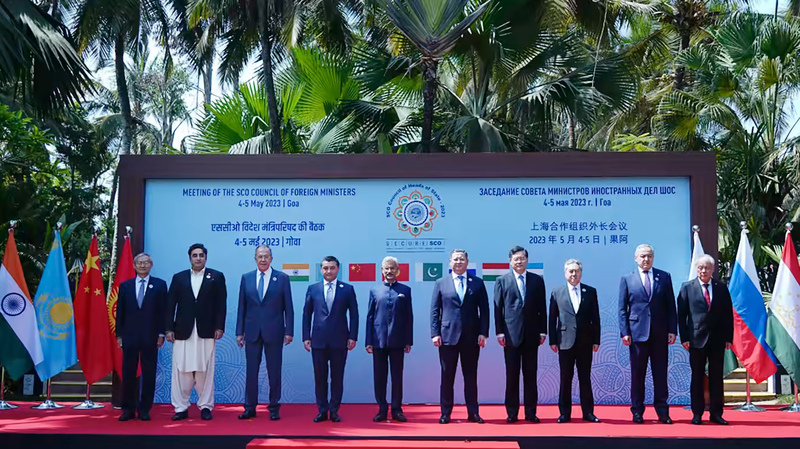 AKIPRESS.COM - India hosted foreign ministers of the Shanghai Cooperation Organisation in Goa on May 4-5 to discuss regional security matters, including adding Iran and Belarus to the grouping, Nikkei Asia reported.
The SCO is a political and security union of countries founded in Shanghai in 2001 by China, Kazakhstan, Kyrgyzstan, Russia, Tajikistan and Uzbekistan. In 2017, India and Pakistan were inducted as full members in the first expansion of the organization.
The expansion of the group to include Iran and Belarus was one of the main items on the agenda of the one-day meeting held in the Indian coastal resort state of Goa on Friday, an Indian foreign ministry official said.
The foreign ministers, including Russia's Sergei Lavrov and China's Qin Gang, will prepare the ground for an SCO summit in India in July that Russian President Vladimir Putin and Chinese counterpart Xi Jinping are expected to attend in person.
Iran and Belarus are expected to be inducted into the SCO at the New Delhi summit, an Indian foreign ministry official said. Kuwait, Myanmar, the United Arab Emirates and Maldives are likely to be granted the status of dialogue partners ahead of full membership, the Indian foreign ministry official added.
India's External Affairs Minister S. Jaishankar in his opening remarks on Friday said that channels for financing terrorism "must be seized and blocked without distinction". He warned that multiple global crises have undermined trust in international institutions, while the SCO moved toward adding new "dialogue partners," including Myanmar.
"We firmly believe that there can be no justification for terrorism and it must be stopped in all its forms and manifestations, including cross-border terrorism," Jaishankar said. "Members need not be reminded that combating terrorism is one of the original mandates of the SCO," he added.
Jaishankar said India attaches "great importance" to the development of multifaceted cooperation in the SCO. He referred to Prime Minister Modi's framing of India's priorities for the SCO using the acronym SECURE, which stands for Security, Economic development, Connectivity, Unity, Respect for sovereignty and territorial integrity, and Environmental protection.
The Indian minister said that as a result of the COVID-19 pandemic and geopolitical upheavals, the world is today facing a multitude of challenges. These crises, he said, have also exposed "a credibility and trust deficit in the ability of global institutions to manage challenges in a timely and efficient manner."
But he said the same challenges present an opportunity for SCO members to collaborate. "With more than 40% of the world's population within the SCO, our collective decisions will surely have a global impact."
Indian Minister S Jaishankar and his Russian counterpart Sergey Lavrov on Thursday carried out a comprehensive review of India-Russia 'special and privileged strategic partnership' in the backdrop of Moscow's increasingly frosty relations with the West over the Ukraine crisis. A Russian readout said the two sides agreed to continue working towards building a "fair multipolar system of interstate relations."
"Comprehensive review of our bilateral, global and multilateral cooperation with FM Sergey Lavrov of Russia. Appreciated Russia's support for India's SCO presidency. Also discussed issues pertaining to G20 and BRICS," Jaishankar said in a tweet.
After meeting with Chinese Foreign Minister Qin Gang on Thursday, Jaishankar tweeted that the two had a detailed discussion on the bilateral relationship. "Focus remains on resolving outstanding issues and ensuring peace and tranquility in the border areas," he wrote.
China's state news agency Xinhua on Friday quoted Qin as expressing China's willingness to deepen coordination and collaboration with India on international and regional issues.
Indian minister Jaishankar met Kyrgyz foreign minister Jeenbek Kulubaev on Friday. His warm words for our SCO presidency are greatly appreciated. After meeting with Kulubaev, Jaishankar tweeted that discussed development cooperation, connectivity, trade, S&T and our partnership in multilateral forums with Kyrgyz FM.
Minister Jaishankar also met foreign ministers of Kazakhstan, Tajikistan and Uzbekistan separately.
Pakistan's foreign minister Bilawal Bhutto-Zardari attended the SCO meeting in Goa. It is the first foreign ministerial visit to India from Pakistan since 2011.
"A united international community must continue to urge the Afghan authorities to adopt universally accepted principles of political inclusivity, and respecting the rights of all Afghans, including girls' right to education," Bhutto Zardari said.
On the sidelines of this week's meeting, memorandums of understanding were signed on granting the grouping's dialogue partner status to Kuwait, Maldives, Myanmar and the United Arab Emirates. The four countries' envoys to India inked the memorandums with SCO Secretary-General Zhang Ming, according to a statement published on the SCO website on Saturday.
The SCO has six other such partners -- Armenia, Azerbaijan, Cambodia, Nepal, Sri Lanka and Turkey -- while it has four observer nations, namely Afghanistan, Belarus, Iran and Mongolia. Jaishankar also said the SCO foreign ministers assessed progress on admitting Iran and Belarus as new members.