Methane leaks from Turkmenistan's fossil fuel fields reach record numbers - The Guardian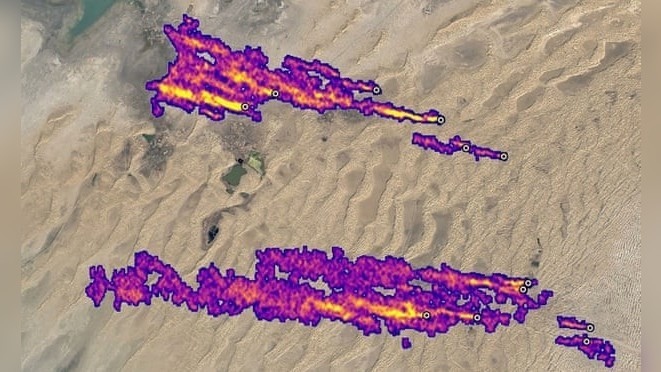 A Nasa satellite image of methane plumes east of Hazar, Turkmenistan, in October 2022 / Nasa/JPL-Caltech/AFP/Getty
AKIPRESS.COM - Methane leaks alone from Turkmenistan's two main fossil fuel fields caused more global heating in 2022 than the entire carbon emissions of the UK, The Guardian stated with a reference to satellite data.
The western fossil fuel field in Turkmenistan, on the Caspian coast, leaked 2.6 million tonnes of methane in 2022. The eastern field emitted 1.8 million tonnes. Together, the two fields released emissions equivalent to 366 million tonnes of CO2, more than the UK's annual emissions, which are the 17th-biggest in the world.
Experts call these emissions of the potent greenhouse gas from the oil- and gas-rich country "mind-boggling", and an "infuriating" problem that should be easy to fix.
Methane emissions have surged alarmingly since 2007 and this acceleration may be the biggest threat to keeping below 1.5C of global heating, according to scientists. It also seriously risks triggering catastrophic climate tipping points, researchers say.
Flaring is used to burn unwanted gas, putting CO2 into the atmosphere, but is easy to detect and has been increasingly frowned upon in recent years. Venting simply releases the invisible methane into the air unburned, which, until recent developments in satellite technology, had been hard to detect. Methane traps 80 times more heat than CO2 over 20 years, making venting far worse for the climate.
Tackling leaks from fossil fuel sites is the fastest and cheapest way to slash methane emissions, and therefore global heating. Action to stem leaks often pays for itself, as the gas captured can be sold. But the maintenance of infrastructure in Turkmenistan is very poor, according to experts.