Indian-backed port inaugurated in Myanmar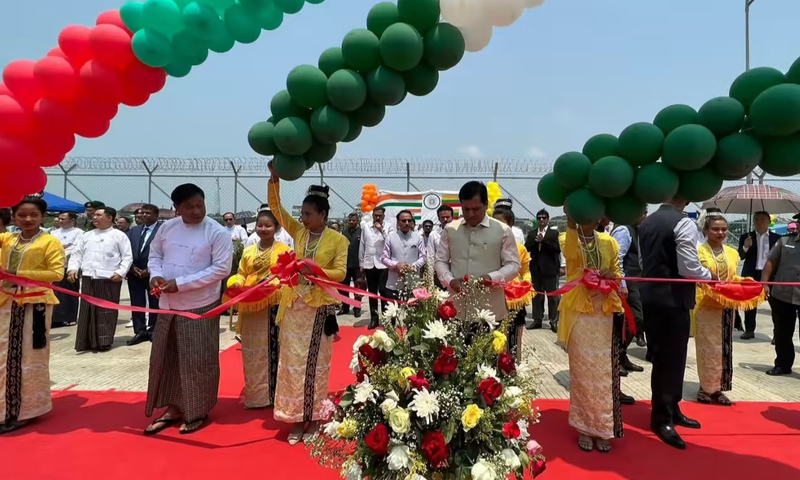 AKIPRESS.COM - A new port in Myanmar, built with assistance from India, has begun to receive container ships as both India and China seek closer economic ties with the Southeast Asian country. Sittwe Port, part of a $484m transport initiative, is set to bolster economic ties between India and Myanmar, Nikkei Asia reported.
The first cargo vessel from the Indian metropolis of Kolkata arrived on Tuesday, May 9 at Sittwe Port in Myanmar's Rakhine state. Officials from India and Myanmar's military government attended the port's inauguration ceremony.
Sittwe Port forms a link in India's Kaladan Multi-Modal Transit Transport Project. A sea lane connects Kolkata in eastern India to Sittwe on Myanmar's western coast. From there, the corridor traces an inland route through Myanmar via the Kaladan River and a highway, crossing into northeastern India.
Ahead of the ceremony, Indian shipping minister Sarbananda Sonowal hailed the port as "unlocking India's northeast for Southeast Asia."
The two countries shook hands on the $484 million Kaladan project in 2008. New Delhi is providing support across the board. India sees the new Kaladan project as a way to connect isolated northeastern India to the Indian Ocean, providing a catalyst for economic growth.
The region is linked to the rest of India by only the narrow Siliguri Corridor, a bottleneck squeezed by neighboring countries with China looming to the north. Northeast India has witnessed ethnic conflict as well as deadly border clashes between Indian and Chinese troops.
While India has called for a return to civilian rule in Myanmar, New Delhi has maintained a close relationship with the military government since it took control in 2021 and has distanced itself from Western sanctions. Myanmar shares a border with India, and the two countries need to cooperate in responding to cross-border militant groups and other challenges, said a diplomatic source.
China also seeks access to the Indian Ocean through Myanmar. Chinese Foreign Minister Qin Gang met on May 2 with Senior Gen. Min Aung Hlaing, who leads Myanmar's military government.
Qin said Beijing will accelerate the development of the China-Myanmar Economic Corridor, which has logistics and industrial infrastructure projects connecting China to the Indian Ocean. China plans a large port and an industrial zone in Kyaukpyu, a town in Rakhine state.
Though Sittwe Port has opened, construction on other parts of the Kaladan transport corridor including highways has been stalled by fighting between Myanmar's military and pro-democracy factions.
The Indian Council of World Affairs, a think tank linked to India's foreign ministry, convened a meeting in April between government officials and experts from Myanmar's neighbouring countries. The forum invited representatives from Myanmar's military government as well.
These discussions were initiated by Thailand, then India hosted the follow-up round. The meetings provide an unofficial forum for stakeholders to exchange opinions in pursuit of a resolution.