India hosts 8th meeting of agriculture ministers of SCO member-countries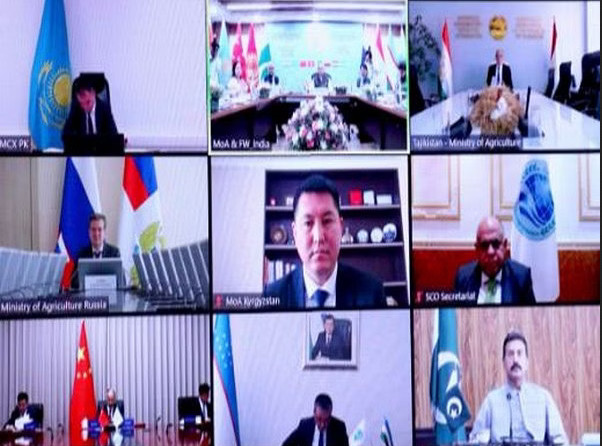 AKIPRESS.COM - India, as the Chair of SCO, hosted the 8th meeting of Agriculture Ministers of Shanghai Cooperation Organisation (SCO) member-countries on Friday via video conferencing. The meeting was presided over by India's Agriculture and Farmers Welfare Minister Narendra Singh Tomar, The Print reported.
Representatives of SCO member-countries China, Kazakhstan, Kyrgyzstan, Pakistan, Russia, Tajikistan, Uzbekistan and officials from SCO Secretariat participated in it, along with India.
During the meeting, the SCO member-countries adopted the Smart Agriculture project. Expressing satisfaction over the smart agriculture action plan and the initiative of innovation in agriculture, Indian minister Tomar said that India's emphasis is on the overall development of agriculture in the country through technology. In this direction, India has taken several concrete steps to promote smart agriculture.
"India gives importance to its relations with SCO in promoting multilateral, political, security, economic and people-to-people interactions. It is a matter of pleasure and pride for us to organize a meeting of SCO Agriculture Ministers," Tomar said while welcoming everyone to the meeting.
Tomar said in order to maintain the normal functioning of the food supply chain in the present conditions, there is a need for close contact and cooperation between various countries for food and nutrition security.
He added that India is the largest employer globally in the agriculture sector, where more than half of the country's population is engaged in agriculture and allied sectors, while India also represents an important economic activity for many countries.
Tomar said India's public distribution system and price support system for farmers are unique in the world, adding it is the good result of the foresight of policy-makers, efficiency of agricultural scientists and tireless hard work of farmers that today India is self-sufficient in food grains.
India is a leading producer of many commodities like cereals, fruits, vegetables, milk, eggs, and fish. The budget allocation for agriculture and allied sectors in India has increased more than five times in 10 years from 2013-14, highlighting the sector's importance as an economic activity for many countries.
Tomar also apprised SCO member-countries participating in the meeting about India's direct transfer benefits initiatives, credit facilities, promoting natural and organic farming, and promoting farmer-producer organisations (FPOs).