Quad leaders pledge to uphold peace and stability in Indo-Pacific region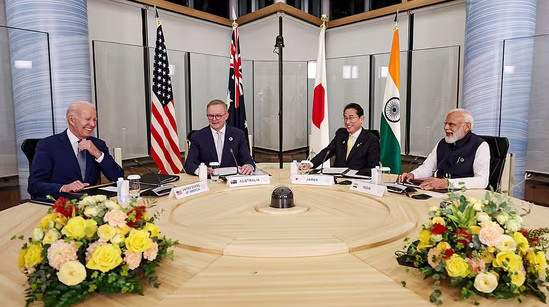 AKIPRESS.COM - The Quad group comprising Australia, India, Japan and the United States, on Saturday pledged to uphold peace and stability in the Indo-Pacific region and "oppose unilateral actions seeking change in status quo by force." The Quad leaders held their meeting while already gathered in Hiroshima for the G7 summit, Reuters reported.
The Quad leaders, in a joint statement, condemned terrorism and violent extremism in "all its forms and manifestations including cross-border terrorism." The statement mentioned the 26/11 terror attacks in Mumbai.
"We will strengthen our cooperation through the new Working Group on Counterterrorism announced during the Quad Foreign Ministers' Meeting in March 2023," the statement added.
They also expressed a "serious concern at the militarisation of disputed features, efforts to disrupt other countries' offshore resource exploitation activities."
Quad leaders, consisting of Prime Ministers of Australia ( Anthony Albanese), India (Narendra Modi), Japan ( Fumio Kishida ) and and US President Joe Biden convened for their third in-person Quad Leaders' Summit in the Japanese city of Hiroshima. Australian PM Albanese was scheduled to host Biden, Kishida and Modi in Sydney next week. However, Biden pulled out, saying he had to return to Washington from Japan on Sunday to negotiate with Republican opponents on the US debt ceiling.
The Indo-Pacific region is an "engine" of global trade, innovation and development and its success and security are important for the whole world, Prime Minister Narendra Modi said in his opening remarks at the Summit. Modi said that India will be happy to host the Quad Summit in 2024.
The Quad leaders reiterated their unwavering commitment to upholding international law and the principles of sovereignty and territorial integrity.
In this context, they expressed deep concern over the ongoing war in Ukraine and mourned its "terrible and tragic humanitarian consequences."
"We recognise its serious impacts on the global economic system including on food, fuel and energy security and critical supply chains. We will continue to render humanitarian assistance to Ukraine for its recovery," they added.
The leaders also reiterated their commitment to addressing the climate crisis and supporting climate mitigation, adaptation, and resilience efforts in the Indo-Pacific region. They emphasized the need for rapid and far-reaching transitions to a net-zero world and committed to strengthening cooperation in ensuring access to affordable, reliable, and secure clean energy in the Indo-Pacific.
They affirmed that the four countries are committed to bringing enduring benefit to the Indo-Pacific region by providing options that build resilience, open communication and economic growth as they issued Joint Principles for Secure Software, Principles for Critical and Emerging Technology Standards and Principles for Clean Energy Supply Chains in the Indo-Pacific.
The Principles on Critical and Emerging Technology Standards announced on Saturday intended to promote interoperability, innovation, trust, transparency, diverse markets, security-by-design, compatibility, inclusiveness and free and fair market competition.
The Quad leaders also announced the evolution of Quad Vaccine Partnership into a broader Quad Health Security Partnership. Through this partnership, Quad will strengthen coordination and collaboration in support of health security in the Indo-Pacific.