Tashkent hosts 2nd meeting of International Network on Salt-affected Soils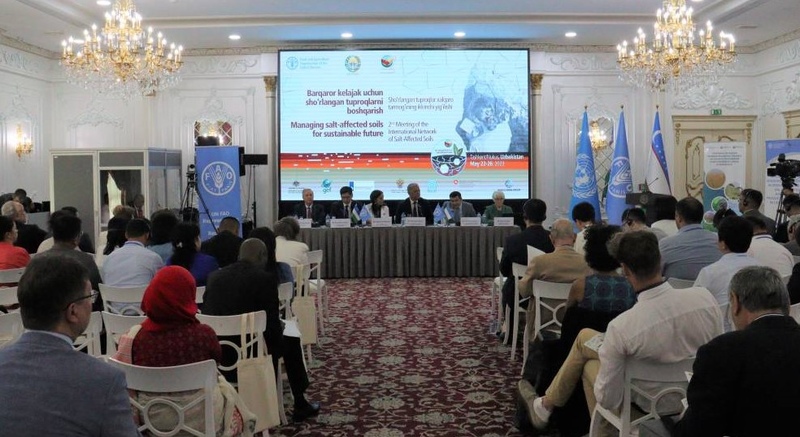 AKIPRESS.COM - The 2nd meeting of the International Network on Salt-affected Soils (INSAS) started in Tashkent on May 22, UzA reported.
The forum brings together experts from over 30 countries, including Australia, Armenia, Bangladesh, Central Asian countries, China, Egypt, France, Georgia, Italy, Malaysia, the Netherlands, Pakistan, Senegal, Spain, Tanzania, the United Arab Emirates, and others.
"The main solutions that we propose are to change the farming tactics in the areas affected by salinity, which includes transforming agro-food systems and introducing new crops called colophytes that grow precisely on saline lands. Less than 1% of all crops are colophytes, and we raise public awareness for further implementation of these crops. Another very important decision is to increase soil fertility, managing their water-physical condition, increasing carbon content and improving their porosity and physical condition", Coordinator of the International Network on Salt-affected Soils (INSAS) Maria Konyushkova said.
The purpose of the meeting of INSAS is to review the progress done by the network in 2021-2022 since INSAS' first virtual meeting, discuss and identify the priorities for the network, develop a work plan for 2023-2024, strengthen cooperation between the members of INSAS, improve capacities of the members by trainings.
The event includes a workshop on salt-affected soils, technical sessions of working groups of INSAS on Assessment, Sustainable soil management, Water and Crops, as well as a field visit to the Aral Sea, which remains one of the bitter examples when anthropogenic factors and mismanagement of water resources caused a large-scale environmental disaster.