New Parliament building inaugurated in India, as it left behind colonial mindset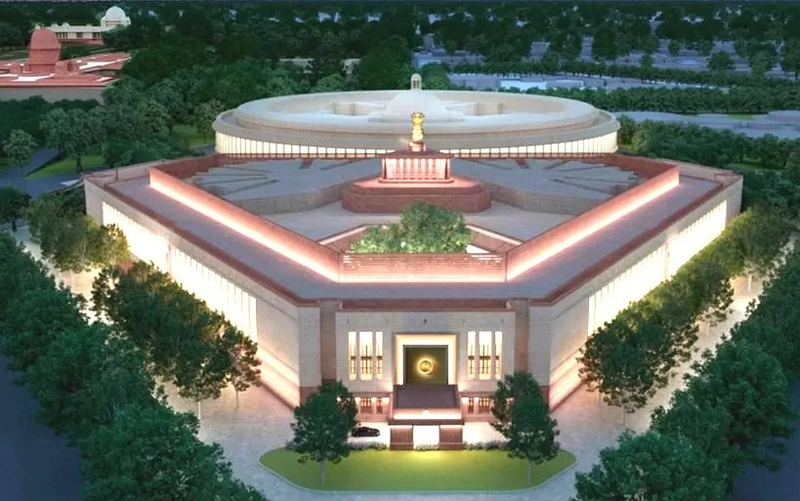 AKIPRESS.COM - Prime Minister Narendra Modi inaugurated India's new parliament building in New Delhi on Sunday, a modern complex which is part of his government's grand plan to give a makeover to the British colonial-era architecture in the nation's capital, Reuters reported.
The inauguration, and the ongoing revamp of the heart of New Delhi based on Indian culture, traditions, and symbols, comes a year before India's parliamentary elections scheduled in 2024.
Modi inaugurated the new Parliament building by unveiling a plaque dedicating the building to the nation and addressing a gathering of lawmakers. He held traditional prayers outside the complex in a ceremony that was also attended by top cabinet ministers. He then lit a traditional lamp inside parliament.
In his inaugural address Modi said this new complex will be evidence of self-reliant India. Late Saturday, Modi on Twitter said the new parliament is "truly a beacon of our democracy".
Modi also installed what the government said was a historically significant gold sceptre, called the sengol, in the new parliament building. He said that the presence of the "holy sengol" in the new building would inspire lawmakers. The sceptre is a historical symbol of Independence as it signifies the transfer of power from the British to the Indians.
The government said the gold sceptre was given to India's first prime minister Jawaharlal Nehru and added that the sengol (sceptre) was "the symbol of the transfer of power to India from the Britishers on the 15th of August in 1947".
The new parliament complex is the centrepiece of a $2.4 billion project aimed at eclipsing the significance of British colonial-era buildings in the capital's centre, paving the way for modern buildings with a distinct Indian identity.
Besides modern technology, the new parliament has a total of 1,272 seats in two chambers, nearly 500 more than the old building, and at least three times as much space to accommodate new lawmakers in the world's most populous nation.
The lower house of the parliament, is designed in the likeness of a peacock, India's national bird. The upper house, is designed to resemble the lotus, India's national flower.
The triangular-shaped parliament complex is just across from the old, circular heritage building built by British architects Edwin Lutyens and Herbert Baker in 1927, two decades before India's independence.
The old parliament building will be converted into a museum. The Indian government said that the new parliament was necessary as the older building was "showing signs of distress and over utilization".