President Serdar Berdimuhamedov receives Speaker of National Assembly of Republic of Korea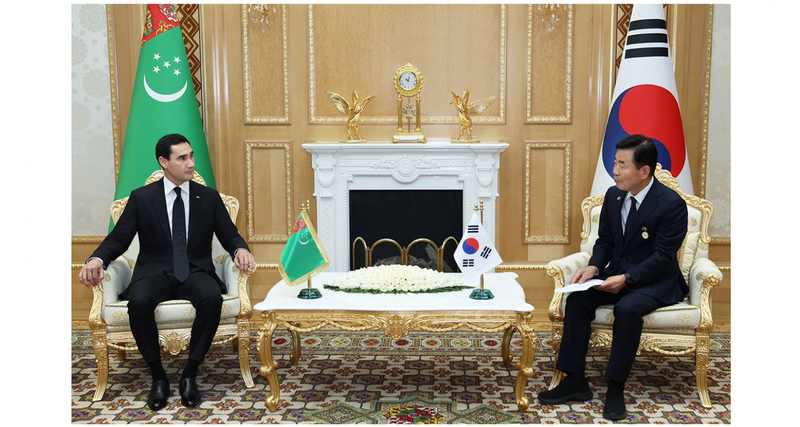 AKIPRESS.COM - President of Turkmenistan Serdar Berdimuhamedov received Speaker of the National Assembly of the Republic of Korea Kim Jin-pyo.
The head of state expressed confidence that the meetings and negotiations within the framework of the current visit would serve to further strengthen bilateral inter-parliamentary ties. As President Serdar Berdimuhamedov noted, Turkmenistan highly appreciates traditionally friendly relations with the Republic of Korea and is ready to further develop them in all areas.
The Speaker of the National Assembly of the Republic of Korea also expressed deep gratitude to President Serdar Berdimuhamedov for conferring on him a high award - the Bitaraplyk Order, emphasizing that he would continue to contribute in every possible way to the development of an effective Turkmen-Korean partnership.
During the exchange of views on priority issues of Turkmen-Korean relations, it was noted that the two countries are constructively interacting in the political and diplomatic sphere, as well as through authoritative international organizations, primarily the UN.
In recent years, contacts between the legislative bodies of the two countries have also intensified, where mutual visits at a high parliamentary level are of particular importance. In this context, the visit of the Hero-Arkadag Gurbanguly Berdimuhamedov to the Republic of Korea, which took place in November 2022, and the current visit of the Speaker of the National Assembly of the Republic of Korea to Turkmenistan are important steps towards bringing the inter-parliamentary partnership to a new level. As emphasized, meetings and consultations, exchange of experience in this area also contribute to the improvement of the legal framework for interstate cooperation, taking into account modern realities.
In continuation of the conversation, it was noted that a long-term nature is inherent in bilateral trade and economic partnership. A solid experience of cooperation between Turkmenistan and leading Korean companies has been gained, a number of major projects in the gas chemical industry have been implemented. The large-scale programs being implemented in our country provide broad prospects for the implementation of new joint projects.
At the same time, great importance is invariably attached to cooperation in the humanitarian sphere, the deepening of traditional ties in the fields of culture and education. There is also good potential for expanding contacts in the field of tourism.
At the end of the meeting, the President of Turkmenistan Serdar Berdimuhamedov and the Speaker of the National Assembly of the Republic of Korea Kim Jin-pyo exchanged best wishes to each other, expressing confidence that a constructive, fruitful interstate dialogue would continue to develop successfully across its entire spectrum, acquiring new concrete content.