Conference dedicated to Day of Caspian Sea takes place in Turkmenistan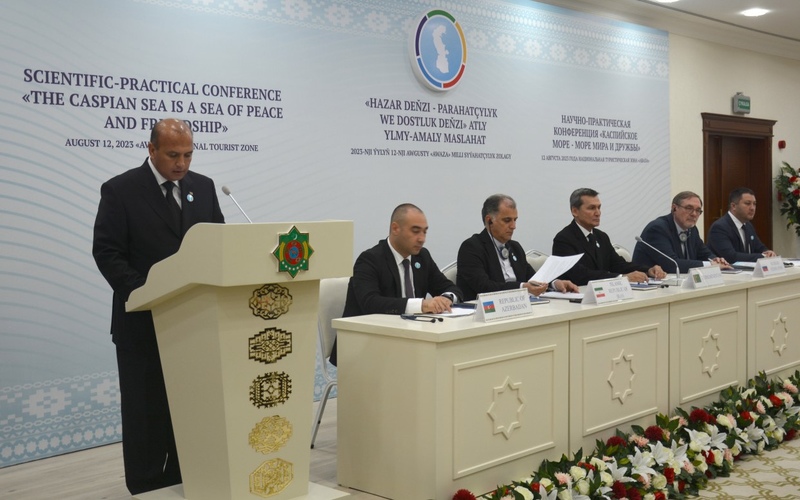 AKIPRESS.COM - The scientific conference "The Caspian Sea is a Sea of Peace and Friendship", dedicated to the Day of the Caspian Sea, opened in the Avaza national tourist zone in a hybrid format on AUgust 12.
The representative forum is attended by Chairman of the Parliament, members of the Cabinet of Ministers of Turkmenistan, heads of ministries and departments of Turkmenistan, heads and representatives of diplomatic missions, representative offices of international organizations and foreign media accredited in Turkmenistan, heads of national media.
During the plenary session of the forum, Minister of Foreign Affairs of Turkmenistan R. Meredov, Minister of protection of environment of Turkmenistan Ch. Babaniyazov, the leading representatives of the Embassies of Azerbaijan, Iran, Kazakhstan, Russia delivered a speech.
The speeches emphasized that Turkmenistan is an active participant in important processes in the Caspian region, and demonstrates commitment to the ideas of peace, harmony and mutually beneficial cooperation, the Foreign Ministry reported.
Turkmenistan's policy is noted for the implementation of international cooperation in the field of ecology and environmental protection, including in the Caspian Sea basin.
It is also emphasized that Turkmenistan consistently puts forward the most important initiatives and ideas aimed at implementing a systematic and effective political dialogue on the Caspian issue.
The conference participants stated the need for further continuation of close cooperation between the Caspian states.