PM Modi addresses business delegation in Greece, urges to strengthen trade ties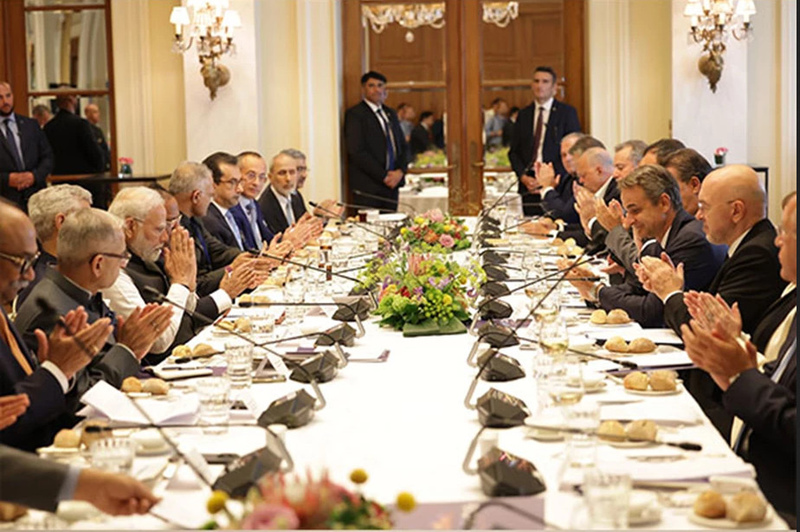 AKIPRESS.COM - Indian Prime Minister Narendra Modi addressed the business delegations of India and Greece at a business lunch in Athens and urged them to take advantage of the positive momentum in the relations between the two countries. PM Modi said, "India's doors are wide open for foreign investment. Defence sectors are also being opened. There is immense potential for co-development and co-production. With our digitisation efforts, ease of doing business is also increasing continuously", Devdicourse reported.
The PM also reiterated his mantra of Reform, Perform and Transform and said that the combination of India's demographic power and aspirational youth is strengthening India's economy. "India has not just demographic power but our youth are also aspirational...This is a rare combination that strengthens India's economy. To transform the country, my mantra has been 'Reform, Perform, Transform'. We are going ahead with this spirit", said PM.
MEA Spokesperson Arindam Bagchi posted about the meeting and posted on 'X', "PM urged the business community to take advantage of the positive momentum in India-Greece relations to further strengthen trade and economic ties." The business launch was hosted by the Greek Prime Minister Kyriakos Mitsotakis where the business delegations from India and Greece were present. India's National Security Advisor Ajit Doval and Minister of External Affairs S Jaishankar were also present at the event. Prior to that, the two leaders also held discussions in one-on-one and delegation-level formats.
During the meeting, Prime Minister Modi expressed his condolences for the loss of life and property lives in the tragic incidents of forest fires in Greece. PM Modi today commenced his visit to Greece by paying tribute at the Tomb of the Unknown Soldier in Athens. Later on, he received a ceremonial guard of honour. India and Greece enjoy civilizational ties, which have strengthened in recent years through cooperation in areas like maritime transport, defence, trade and investments and people-to-people ties.