Shavkat Mirziyoyev receives credentials from Ambassadors of China, Malaysia, UK, Turkmenistan and Bangladesh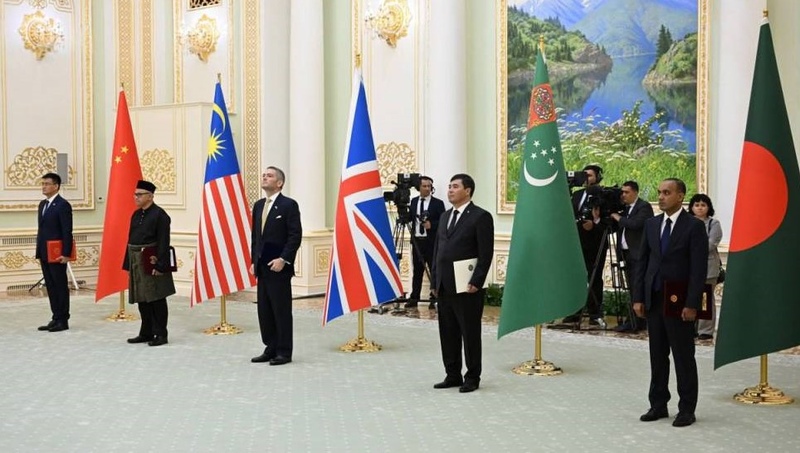 AKIPRESS.COM - A ceremony of presenting credentials by newly appointed foreign ambassadors to Uzbekistan took place on August 30, UzA reports.
President of Uzbekistan Shavkat Mirziyoyev received credentials from Ambassadors of China Yu Jun, Malaysia Ilham Tuah bin Illias, the United Kingdom Timothy Smart, Turkmenistan Shadurdy Meredov and Bangladesh Mohammad Monirul Islam.
The head of state congratulated the newly appointed heads of foreign diplomatic missions on the official start of their activities in Uzbekistan.
The leader of Uzbekistan emphasized that in the context of growing geopolitical tensions in the world, Uzbekistan is actively pursuing an open and pragmatic foreign policy.
This year, Uzbekistan will host the Summit of the Economic Cooperation Organization, the International Conference on Food Security under the auspices of the United Nations, and the anniversary session of the General Assembly of the World Tourism Organization.
The head of state drew attention to several important issues of bringing relations with the countries represented by the newly appointed ambassadors to an entirely new qualitative and meaningful level.
Addressing the newly appointed Ambassador of China, the President noted Xi Jinping's visit to the country a year ago, as well as the meeting within the framework of the Central Asia – China Summit. He emphasized the importance of increasing the trade turnover, enhancing partnerships with leading Chinese companies in high technology and innovation, implementing projects and joint programs in the green economy, digitalization and other fields.
Mirziyoyev stressed that Malaysia is an essential partner of Uzbekistan in Southeast Asia. He expressed support for further development of cooperation in electronics and electrical engineering, information technology, food industry, tourism, education, and other areas, as well as enhancing partnership with leading Malaysian companies, especially in petrochemistry.
The development of broad ties, new projects and programs between Uzbekistan and the UK was emphasized during the meeting. The President expressed interest in fully utilizing potential in investment and innovation and proposed the implementation of new joint projects in banking and finance, the digital economy, green energy, geology, chemistry, and other priority areas.
The new level of relations between Turkmenistan and Uzbekistan was highlighted at the meeting. Mirziyoyev stated that the countries have huge potential for enhancing trade relations, strengthening cooperation in the economic sphere and implementing specific projects, as well as for increasing transportation and transit cargo.
Addressing the Ambassador of Bangladesh, the head of state stressed that prospects for enhancing partnership in the textile, agricultural, pharmaceutical, and tourism industries and implementing new investment projects and joint programs have been outlined.