Delegation of Turkmenistan pays official visit to France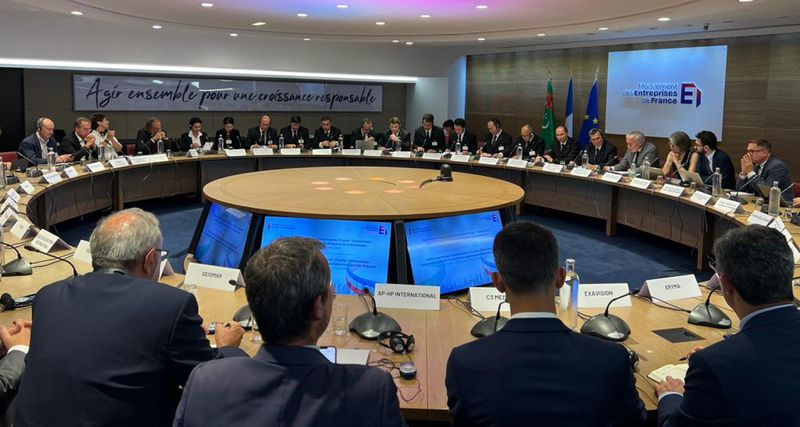 AKIPRESS.COM - The official delegation of Turkmenistan headed by Deputy Chairman of the Cabinet of Ministers of Turkmenistan and Minister of Foreign Affairs R. Meredov pays a visit to France these days, the Foreign Ministry of Turkmenistan reports.
As part of the first day of the visit, the Turkmen delegation participated in the business meeting of French companies that are members of the International Association of France "MEDEF-International".
The Turkmen delegation introduced representatives of French business to the key areas of the country's economic development and investment potential.
The forum participants exchanged views on intensifying and expanding Turkmen-French cooperation in the fields of trade, economy, energy, agriculture and other aspects of bilateral interaction. The oil and gas and gas chemical industries, electric power industry, transport and communications, the medical industry and pharmaceuticals, the financial and banking sector, as well as the water management complex were identified as promising vectors of partnership.
R. Meredov on September 4 met with representatives of the French business community, including the honorary president of the France-Turkmenistan Chamber of Commerce, the president of the "CIFAL International Services" company Gilles Remy, the honorary president of the "CARPI Tech" company Alberto Maria Squero and the general director of this company Francois Tronel, the president of the "Bouygues Group of Companies" Martin Bouygues, and the president of the "Vinci Construction Grand Progé" Patrick Kadri.
Topical issues of cooperation with these companies were discussed at the meetings.
During the visit to Paris, members of the delegation of Turkmenistan held a number of bilateral negotiations with executives and representatives of various government agencies, as well as French companies.
The visit of the delegation of Turkmenistan to France continues.