Nepal-India development partnership gains momentum, cooperation thrives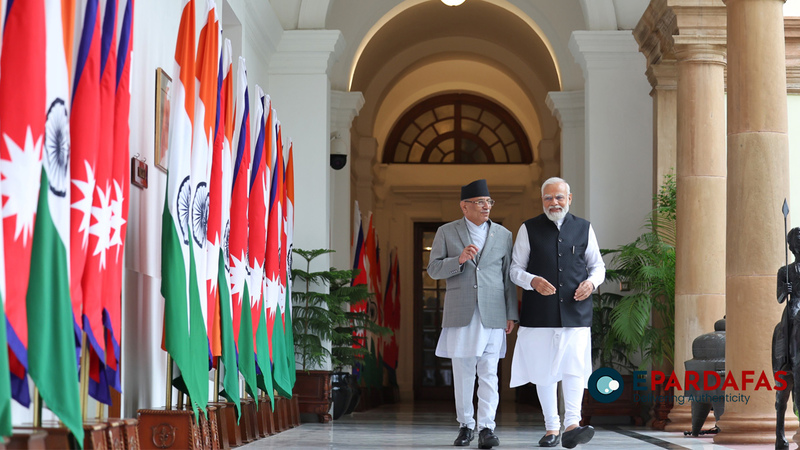 AKIPRESS.COM - The Indian Embassy in Nepal has announced that the India-Nepal development partnership is gaining momentum. The embassy highlighted this positive progress through a statement on 'X' (formerly Twitter) on Saturday, Pardafas reported.
According to the embassy's statement, this momentum stems from the commitment made during the visit of Nepal's Prime Minister, Pushpa Kamal Dahal 'Prachanda', to India in June 2023. During his visit, both countries expressed their dedication to increasing the quantum of electricity imported to India from Nepal to an impressive 10,000 MW over the next decade.
To facilitate this ambitious goal, an additional 180 MW of electricity export to India has been approved. This means that Nepal now has the capacity to export 631 MW of power to India, with access to medium-term and real-time markets for power export, in addition to the day-ahead market. Furthermore, a new 132 kV Tanakpur-Mahendrangar transmission line has been established to support power export.
The Indian Embassy emphasized that this partnership has received a boost since Prime Minister Prachanda's visit to India earlier in the year. They cited examples of increased connectivity between the two nations through the operationalization of the Kurtha-Bijalpura rail link. Additionally, various community development projects, funded by Indian grants, were inaugurated and handed over, further enhancing the people-to-people connectivity.
Key highlights:
Kurtha-Bijalpura Rail Link Operationalized: The 69-km Jayanagar-Janakpur-Bardibas railway, built with a cost of Rs 10 billion and supported by the Indian government, is now operational, enhancing people-to-people connectivity. The Indian Railway Construction Company completed the construction in three phases—Jayanagar to Kurtha, Kurtha to Bhangaha, and Bhangaha to Bardibas.
Community Development Projects Inaugurated: Several community development projects funded by India grants have been inaugurated, including the Campus building of Himalaya Kiran Public Campus in Khandbari Municipality, Sankhuwasabha on September 6, 2023.
Ambassador Inaugurates Projects: Indian Ambassador to Nepal, Naveen Srivastava, inaugurated three projects in Sudurpashchim, including Tikapur Multiple Campus in Kailali district, Shree Pashupati Shiksha Mandir, and Shree Siddhanath Secondary School in Kanchanpur district. India has undertaken a total of 546 High Impact Community Development Projects in Nepal across various sectors since 2003, successfully completing 483 of them.
School Building Handed Over: On the occasion of India's 77th Independence Day, Nepal received a new school building for Shree Bishnudevi Secondary School at Chandragiri, Kathmandu, constructed at a cost of NR 69 million. The building was handed over by the Indian embassy to Chandragiri Municipality officials.
MoUs for Developmental Projects: On August 4, 2023, the Indian embassy in Kathmandu and the Ministry of Federal Affairs and General Administration of Nepal signed four Memorandums of Understanding (MoUs) for developmental projects. Three projects will focus on education, and one project will address Water Supply and Sanitation, with a total estimated cost of NRs. 170 million.
Gifts of Ambulances and Buses: On July 16, 2023, the Embassy of India, Kathmandu, donated 34 ambulances and 50 school buses to various organizations in the health and education sectors across Nepal. This contribution brings the total to 974 ambulances and 234 buses gifted to date.
Reconstruction of Mahavihar: Shree Napichandra Mahavihar in Lalitpur, reconstructed with the post-earthquake reconstruction grant from the Indian government, was jointly inaugurated by Indian Ambassador to Nepal Naveen Srivastava and Lalitpur Mayor Chiribabu Maharjan on September 4.
Dharamshala Inaugurated: On July 5, the Vice President of Nepal, Ram Sahay Prasad Yadav, inaugurated the Budhanilkantha Dharamshala (Atithi Griha) in Kathmandu. This facility, built with the Government of India's grant assistance of around NRs. 5 crore, aims to support travelers in Budhanilkantha Municipality.
India International Centre for Buddhist Culture and Heritage (IICBCH): The construction of the India International Centre for Buddhist Culture and Heritage (IICBCH) formally began at Lumbini in Nepal with Bhoomi Pooja rituals on August 6, 2023.
Moreover, Indian Prime Minister Narendra Modi recently engaged in a telephone conversation with his Nepalese counterpart, Prime Minister Pushpa Kamal Dahal 'Prachanda.' The leaders discussed multiple aspects of India-Nepal bilateral cooperation during their talks, following up on discussions held during Prachanda's visit to India. The aim is to advance the bilateral partnership and strengthen the deep bonds of friendship between the two countries.
This communication between the leaders reflects Nepal's importance as a close and friendly neighbor and a key partner in India's 'Neighbourhood First' policy. It continues the tradition of high-level exchanges between India and Nepal, highlighting their commitment to further enhancing their cooperation and mutual relations.